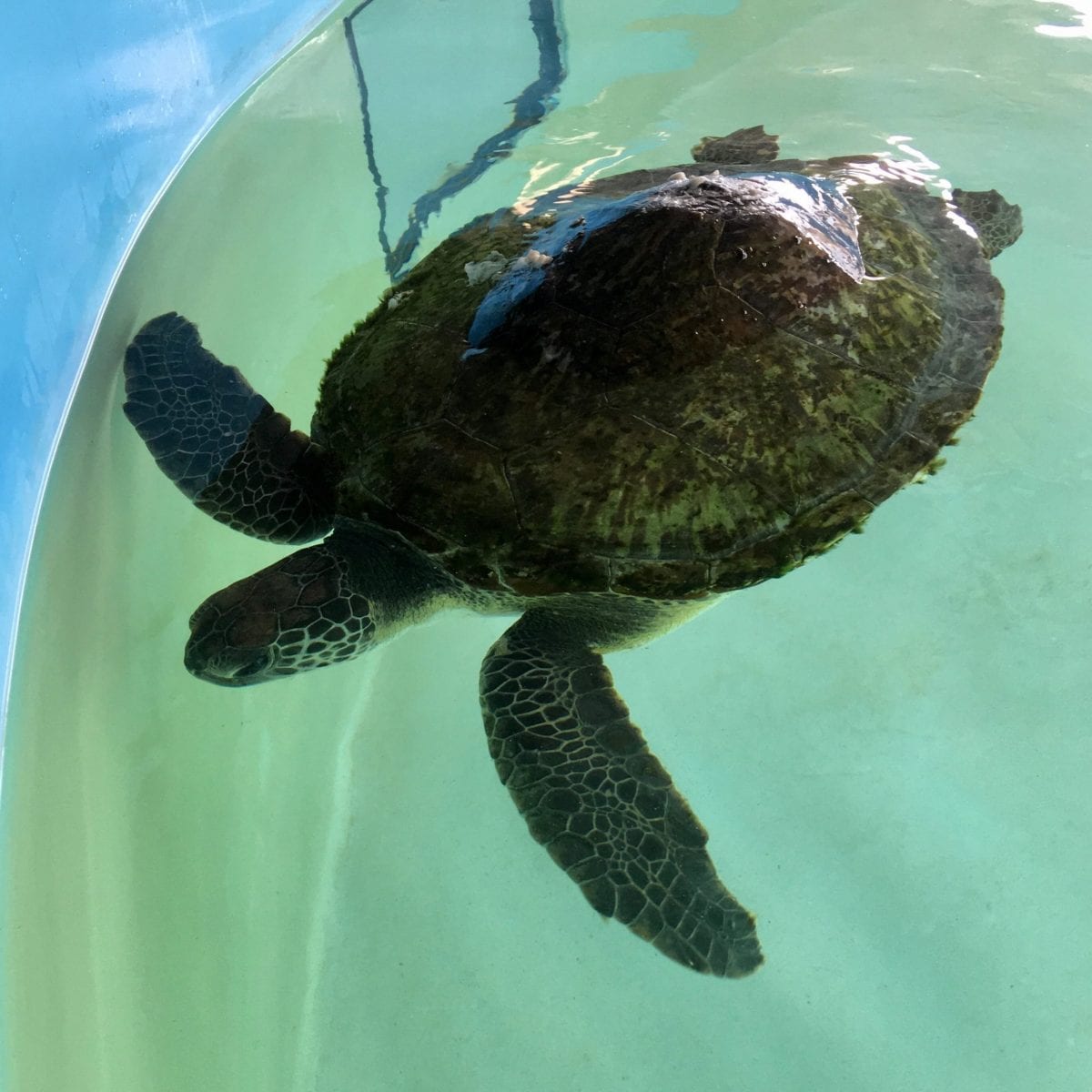 Williamson
Juvenile, Green
(Chelonia mydas)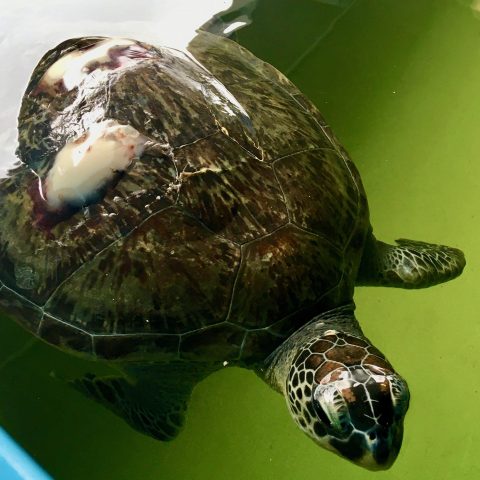 Patient Status

Current

Date Found

April 15, 2020
Location

Merry Pier in St. PeteaCrystal River; Citrus County.; Pinellas County
Reason for Rescue

Found Floating.
Initial Assessment
Weight

13.85 kg (30.5 lbs)

SCL (Straight Carapace Length)

48.7 cm

Exam Findings

Alert, responsive and good body condition. There are old, partially healed injuries to carapace (shell).

Initial Treatment

Received vitamin injections, fluids and antibiotics.
Williamson's Story
Williamson is a juvenile, green sea turtle who was found floating in the Crystal River area in Citrus County. Upon intake, Williamson was covered with a large amount epibiota and leeches. He has a minor case of fibropapilloma tumors. There are old, partially healed injures to Williamson's carapace, as well as, a "hump" appearance to his shell. Williamson's initial treatment plan consists of vitamin injections, fluids, and antibiotics.
Treatment Updates
4.17.20

X-rays were completed and blood work was sent off to the lab. The first swim test was performed. Williamson is buoyant when swimming.

4.18.20

He was offered food and ate it all! He officially starts on a diet tomorrow.

4.21.20

We are continuing to do glucose checks and are giving him fluids if needed. We are monitoring his buoyancy and deep water swim time. He is continuing to eat well!

5.14.20

Routine wound care was performed on Williamson's carapace injuries. This is to help them heal properly. We are continuing to monitor his buoyancy.

6.3.20

Williamson underwent an extensive wound care procedure under general anesthesia. Williamson's wounds were thoroughly cleaned and maintained in order to encourage proper healing.

6.19.20

Will's wounds are continuing to heal. We are doing routine wound cleanings and bandage changes weekly or as often as needed. He is continuing to eat well.

7.3.20

Williamson was seen resting on the bottom for the first time! This is very exciting and encouraging for his rehab progress!

7.15.20

Williamson is continuing to rest on the bottom! Wound care was performed to his carapace injuries.

9.9.20

Williamson's carapace (shell) wounds are healing great. The scute pigmentation* is starting to return as a part of the healing process! His diet was adjusted to include more greens. He is continuing to rest on the bottom.

*Interesting Fact: A sea turtle's carapace is comprised of "scutes." These scutes are made up of keratin!

9.25.20

Williamson went for a CT scan. No internal tumors were seen. He is approved to have surgery to remove external tumors! The CT scan also revealed trauma to his spine which could likely be the cause of his buoyancy issues.

10.7.20

He had surgery to remove his pap tumors and the procedure went well. Over the next few weeks, we will be monitoring his surgical sites for healing and tumor regrowth.

12.31.20

Williamson is continuing to eat well.

We are still monitoring his buoyancy issue.

Surgical sites have healed well!

3.14.21

We have been monitoring Williamson's buoyancy issue over the last couple of months.

Williamson has recently been seen resting on the bottom, caudal end up, continously!

7.22.21

Williamson had a rountine medical examination. We complete frequent medical examinations on our animals to continue to monitor their health and behaviors. We are happy to report that Williamson has not shown any tumor regrowth since surgery!
---
All marine turtle footage taken in Florida was obtained with the approval of the U.S. Fish and Wildlife Service and the Florida Fish and Wildlife Conservation Commission (FWC) under conditions not harmful to marine turtles. Footage was acquired while conducting authorized conservation activities pursuant to FWC MTP-18-172.