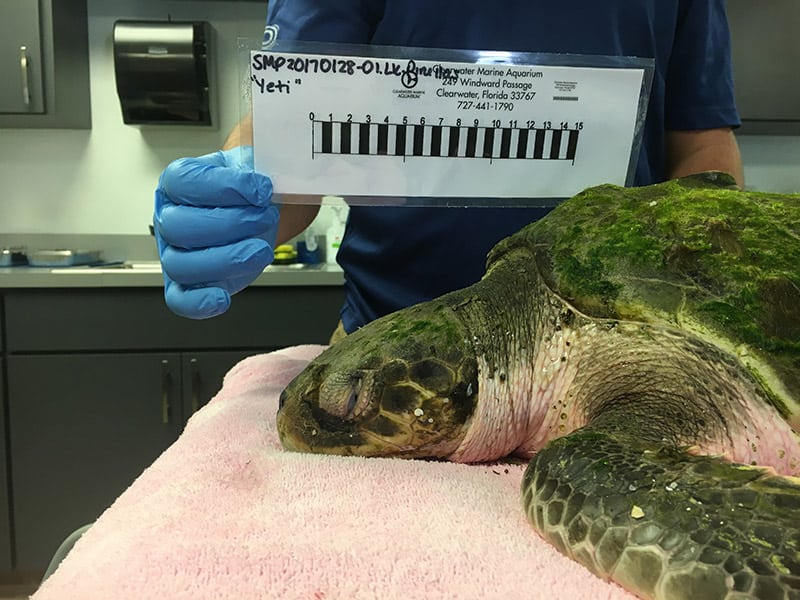 Yeti
Juvenile, Kemp's ridley
(Lepidochelys kempii)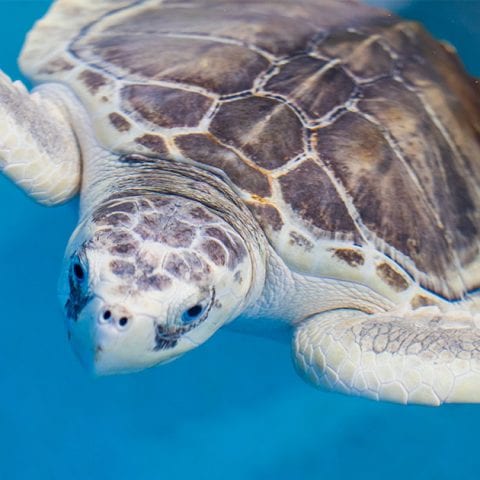 Patient Status

Current

Date Found

January 28, 2017

Location Found

Sand Key, Pinellas County, FL

Reason for Rescue

Buoyant, difficulty swimming
---
TRIAGE
Weight

6.16 kg (13.58 lbs)

SCL (Straight Carapace Length)

36.9 cm (14.53 in)

Exam Findings

Quiet but alert; good body condition. X-rays show possible pneumonia in the lungs and some gastrointestinal gas. Disoriented and buoyant behavior exhibited during a swim test.

Initial Treatment

Received vitamins, antibiotics, and fluids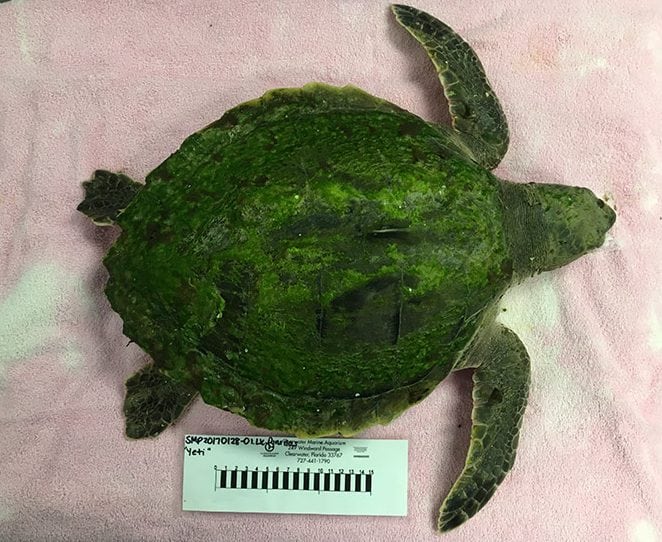 YETI'S STORY
On January 28, a juvenile Kemp's ridley sea turtle was found floating nearshore in Sand Key, Pinellas County, Florida. The turtle was buoyant and having a difficult time swimming or diving below the surface. The turtle was picked up by the Florida Fish and Wildlife Conservation Commission, and transferred to volunteers who brought the turtle to Clearwater Marine Aquarium for triage.
The turtle's body temperature was a bit low, and it had a moderate amount of epibiota on its carapace, or shell. X-rays showed the turtle had some gastrointestinal gas and possible pneumonia in its lungs.
Fun Fact

I'm named after the abominable snowman!

Naming Theme

Mythical Creatures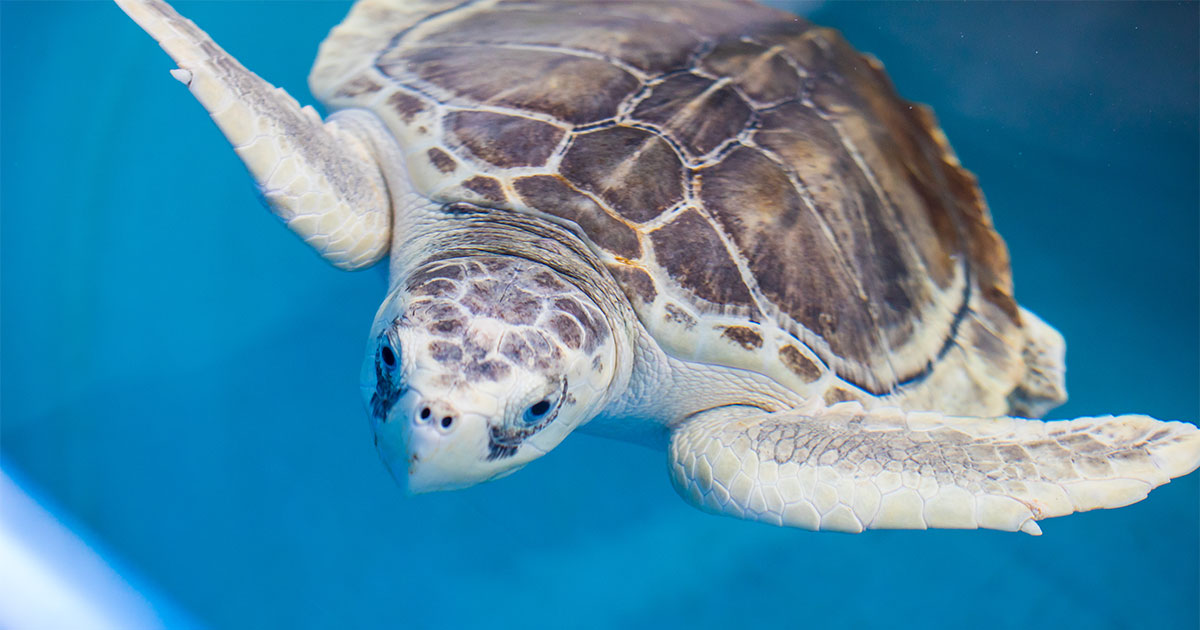 ---
TREATMENT UPDATES
1.28.17

Tested to check swimming ability – buoyancy challenges in rear.

1.30.17

Started receiving twice daily TPN (total parenteral nutrition), a method of feeding that bypasses the gastrointestinal tract.

2.3.17

Discontinued TPN and began tube feeding with meds.

2.14.17

Swimming improved – cleared for deep water.

2.25.17

Surgical procedure performed to clean a wound in Yeti's lower jaw. Daily wound care started.

4.5.17

Restarted twice daily TPN treatments.

5.4.17

Restarted twice daily TPN treatments.

5.22.17

Yeti began to eat on her own. TPN discontinued.

9.15.17

Successful surgery to aid the healing of a wound on Yeti's lower jaw.

10.4.17

Returning to injectable antibiotics along with regular oral medications.
---
All marine turtle footage taken in Florida was obtained with the approval of the U.S. Fish and Wildlife Service and the Florida Fish and Wildlife Conservation Commission (FWC) under conditions not harmful to marine turtles. Footage was acquired while conducting authorized conservation activities pursuant to FWC MTP-17-172.