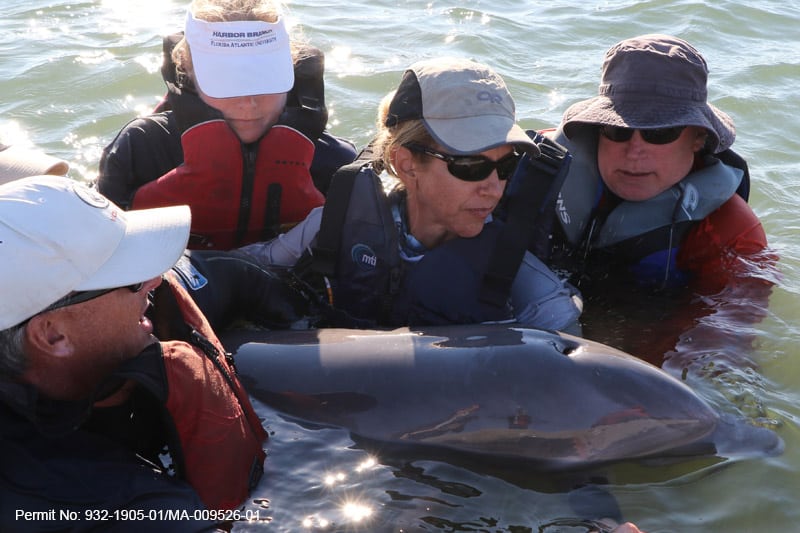 Fort Pierce, FL (January 2017) – Under the direction of National Marine Fisheries Services (NMFS) Clearwater Marine Aquarium dispatched a small team to assist in the intervention of an entangled bottlenose dolphin calf in the Indian River Lagoon, near Fort Pierce, FL. (This is near the same area where Winter and Hope were rescued, and where another dolphin calf was disentangled from fishing line earlier this month.)
History of Dolphin Calf Entanglement
This was the second attempt, under the direction of NMFS, to intervene. Previously, on December 14, 2016, NMFS, HUBBS-SeaWorld Research Institute (HSWRI), FAU Harbor Branch Oceanographic Institute (HBOI), SeaWorld Orlando (SWO), Georgia Aquarium's Dolphin Conservation Field Station (DCFS), Clearwater Marine Aquarium (CMA), University of Florida (UF), and Florida Fish and Wildlife Conservation Commission (FWC) attempted to locate the calf and mother.
The calf's mother is a dolphin that is known to HBOI's Photo ID Team as Reel. She has been observed a few times in the area since 1999. The calf, estimated to be about two years of age and believed to be Reel's fifth baby, was located on December 14. However, the target pair left the Indian River Lagoon before a rescue could be attempted. The calf appeared to be in good body condition based off photos collected by the HBOI Photo ID Team. Therefore, NMFS planned for additional rescue attempts to be conducted when environmental conditions would allow in the coming weeks.
New Attempt to Rescue
The new attempt to intervene and help the entangled calf was scheduled for January 25, 2017 after HBOI's Photo ID Team positively identified the mom-calf pair early in the week. Network partners, under the direction of NMFS, SWO and DCFS, boarded vessels early in the morning to search for the pair. They were located later in the morning with a large group of mom-calf pairs foraging in the shallows of the Indian River Lagoon. Rescue vessels and Photo ID teams followed the pair for six hours until Reel and her calf separated from the group and were observed in shallow water. The pair were successfully contained and then treated boat-side and through the use of large, floating platforms.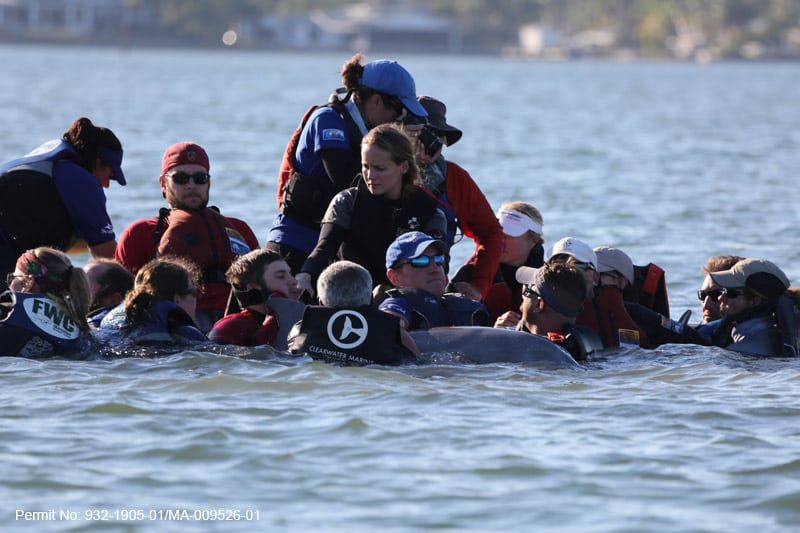 Fishing Line Scars Found Before Release
Entanglement around the calf included fishing gear wrapped around the body in front of the left pectoral flipper and behind the right flipper. Scarring on the mouth and the leading (or front) edge of the right pectoral flipper suggested previous entanglement in those locations. After disentangling the calf, the veterinarians applied a long-acting antibiotic. The mom-calf pair were released back into the Indian River Lagoon and were observed by the Photo ID Team after the intervention.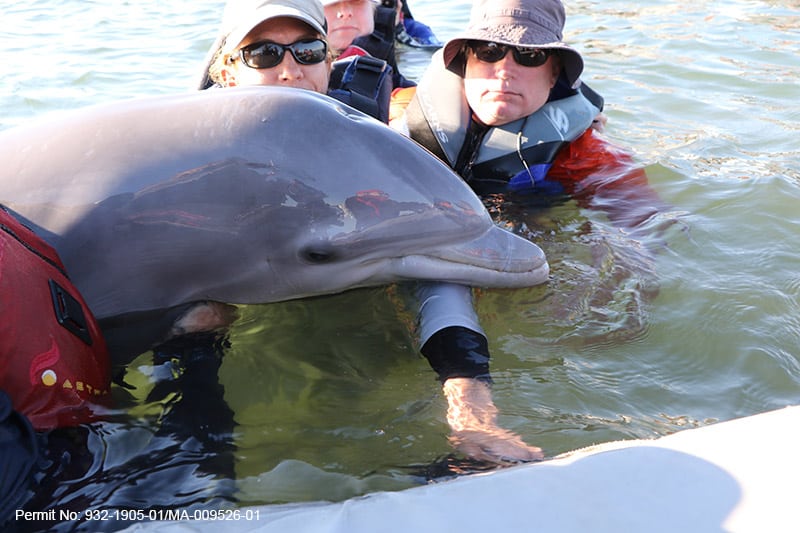 Photos taken under NMFS permit number: 932-1905-01/MA-009526-01
---
Support Rescue Efforts
You can help support our rescue work by donating, volunteering or providing wish list supplies. Learn how to report a stranded dolphin. And help keep our oceans clean and safe for all marine life by recycling fishing line.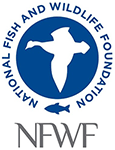 We also greatly appreciate the support from NFWF, National Fish and Wildlife Foundation, for our rescue efforts.