CMA Research Institute staff have extensive experience tagging and tracking manatees in Florida and around the world. Satellite tracking is a tool researchers use to answer an array of questions. The ability to locate manatees in the wild and document their habitat use, movements, and behavior is invaluable.
We use tracking information to determine how manatees react to the loss of warm water habitat at power plants; the status and importance of foraging habitat; how and where manatees disperse to during migrations in the warmer months; site fidelity — in other words, do manatees return to the same locations year after year?
We also use the information to characterize manatee behavior; to assess the health of animals under various conditions, and to answer other important questions that arise over time. The dataset developed via this method of research is vast and invaluable.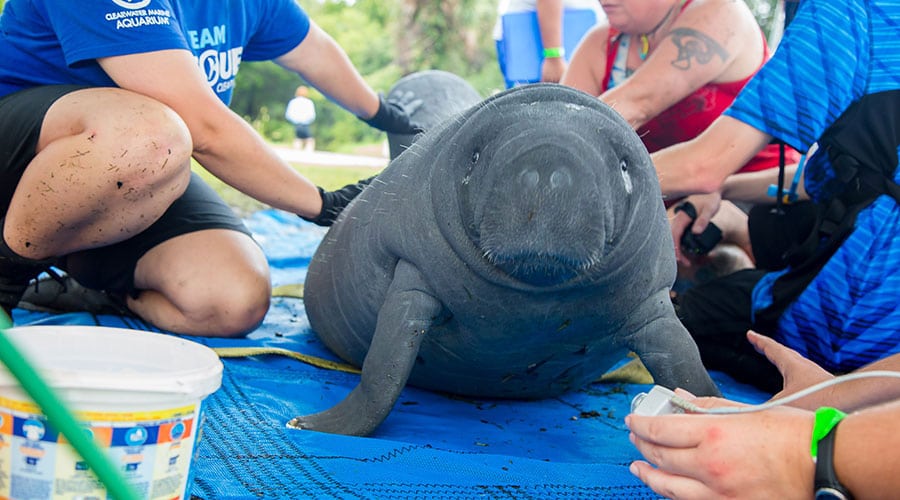 Manatee Movements and Habitat Choice Near Port Everglades Power Plant
One research project currently underway is using satellite tracking to document how manatees react to the loss of warm water at the Port Everglades power plant in Broward County. The Florida Power & Light Port Everglades Plant closed in January 2013 for modernization. The new plant (called the Port Everglades Next Generation Clean Energy Center–PEEC) will be fully operational in June 2016. The old plant provided warm water refuge for manatees during cold winter months; as many as 454 manatees have been documented utilizing the plant's warm water effluent during the winter. While the plant is undergoing modernization, it is no longer creating warm water. A temporary heating system was installed to provide some warm water for manatees when winter temperatures drop below a certain threshold. We have tagged eleven manatees near the power plant since 2013. Using satellite telemetry to track these animals, we will assess the potential impact to manatees' health resulting from the change in warm water availability during and after the modernization process.
Help Support Manatee Research
Documenting Manatee Responses to the Loss of Warm Water
Additionally, the CMA Research Institute team has been very active in documenting manatee response to the loss of warm water due to plant closures and modifications. Using photo-identification and tagging it is possible to describe movements and behaviors of individual manatees following the loss of previously used warm water habitat. This data informs managers on how to manage the inevitable plant closures of the future. Systematic and long-term documentation of manatee use of these critical winter habitats will provide state and federal managers with the information they need to provide further protection for these unique spring habitats.
Making Waves
1600+

rescued sea turtles since 2010

2100+

Nests monitored since 2010

850+

Animals released since 2010

190K

Volunteer Hours 2020-2021