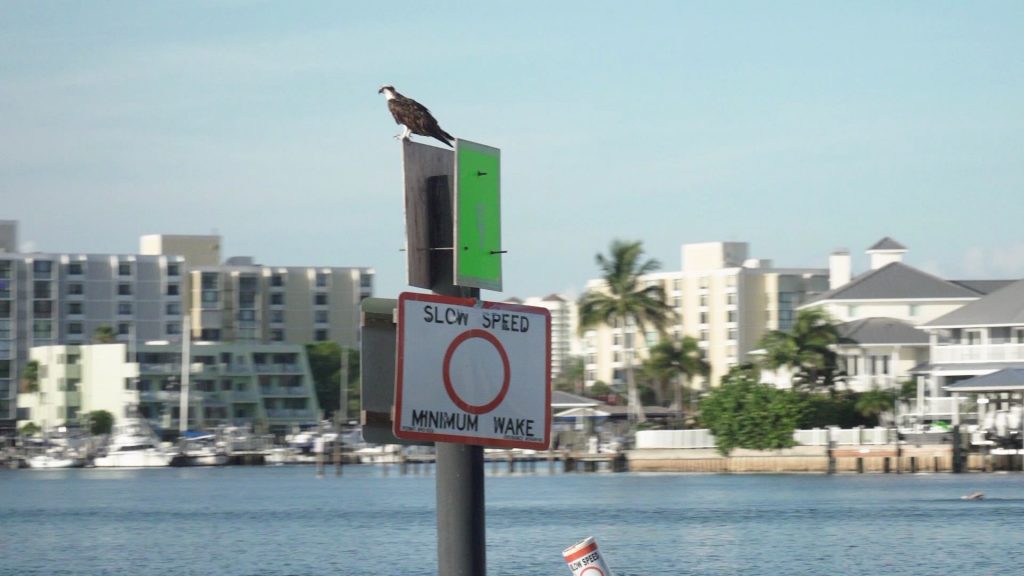 CLEARWATER, Fla (May 25, 2023) – With Memorial Day Weekend coming up, there will be more people and more boaters out on the waterways. Clearwater Marine Aquarium offers advice for boaters to have a safe experience not only for themselves, but for marine life in the ocean and intracoastal.
"There are several species in danger of being hurt by boats out on the water," said Hanna Rogers of Clearwater Marine Aquarium. "These include various species of sea turtles, manatees and dolphins," said Rogers. "This time of year is sea turtle nesting season, so we sea lot of the larger turtles coming closer to the coast to make their nests along the shore. We have seen an increase especially in loggerheads getting boat strikes, and unfortunately a lot of them do not make it through those strikes," said Rogers. "Manatees experience water craft trauma throughout their lifetime as well," she said. "Dolphins are another species who are at risk for boat strikes. They are a little bit faster moving but we commonly see animals with dorsal fin injuries."
Keep these animals and tips in mind:
Sea turtle nesting:
Sea turtle nesting season runs May 1 through Oct. 31.
Clearwater Marine Aquarium patrols approximately 21 miles of beach along North Pinellas County.
You can help save sea turtles by knocking down your sand-castles, and filling in holes, so that hatchlings can make it to the ocean.
Pick up your trash and belongings, as it can create a barrier for sea turtles – searching for a nesting site. And smaller trash can be ingested by sea turtles.
Manatees:
Manatees are slow creatures, and often swim near the surface of the water, so be aware of your surroundings. Boat-strikes can injure, or even be fatal for this species.
Dolphins:
Please keep your distance if you see any dolphins out in the wild
Remember that these are protected marine mammals and approaching them is illegal. It can disrupt their social bonds and foraging behaviors.
Everyone enjoys Clearwater Bay as much as we do so we appreciate everyone to helping to keep the animals in our area safe.
If you do see an animal in distress, please do not attempt to handle it or rescue it yourself, as this could cause more stress to the animal. Do not attempt to intervene or to push the animal back into the water, but instead provide information to trained responders who will get to the scene quickly with appropriate equipment.
The best way to help is to call CMA's rescue hotline if you are local to St. Pete or Clearwater: (727) 441-1790 ext. 1; or call the NOAA Fisheries Southeast Marine Mammal Stranding Hotline (877) WHALE-HELP or (877) 942-5343 for help.
MEDIA CONTACT Marsha Strickhouser, (727) 242-0770, Clearwater Marine Aquarium, mstrickhouser@cmaquarium.org.
###
About Clearwater Marine Aquarium

Clearwater Marine Aquarium (CMA) is a 501(c)(3) nonprofit working marine rescue center dedicated to inspiring the human spirit through leadership in education, research, rescue, rehabilitation and release. With a mission to preserve the environment and its marine life, CMA is home to rescued dolphins, sea turtles, river otters, stingrays, a nurse shark and more. Through Clearwater Marine Aquarium Research Institute, CMA conducts important global research focused on protecting manatees, North Atlantic right whales and sea turtles. Major motion picture Dolphin Tale (2011) and its sequel Dolphin Tale 2 (2014) features the true stories of rescued resident dolphins Winter and Hope, inspiring millions around the world. The mission and potential to change people's lives differentiates Clearwater Marine Aquarium from any other aquarium in the world.
© 2023 Clearwater Marine Aquarium | 249 Windward Passage, Clearwater, FL 33767 | 727-445-1139 | 727-441-1790 | mission.cmaquarium.org | cmaquarium.org

We believe in preserving our environment while inspiring the human spirit through leadership in the rescue, rehabilitation, and release of marine life; environmental education; research; and conservation.
A Florida non-profit 501(c)(3) organization