World's Rarest Sea Turtles Returned To Wild Following Rehab At CMA.
Clearwater, FL (March 9, 2023) – Clearwater Marine Aquarium (CMA) released 10 critically endangered Kemp's Ridley sea turtles Tuesday, March 7, at Gamble Rogers Memorial State Recreation Area at Flagler Beach. Each turtle received a clean bill of health from CMA's veterinary team prior to release into Atlantic waters.
"Clearwater Marine Aquarium is proud to be a leader in marine animal rescue, rehabilitation and release," said Joe Handy, Chief Executive Officer of CMA. "We are relentless in our mission to save critically endangered species. It's critical that we share the extraordinary work we do with our community, and how it impacts the world's oceans. Our talented and dedicated veterinary, animal care and rescue staff work tirelessly to care for at-risk marine animals from around the country and close to home."
The sea turtles were transferred to CMA for care from the New England Aquarium and National Marine Life Center. They received nearly three months of critical care at CMA following a cold-stun event in Cape Cod that resulted in hundreds of stranded sea turtles. CMA routinely accepts marine animals from other rehabilitation centers to help ease the burden of care during mass strandings. Cold-stun events happen when water temperatures fall below 50 degrees Fahrenheit. At these low temperatures, sea turtles experience decreased circulation and lethargy, leading to an inability to eat or metabolize food. CMA has rescued more than 1,600 sea turtles since 2010.
"Kemp's Ridley sea turtles are the world's most endangered and rarest species of sea turtle," said Dr. Shelly Marquardt, veterinarian for CMA. "The opportunity to care for and successfully return to the wild an entire group of 10 is inspirational for our hospital and animal care staff and volunteers."
Additional details on the turtles' care may be viewed at: mission.cmaquarium.org/news/sea-turtle-hospital-patient-new-england-patients/.
Kemp's Ridley sea turtles inhabit the Gulf of Mexico and the Atlantic Ocean along the U.S. Eastern seaboard. These sea turtles are unique in that they gather offshore and swim in together to nest in enormous groups called "arribatas." Nearly all Kemp's Ridley nesting (more than 95 percent) takes place in Tamaulipas, Mexico. Illegal harvesting of eggs lowered population numbers significantly through the 1980s, but intensive conservation efforts nearly eliminated this threat. Currently the predominant threat to Kemp's Ridleys is bycatch in commercial and recreational fishing gear.
As a working marine animal hospital, CMA specializes in providing care to marine animals that need recovery and rehabilitation before being released or providing a forever home to those that cannot be released due to physical limitation.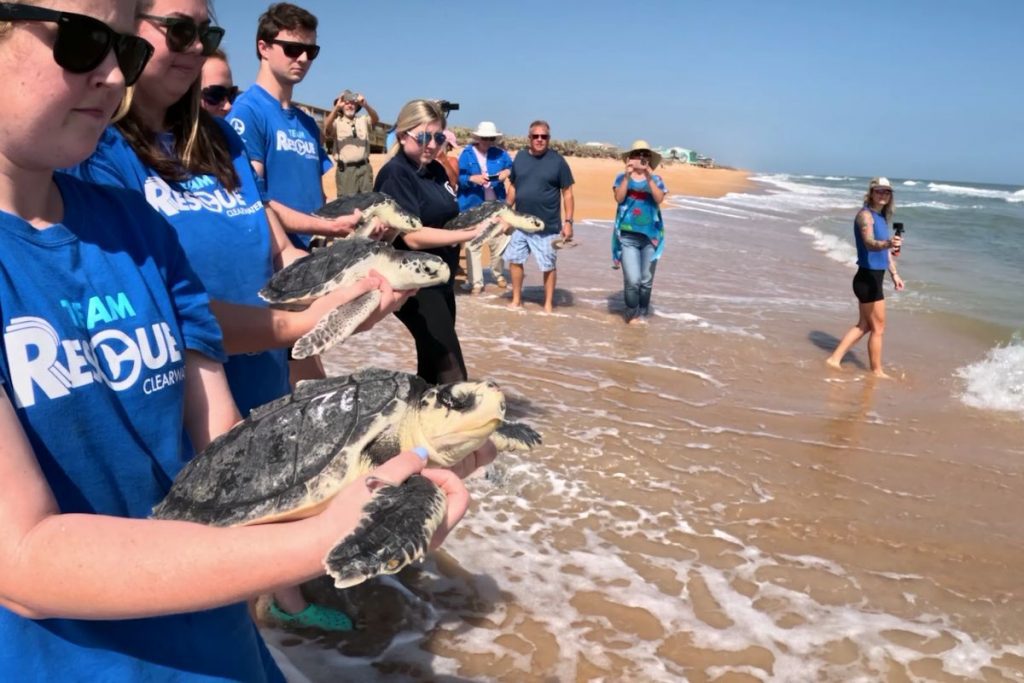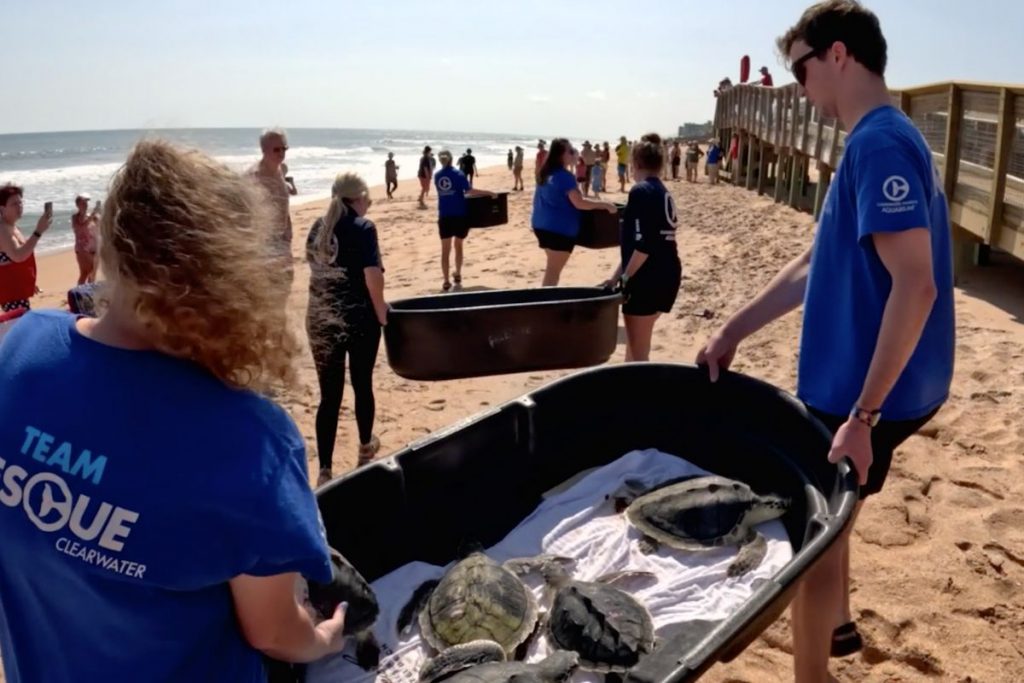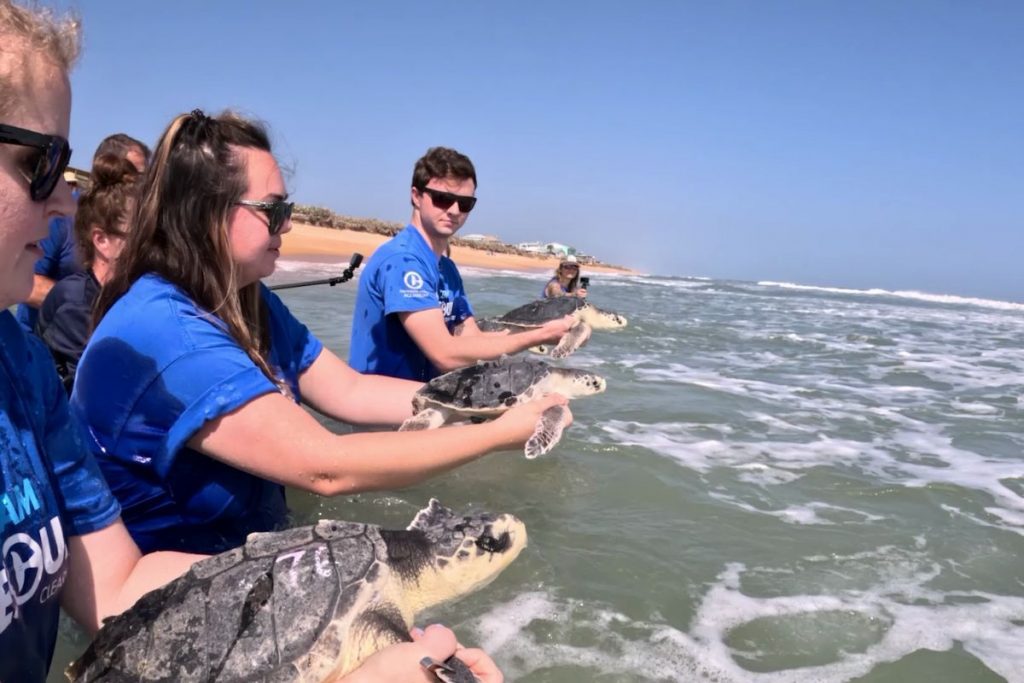 MEDIA CONTACT Andrea Alava, 813-453-8162, Clearwater Marine Aquarium, media@cmaquarium.org.
###
About Clearwater Marine Aquarium

Clearwater Marine Aquarium (CMA) is a 501(c)(3) nonprofit working marine rescue center dedicated to inspiring the human spirit through leadership in education, research, rescue, rehabilitation and release. With a mission to preserve the environment and its marine life, CMA is home to rescued dolphins, sea turtles, river otters, stingrays, a nurse shark and more. Through Clearwater Marine Aquarium Research Institute, CMA conducts important global research focused on protecting manatees, North Atlantic right whales and sea turtles. Major motion picture Dolphin Tale (2011) and its sequel Dolphin Tale 2 (2014) features the true stories of rescued resident dolphins Winter and Hope, inspiring millions around the world. The mission and potential to change people's lives differentiates Clearwater Marine Aquarium from any other aquarium in the world.
© 2023 Clearwater Marine Aquarium | 249 Windward Passage, Clearwater, FL 33767 | 727-445-1139 | 727-441-1790 | mission.cmaquarium.org | cmaquarium.org

We believe in preserving our environment while inspiring the human spirit through leadership in the rescue, rehabilitation, and release of marine life; environmental education; research; and conservation.
A Florida non-profit 501(c)(3) organization