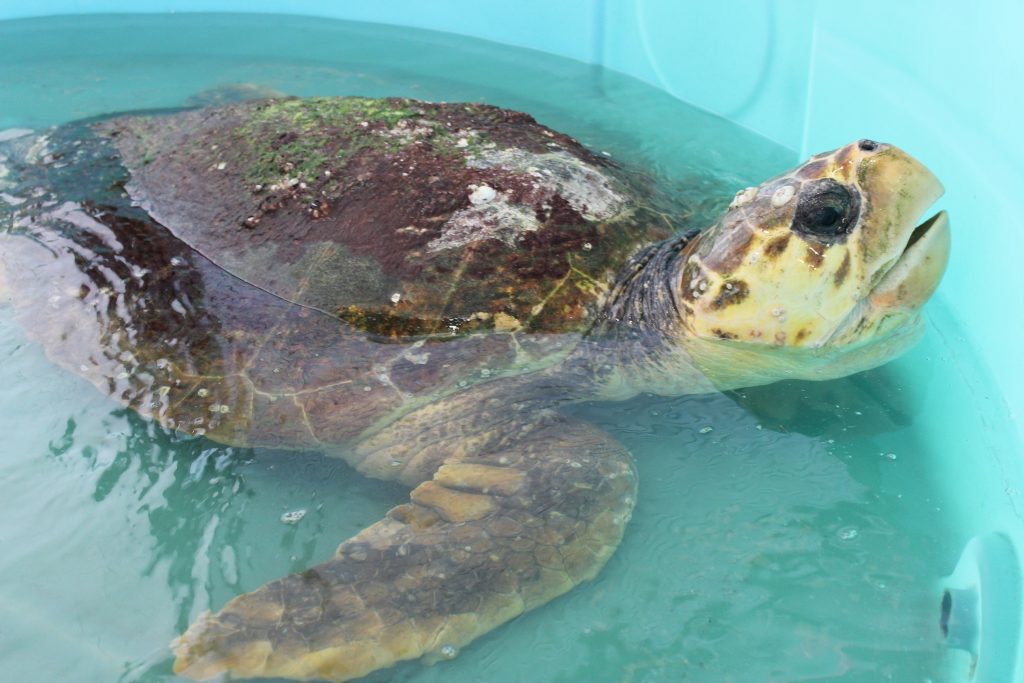 Shenandoah
Loggerhead, Adult
(Caretta caretta)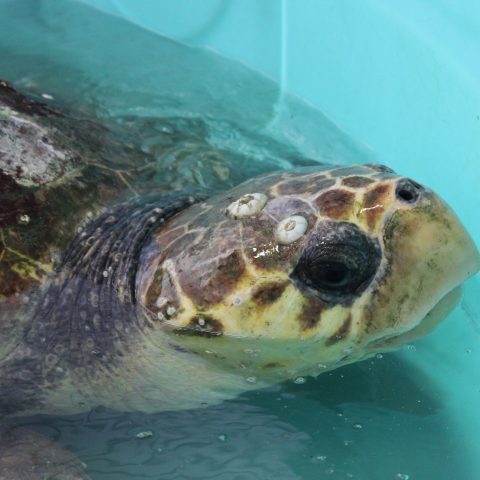 Patient Status

Released

Date Found

February 28, 2023
Location

Indian Rocks Beach; Pinellas County
Reason for Rescue

floating in distress
Initial Assessment
Weight

114 kg (251 lbs)

SCL (Straight Carapace Length)

90.1 cm

Exam Findings

Complete amputation to left front flipper that is completely healed. Responsive. Moderate amount of epibiota on carapace.

Initial Treatment

Vitamin injections, fluids, and antibiotics.
Shenandoah's Story
Shenandoah is an adult, male loggerhead who was found floating in distress off of Indian Shores beach in Pinellas County on Feb. 28. Shenandoah has a complete amputation to the left front flipper that is completely healed and is likely unrelated to stranding. Initial diagnostics include testing for potential red tide exposure and radiographs. Shenandoah is active and alert, and we are hopeful for a recovery!
INTERESTING FACT: Shenandoah is named after Shenandoah National Park in Virginia, USA. Shenandoah is a confirmed male sea turtle. Gender is difficult, sometimes impossible, to determine externally if they are immature and/or juvenile sea turtles. Once males reach sexually maturity, their tales extend pass their carapace unlike females. Shenandoah's tail length is 24.6 cm.
Treatment Updates
3.1.23

Shenandoah was placed in water for the first time. Due to his activity level, the pool was drained to lower levels to help him achieve better breaths. We will slowly increase his swim time and water level as he improves.

3.2.23

Shenandoah ate a piece of squid that was offered! We also started him on IV nutrition, this will help him improve by giving important nutrients and also aid in flushing any possible brevetoxins if there was exposure.

3.4.23

Sample processing from FWRI (Florida Fish and Wildlife Research Institute) has confirmed high levels of red tide exposure for Shenandoah. We will continue with current treatment plan. He is able to be in shallow water a few hours a day!

3.9.23

Shenandoah is still in one of our ICU pools, we have been gradually increasing the water level. Shenandoah had a routine exam that included recheck labwork (including red tide). Shenandoah was offically started on a diet!

3.14.23

Shenandoah is able to be in his ICU pool filled halfway all day and overnight! Appetite is great – currently eating around 2lbs of food a day! Recheck bloodwork for brevetoxin showed decrease in toxin levels!

3.31.23

Shenandoah's recheck blood work showed a continuing decrease in toxin levels! His ICU pool is now at full water level all day and overnight for the last week! We are hopeful to move Shenandoah to a larger, deeper pool in a week!

4.4.23

Shenandoah was cleared to be moved to a deeper pool! We will continue to monitor his progress!

4.12.23

Shenandoah received a diet increase! Now eating almost 4 lbs of food a day!

5.10.23

Shenandoah has received a clean bill of health from our veterinarian and has been cleared for release by Florida Fish and Wildlife!

5.17.23

Shenandoah was successfully released on Clearwater Beach! Shenandoah was also satellite tagged. This will help with research efforts related to male migratory patterns.
---
All marine turtle footage taken in Florida was obtained with the approval of the U.S. Fish and Wildlife Service and the Florida Fish and Wildlife Conservation Commission (FWC) under conditions not harmful to marine turtles. Footage was acquired while conducting authorized conservation activities pursuant to FWC MTP-23/24-172.