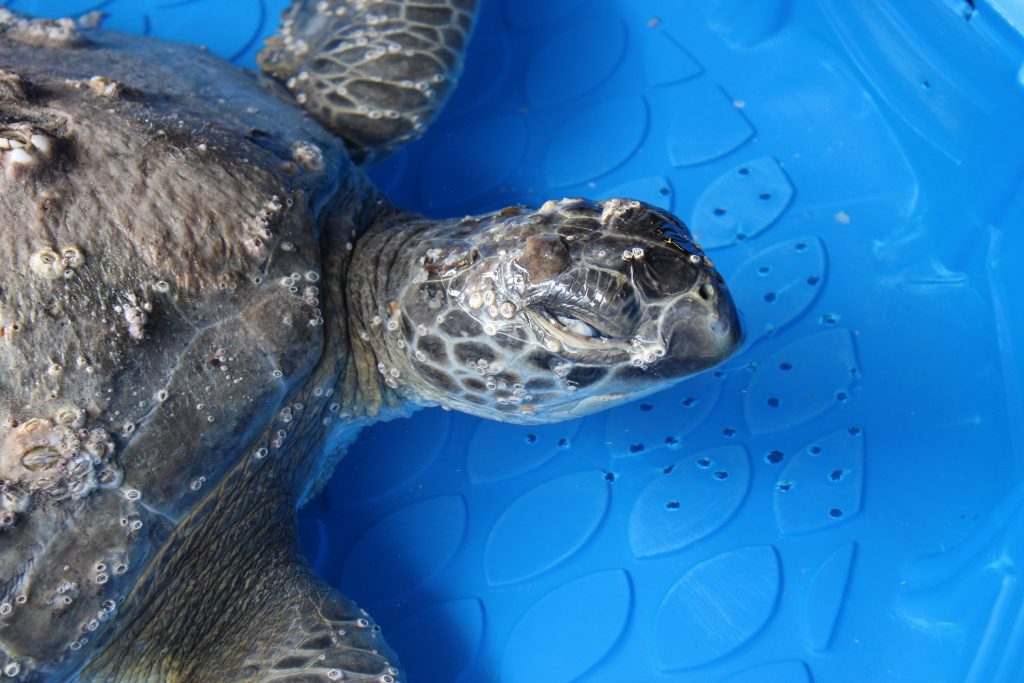 Grand Canyon
Green, Subadult
(Chelonia mydas)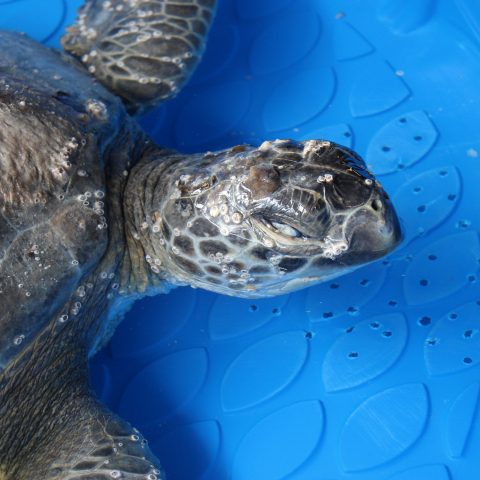 Patient Status

Former Patient

Date Found

February 24, 2023
Location

North Anclote; Pasco County
Reason for Rescue

Floating, lethargic
Initial Assessment
Weight

32.24 kg (70.8 lbs)

SCL (Straight Carapace Length)

62.3 cm

Exam Findings

Covered in a large amount of barnacles. Previous caudal carapace (shell) injury that is healed causing a carapace deformity. Ulceration to both eyes.

Initial Treatment

Vitamin injections, fluids, antibiotics, and medicated eye drops.
Grand Canyon's Story
Grand Canyon is a subadult green sea turtle who was found floating and lethargic near North Anclote in Pasco County on Feb. 24. At intake, Grand Canyon was covered in a large amount of barnacles and has ulcerated eyes. Grand Canyon also has a previous healed injury to their caudal carapace that is causing a deformity.
INTERESTING FACT: Grand Canyon is named after Grand Canyon National Park in Arizona, USA. Grand Canyon is a PIT tagged sea turtle! At each sea turtle intake, live and dead, all sea turtles are scanned for PIT tags. PIT tags are applied by other rehab facilities prior to patient's releases and also by research companies. These help us learn more in instances of restrandings or research captures. We can learn more about migration patterns for both foraging and mating, and growth and disease differences! Grand Canyon was previously rehabbed by our partners, Mote Marine Laboratory.
Treatment Updates
2.26.23

Grand Canyon was swim tested for the first time. Floating and lethargy behaviors were observed. We will slowly increase their swim time as their health improves. Grand Canyon was placed in a shallow kiddie pool to help achieve good breaths.

3.2.23

Grand Canyon is able to be in a kiddie pool all day and overnight. We are still monitoring this patient's appetite and vision. We are continuing to do glucose checks and giving fluids.

3.3.23

Grand Canyon went for a routine CT scan. Due to inappetance, Grand Canyon was given IV nutrition. This will give Grand Canyon the proper nutrition needed to improve and hopefully recover.

3.4.23

Grand Canyon's recheck labwork shows a concerning trend. Grand Canyon remains in critical condition. We are doing IV fluid therapy and administering appropriate medications as needed.
---
All marine turtle footage taken in Florida was obtained with the approval of the U.S. Fish and Wildlife Service and the Florida Fish and Wildlife Conservation Commission (FWC) under conditions not harmful to marine turtles. Footage was acquired while conducting authorized conservation activities pursuant to FWC MTP-23/24-172.