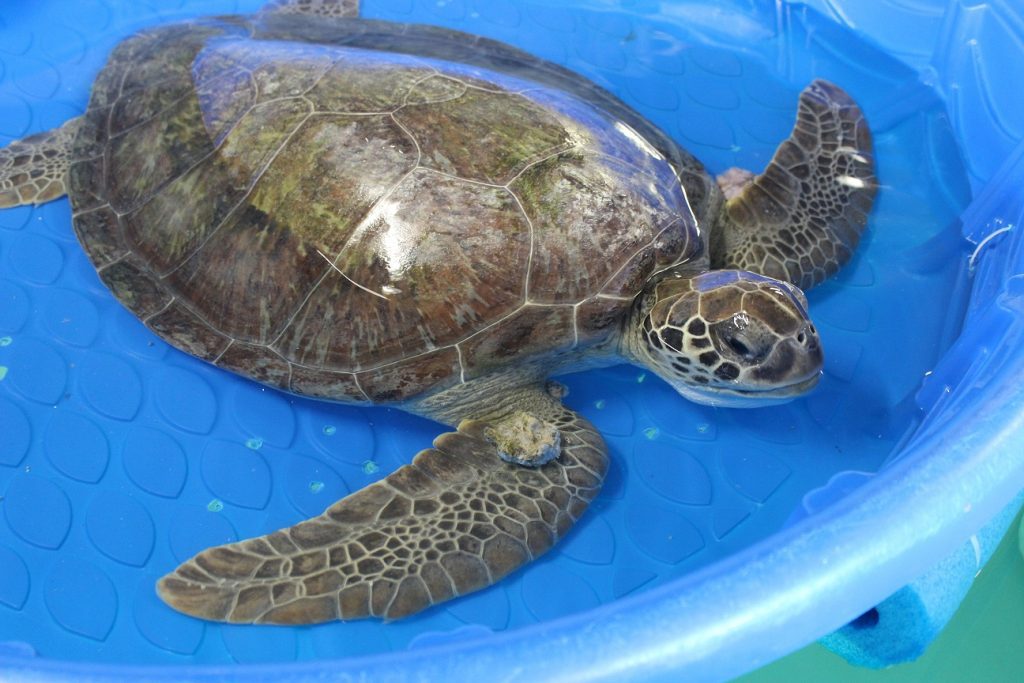 Big Bend
Green, Subadult
(Chelonia mydas)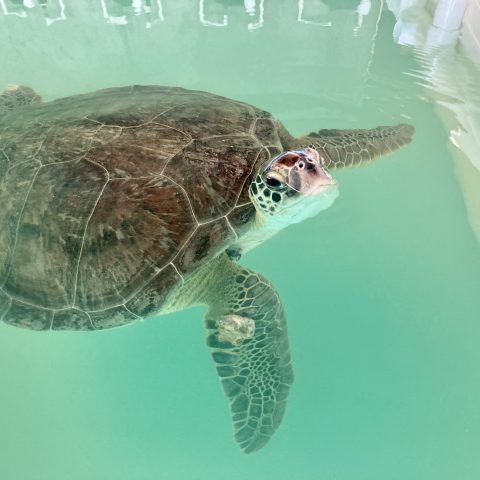 Patient Status

Released

Date Found

February 23, 2023
Location

Fort Myers; Lee County
Reason for Rescue

Floating, lethargic
Initial Assessment
Weight

19.5 kg (42.9 lbs)

SCL (Straight Carapace Length)

60.8 cm

Exam Findings

Lethargic, thin. Fibropapilloma tumors present but not severe.

Initial Treatment

Vitamin injections, fluids, and antibiotics
Big Bend's Story
Big Bend is a subadult green sea turtle who was found floating offshore of Fort Myers on Feb. 23. Big Bend is underweight and lethargic at intake with a moderate load of fibropapillomas.
INTERESTING FACT: Big Bend is named after Big Bend National Park in Texas, USA. Lee county is typically our partner's Mote Marine Laboratory's area. We were asked by Florida Fish & Wildlife Conservation Commission to assist in rehabilitation due to spacing issues. This shows the importance of collaboration to help each other and these species!
Treatment Updates
2.24.23

Big Bend was swim tested for the first time. Floating and lethargy behaviors were observed. We will slowly increase their swim time as their health improves. Big Bend was placed in a shallow kiddie pool to help achieve good breaths.

2.26.23

Big Bend is able to be in water half day in a kiddie pool! We are starting to offer food and monitoring appetite. Continuing to do glucose checks twice a day and giving fluids.

3.1.23

Big Bend is able to be in a kiddie pool all day and overnight! They went for a routine CT scan and no obvious internal tumors were seen! Big Bend is starting to show interest in food!

3.4.23

Big Bend is eating well! We have started incorporating daily deep water time. Big Bend is still showing some buoyancy behaviors but overall is doing well!

3.6.23

Big Bend is able to be in deep water all day and overnight! Buoyancy has improved and is able to rest on the bottom!

3.14.23

Big Bend is continuing to improve and do well!

3.31.23

Big Bend went for a recheck CT, no obvious internal concerns. Big Bend is improving and will hopefully be going home soon once they have healthy blood work! We will recheck Big Bend's bloodwork in 2 weeks.

4.12.23

Big Bend has received a clean bill of health from our staff veterinarian!

4.13.23

Big Bend was successfully released at Honeymoon Island!
---
All marine turtle footage taken in Florida was obtained with the approval of the U.S. Fish and Wildlife Service and the Florida Fish and Wildlife Conservation Commission (FWC) under conditions not harmful to marine turtles. Footage was acquired while conducting authorized conservation activities pursuant to FWC MTP-23/24-172.