Weighing 245 lbs., "Luna" the loggerhead is the largest sea turtle rehabilitated by CMA in 10 years.
CLEARWATER, Fla. (August 19, 2020) – A threatened loggerhead sea turtle is now swimming freely in the wild, thanks to the work by Clearwater Marine Aquarium's sea turtle rescue and rehabilitation team. After gaining 30 lbs. during her rehab and eating nearly 6 lbs. of food each day, Luna, a 245-lbs. adult female loggerhead, is the largest sea turtle the CMA team has rehabilitated in a decade.
Found washed ashore on April 26 on St. Pete Beach by Sea Turtle Trackers, "Luna" was lethargic, emaciated, and her shell was covered in barnacles and algae upon intake.
"We are in nesting season for loggerheads on our shores so when Luna came in, we wanted to make sure she wasn't a nesting female with eggs," said John Curry, Rehabilitation and Medical Care Manager. "An ultrasound was performed, and we found that she did not have any eggs so we began Luna on a regime of a healthy diet, vitamins, and fluids." Curry continued, "Luna was a healthy eater. She gained 30 lbs. during her rehab!"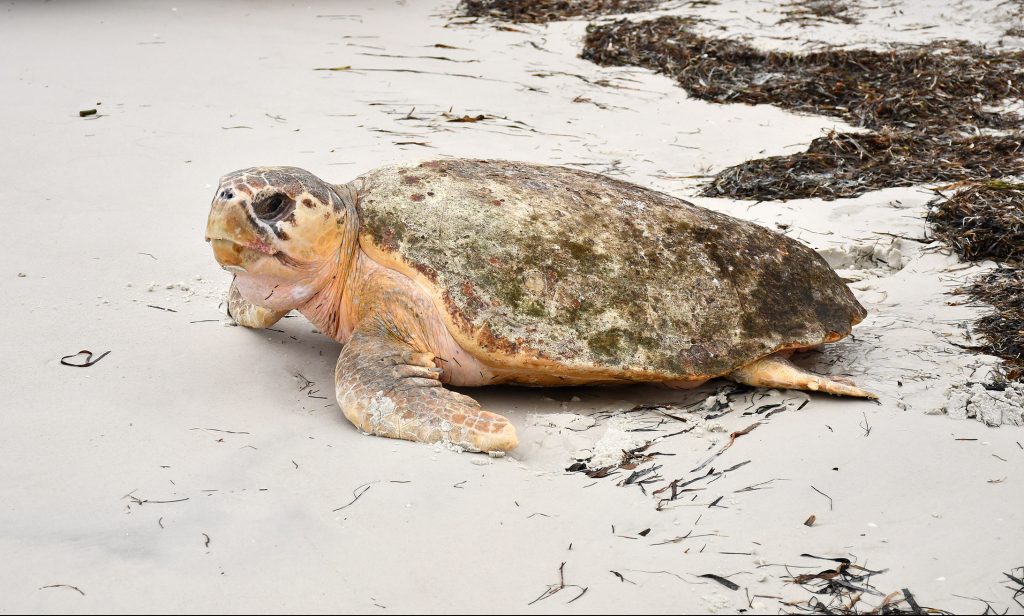 "Luna" is the largest sea turtle CMA has rehabilitated and released in 10 years. In 2010, the team cared for and released "Momma," a 249-lbs. female loggerhead. The largest sea turtle ever released by CMA was a 291-lbs. female loggerhead named "Briana" in 2006.
"Luna" was cleared for release by Clearwater Marine Aquarium's veterinarian and the Florida Fish and Wildlife Conservation Commission. She was released at 2:00 PM on the beach behind the Sandpearl Resort on Clearwater Beach.
Visit seewinter.com for reservations, events, and pricing specials. For those unable to visit CMA, view the rescued resident animals through live streaming webcams available on CMA's website.
###
About Clearwater Marine Aquarium

Clearwater Marine Aquarium (CMA) is a 501(c)(3) nonprofit working marine rescue center dedicated to preserving our marine life and environment while inspiring the human spirit through leadership in education, research, rescue, rehabilitation and release. CMA is home to rescue dolphins, sea turtles, river otters, stingrays, nurse sharks and more. Winter, the dolphin's story of survival after injury that caused her to lose her tail, has impacted millions of people around the world. A major motion picture, Dolphin Tale, highlighted her life story in 2011. The sequel, Dolphin Tale 2, was released in September 2014 and features the incredible story of Hope, a young resident dolphin of CMA. The mission and potential to change people's lives differentiates Clearwater Marine Aquarium from any other aquarium in the world
© 2020 Clearwater Marine Aquarium | 249 Windward Passage, Clearwater, FL 33767 | 727-445-1139 | 727-441-1790 | (Mission Site URL) | (Visit Site URL)

We believe in preserving our environment while inspiring the human spirit through leadership in the rescue, rehabilitation, and release of marine life; environmental education; research; and conservation.
A Florida non-profit 501(c)(3) organization