After removing a fishing hook from the turtle's throat, "Heath" made a full recovery.
CLEARWATER, Fla. (September 17, 2020) – Today, Clearwater Marine Aquarium returned one of the rarest species of sea turtles back to the wild after successfully removing a fishing hook and rehabilitating the juvenile turtle. "Heath" is a Kemp's ridley sea turtle making his survival especially important as the species is critically endangered, according to the U.S. Fish and Wildlife Service.
"Heath" was accidentally caught by a fisherman on August 29 in Hudson, FL. The fisherman reacted quickly by cutting the line and securing it to "Heath's" carapace (shell) to prevent him from swallowing the hook any further. Upon intake, a radiograph showed a circle hook in "Heath's" esophagus. Due to the location of the hook, the veterinary team at Clearwater Marine Aquarium was able to remove the hook without surgery.
"We were very lucky that the fisherman knew to secure the fishing line to his shell to keep the hook from being ingested even further," said John Curry, Rehabilitation and Medical Care Manager. "Once we were able to get the hook out we realized the bait was still on it! Thankfully, it was a non-invasive procedure allowing Heath a quick recovery."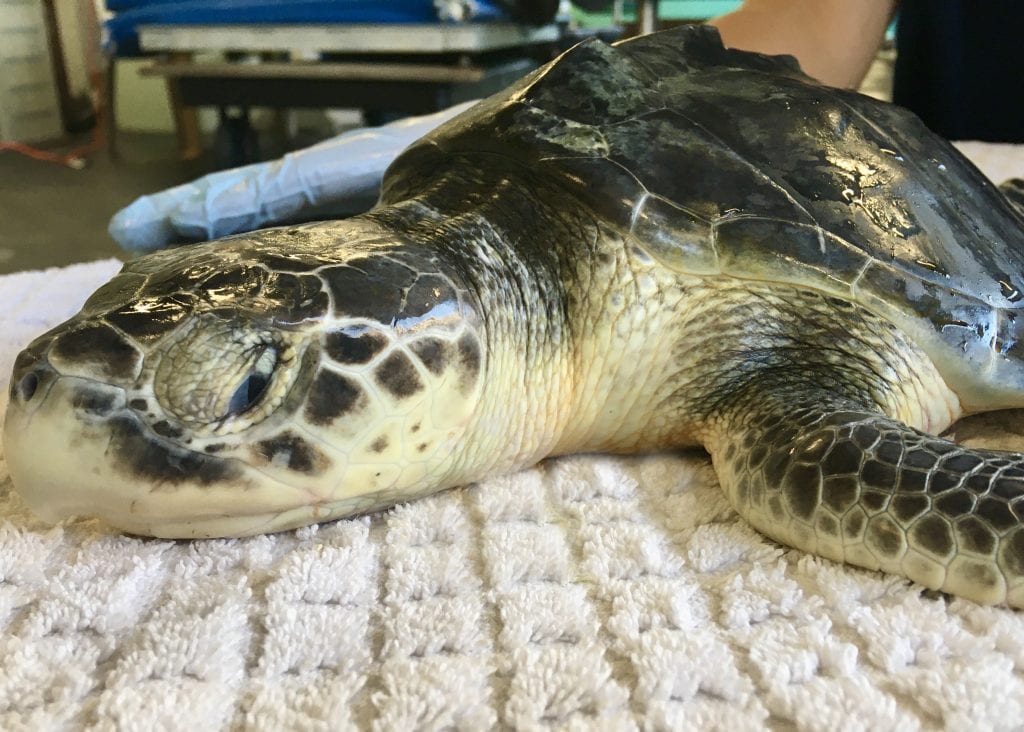 "Heath" was cleared for release by Clearwater Marine Aquarium's veterinarian and the Florida Fish and Wildlife Conservation Commission. He was released at 12:00 PM at Fred Howard Park in Pinellas County.
Clearwater Marine Aquarium is open to guests! Visit seewinter.com for reservations, events, and pricing specials. For those unable to visit CMA, view the rescued resident animals in their new habitats through live streaming webcams available on CMA's website.
###
About Clearwater Marine Aquarium

Clearwater Marine Aquarium (CMA) is a 501(c)(3) nonprofit working marine rescue center dedicated to preserving our marine life and environment while inspiring the human spirit through leadership in education, research, rescue, rehabilitation and release. CMA is home to rescue dolphins, sea turtles, river otters, stingrays, nurse sharks and more. Winter, the dolphin's story of survival after injury that caused her to lose her tail, has impacted millions of people around the world. A major motion picture, Dolphin Tale, highlighted her life story in 2011. The sequel, Dolphin Tale 2, was released in September 2014 and features the incredible story of Hope, a young resident dolphin of CMA. The mission and potential to change people's lives differentiates Clearwater Marine Aquarium from any other aquarium in the world
© 2020 Clearwater Marine Aquarium | 249 Windward Passage, Clearwater, FL 33767 | 727-445-1139 | 727-441-1790 | (Mission Site URL) | (Visit Site URL)

We believe in preserving our environment while inspiring the human spirit through leadership in the rescue, rehabilitation, and release of marine life; environmental education; research; and conservation.
A Florida non-profit 501(c)(3) organization