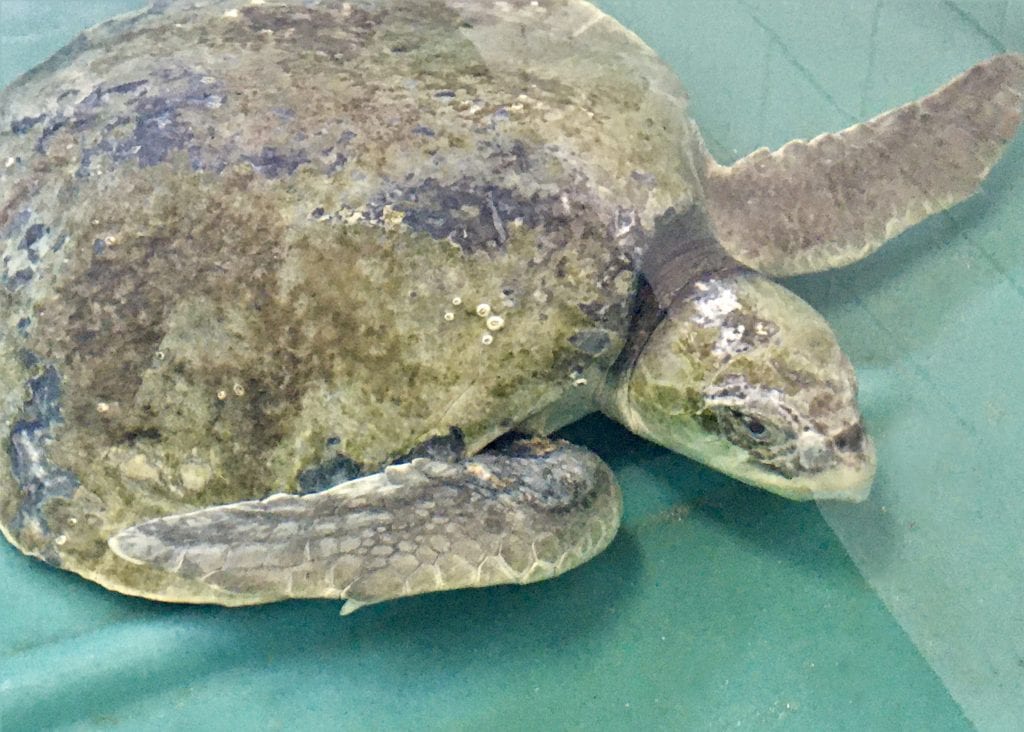 Jujube
Juvenile, Kemp's ridley
(Lepidochelys kempii)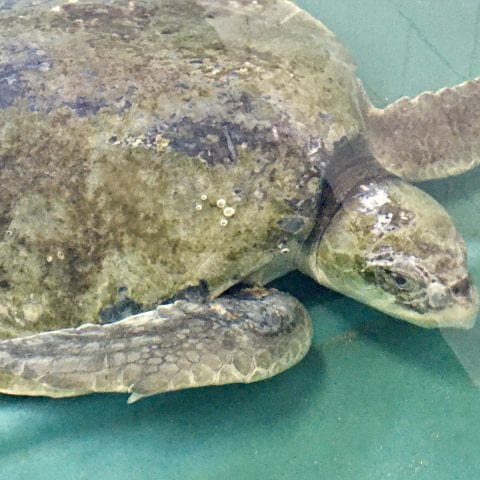 Patient Status

Current

Date Found

September 4, 2020
Location

Hudson; Pasco County
Reason for Rescue

Found floating
Initial Assessment
Weight

23.8 kg (52.4 lbs)

SCL (Straight Carapace Length)

57.1 cm

Exam Findings

Alert & active; There are wounds to the right front flipper and neck. There is a missing portion of carapace (shell) as well.

Initial Treatment

Received wound care, vitamins, fluids & antibiotics.
Jujube's Story
Jujube is a sub-adult, Kemp's ridley who was found floating in Hudson, FL on September 4. Upon intake, there was a wound to the right front flipper and a large lesion to the neck observed. Jujube is also missing a small portion of her carapace (shell), but the area is completely healed and unrelated to stranding. The origin and cause of these injuries are unknown. Her initial treatment consists of wound care, vitamins, fluids, and antibiotics.

Interesting Fact: Kemp's ridleys are critically endangered, and it is very rare for us to see this life stage of Kemp's ridleys in rehab!
Treatment Updates
9.6.20

Our team performed a swim test on Jujube in one of our shallow ICU pools. Based on her behavior, it was decided to also place her in a large kiddie pool.

We typically swim our new patients in these pools first until they are more stable for our deeper rehab pools. ICU pools are also more private and closed off from viewing due to these patients being in critical condition. We want to minimize as much stress as possible.

Continuing to do glucose checks and administering fluids. Xrays were also completed.

9.10.20

Jujube is now resting on the bottom of her ICU pool and no longer needs a kiddie pool! We are continuing to offer her food multiple times a day, but currently she is not showing any interest in food. We will continue to monitor her nutritional status through routine weighs and diagnostics.
---
All marine turtle footage taken in Florida was obtained with the approval of the U.S. Fish and Wildlife Service and the Florida Fish and Wildlife Conservation Commission (FWC) under conditions not harmful to marine turtles. Footage was acquired while conducting authorized conservation activities pursuant to FWC MTP-19-172.