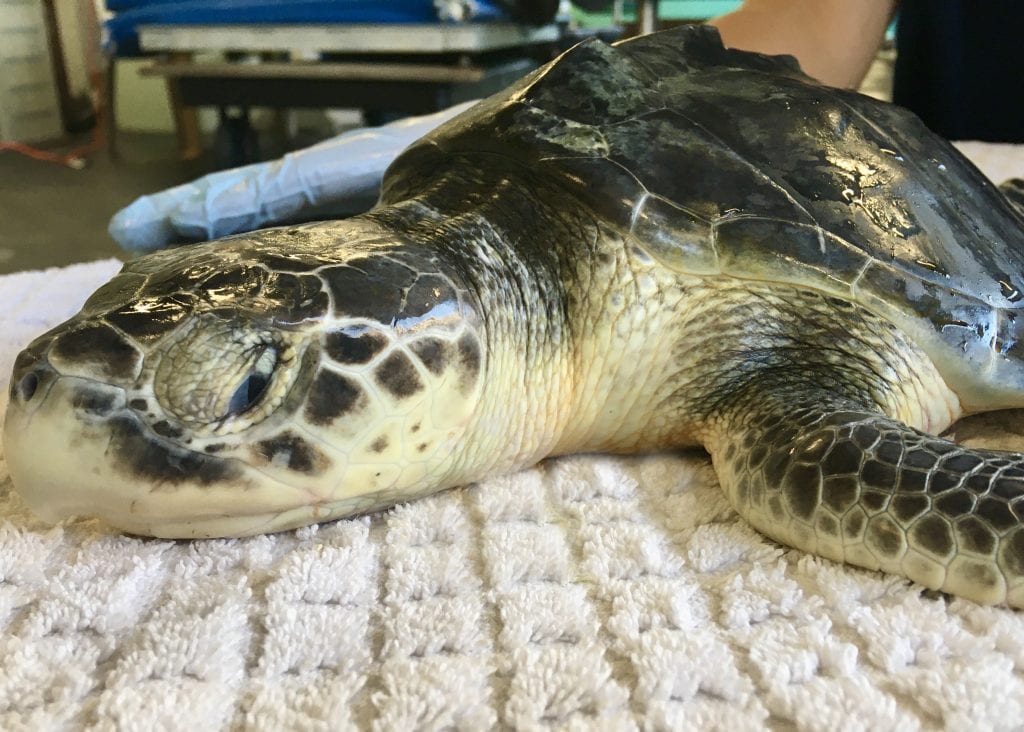 Heath
Juvenile, Kemp's ridley
(Lepidochelys kempii)
Patient Status

Released on September 17, 2020

Date Found

August 29, 2020
Location

Hudson; Pasco County
Reason for Rescue

Hook ingestion
Initial Assessment
Weight

2.31 kg (5.1 lbs)

SCL (Straight Carapace Length)

25.6 cm

Exam Findings

Alert & active; Fishing line present and coming from mouth, but the hook is not obviously visible.

Initial Treatment

Received vitamins, fluids & anti-inflammatory medications.
Heath's Story
Heath is a juvenile, Kemp's ridley who was accidentally caught by a fisherman in Hudson, FL in Pasco County. The fishing line was secured (taped) to the carapace (shell) to prevent further ingestion of the hook. X-rays revealed a large circle hook in Heath's esophagus. The hook was successfully removed orally without the need for surgery! We are hopeful for a quick recovery for Heath!
Treatment Updates
9.1.20

Heath ate for the first time and will start on a diet of squid only for a few days. This is typical protocol for hook removal patients since fish bones can cause irritation to the esophagus or GI tract. This will give time for any injuries to heal! He is doing well in water.

9.5.20

Heath's diet was increased and will now include other fish species like shrimp! Continuing to do glucose checks and giving fluids if needed.

9.7.20

Glucose checks and fluids have been discontinued.

9.9.20

Recheck lab-work was done. He is continuing to recover well!

9.17.20

Heath was deemed healthy enough and cleared for release! He was released at Fred Howard Park.
Learn more about Heath's release.
---
All marine turtle footage taken in Florida was obtained with the approval of the U.S. Fish and Wildlife Service and the Florida Fish and Wildlife Conservation Commission (FWC) under conditions not harmful to marine turtles. Footage was acquired while conducting authorized conservation activities pursuant to FWC MTP-19-172.