Ahead of 2024, CMA is focused on building out its team to strengthen community efforts on conservation and education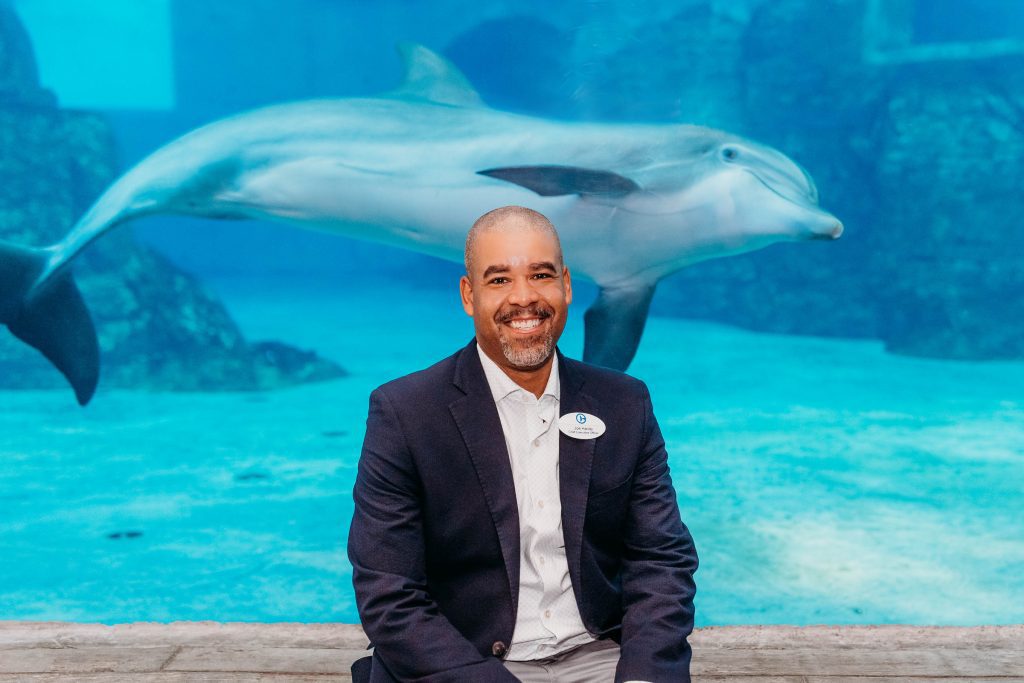 CLEARWATER, Fla (May 16, 2023) – With 200 days under his belt, Clearwater Marine Aquarium (CMA) CEO Joe Handy has outlined a new vision for the 50-year-old aquarium. Handy, who has spent more than 25 years leading cultural and nonprofit institutions, is focused on renewing ties with the local community, which includes the addition of new executives to introduce opportunities for marine education and events, and overseeing increased conservation and rescue efforts.
On the heels of a momentous milestone for CMA with the groundbreaking of the new Manatee Rehabilitation Center, developing CMA's infrastructure and executive team is crucial to lead the aquarium into the future. CMA will also pursue accreditation with the Association of Zoos & Aquariums (AZA) in the coming year.
"Clearwater Marine Aquarium has a storied history within the community and has built a reputation for the rescue and rehabilitation of marine animals over the past 50 years," said Handy. "As we look toward the future, we're uncovering ways for our organization to be on the cutting edge of marine research, be more intentional in reaching a diverse and inclusive audience, and continue to find engaging opportunities for marine life and conservation education."
CMA is proud to announce the appointment of talented leadership to its team, who will steer the organization toward a bright future under Handy's guidance.
Anthony Rivera, Chief Operating Officer
With an impressive background in operations and guest experience, Anthony brings a wealth of expertise to contribute to the continued success and growth of CMA. Prior to joining CMA, Anthony dedicated seven years of his career as Senior VP of Operations and Hospitality at Georgia Aquarium, where he held positions of increasing responsibility in Operations and Guest Experience. During his tenure he managed complex operational systems and delivered outstanding guest experiences, further enhancing his industry acumen. Anthony has also held noteworthy positions at Top of the Rock, Madame Tussauds New York, and the American Museum of Natural History. With Anthony's appointment, CMA affirms its dedication to delivering unparalleled service, refining operational and business efficiencies, and sustaining its position as an industry leader. With a focus on incorporating new technology and innovative ways of operating, Anthony will play a crucial role in advancing CMA's future ambitions and support its mission of groundbreaking care and rehabilitation for Florida's most vulnerable species.
Dr. James "Buddy" Powell, Chief Zoological Officer
After serving as interim CEO prior to Joe Handy's appointment, Dr. Powell moves into the position of Chief Zoological Officer and he continues to lead the Clearwater Marine Aquarium Research Institute (CMARI). Dr. Powell originally joined CMA as VP of Research and Conservation when Sea to Shore Alliance merged with Clearwater Marine Aquarium. Dr. Powell co-founded Sea to Shore Alliance in 2008 to improve the health and productivity of coastal environments for the endangered species and human livelihoods that depend on them through research, education and conservation. Dr. Powell has worked to conserve manatees and other endangered species around the world through science and education for more than 40 years, and will continue to bring his vast experience and innovative approach to care to CMA and CMARI through this new era of growth and development.
Dorree Gurdak, Vice President of Marketing
Dorree is a strategic global marketer with over 25 years of experience. Prior to joining CMA, Dorree served as Senior Vice President at Pollock Communications, where she collaborated with leadership to drive brand awareness, streamline operations, and position the agency for growth. In her previous experience with Weber Shandwick Boston, she consistently grew the practice through securing new clients and organic business expansion. With Dorree's appointment, CMA solidifies its commitment to share remarkable conservation stories and broaden its brand perception to engage audiences. Dorree will play a pivotal role in crafting and transcending the narrative previously centered around Winter. Her focus will be on creating a brand that shines a spotlight on the inspiring stories of survival and resilience of all animals rescued and cared for at CMA. In addition to establishing a fresh brand presence, Dorree will spearhead efforts to drive attendance and revenue, aligning with CMA's overarching mission.
Ruth Rosario, Vice President of Guest Experience and Engagement
An accomplished industry expert with a career spanning over 26 years, Ruth brings a wealth of knowledge and invaluable experience to her new role. Ruth was a key member of the opening team for Georgia Aquarium in 2005, where she dedicated 17 years to shaping and developing the overall guest experience. Prior to that, she honed her expertise during her decade-long tenure at the American Museum of Natural History. As the Vice President of Guest Experience and Engagement, Ruth will spearhead the organization's focus on "Edutainment" – a fusion of education and entertainment. Under her leadership, the Engagement team will devise innovative and enjoyable ways to educate guests about the vital work undertaken at CMA. Through captivating talks, interactive presentations, and immersive animal rescue demonstrations, guests will gain a deeper understanding of the organization's mission and the actionable steps they can take to contribute. With Ruth's extensive experience and her passion for delivering exceptional guest experiences, CMA will continue to educate and engage visitors.
Kathleen Mendoza, Vice President of Finance
Kathleen has been promoted to VP of Finance after serving more than 2 years as Director. She is a seasoned finance and accounting professional with over 30 years of experience in corporate, nonprofit, and international finance. Prior to joining CMA in 2020, Kathleen spent seven years as a controller for Pinellas Education Foundation and 10 years with Women's Tennis Association (WTA) as the Senior Director of Finance and Administration. Kathleen started her career as an auditor for a CPA firm and has since gained a wealth of experience in finance, non-profit, and international accounting. Kathleen will play an integral role in ensuring the financial wellbeing of the organization and will be instrumental in setting the stage for a positive economic future.
Marsha Strickhouser, Director of Media Relations
With a career spanning two decades in public relations, Marsha brings a wealth of expertise to her new role. Marsha's extensive professional background includes leading her own PR firm, Real PR, where she demonstrated skilled problem solving and a client-centric approach. She further honed her skills as a Public Relations Manager at Valpak Direct Marketing Services. Marsha has previously held key positions in media relations at prestigious institutions including the University of South Florida, University of Miami, and the Dade County Medical Association. As a writer and editor, Marsha has contributed to notable publications such as Palm Beach Newspapers and South Dade News Leader. By leveraging her expertise in storytelling, Marsha will inspire audiences to take action in support of conservation efforts and raise awareness for CMA's impactful initiatives. With Marsha on board, CMA will continue its commitment to deliver captivating storytelling that motivates guests to engage in conservation.
Christine Sanchez, Director of Sales and Revenue Generation
Christine brings 20 years of expertise and a proven track record of success to her new role. Having led successful business initiatives at the University of Miami and University of Tampa, Christine is skilled at driving growth and enhancing operational efficiency. Through the introduction of innovative and unique consumer events and programs, Christine plans to drive CMA's reach and revenue while enhancing consumer interactions. With Christine's extensive experience and her commitment to excellence, CMA will continue to drive growth, enhance operations, and deliver exceptional experiences for its valued visitors.
These new team members will join a previously established leadership team including Kelly Jordan, Chief Development Officer, Kelly Martin, Vice President Zoological Care, Shelly Marquardt, Doctor of Veterinary Medicine and Stephanie Jones, Director of Human Resources.
MEDIA CONTACT Marsha Strickhouser, (727) 242-0770, Clearwater Marine Aquarium, mstrickhouser@cmaquarium.org.
###
About Clearwater Marine Aquarium

Clearwater Marine Aquarium (CMA) is a 501(c)(3) nonprofit working marine rescue center dedicated to inspiring the human spirit through leadership in education, research, rescue, rehabilitation and release. With a mission to preserve the environment and its marine life, CMA is home to rescued dolphins, sea turtles, river otters, stingrays, a nurse shark and more. Through Clearwater Marine Aquarium Research Institute, CMA conducts important global research focused on protecting manatees, North Atlantic right whales and sea turtles. Major motion picture Dolphin Tale (2011) and its sequel Dolphin Tale 2 (2014) features the true stories of rescued resident dolphins Winter and Hope, inspiring millions around the world. The mission and potential to change people's lives differentiates Clearwater Marine Aquarium from any other aquarium in the world.
© 2023 Clearwater Marine Aquarium | 249 Windward Passage, Clearwater, FL 33767 | 727-445-1139 | 727-441-1790 | mission.cmaquarium.org | cmaquarium.org

We believe in preserving our environment while inspiring the human spirit through leadership in the rescue, rehabilitation, and release of marine life; environmental education; research; and conservation.
A Florida non-profit 501(c)(3) organization