CMA staff chooses name "Rosie" for the new 2-year-old resident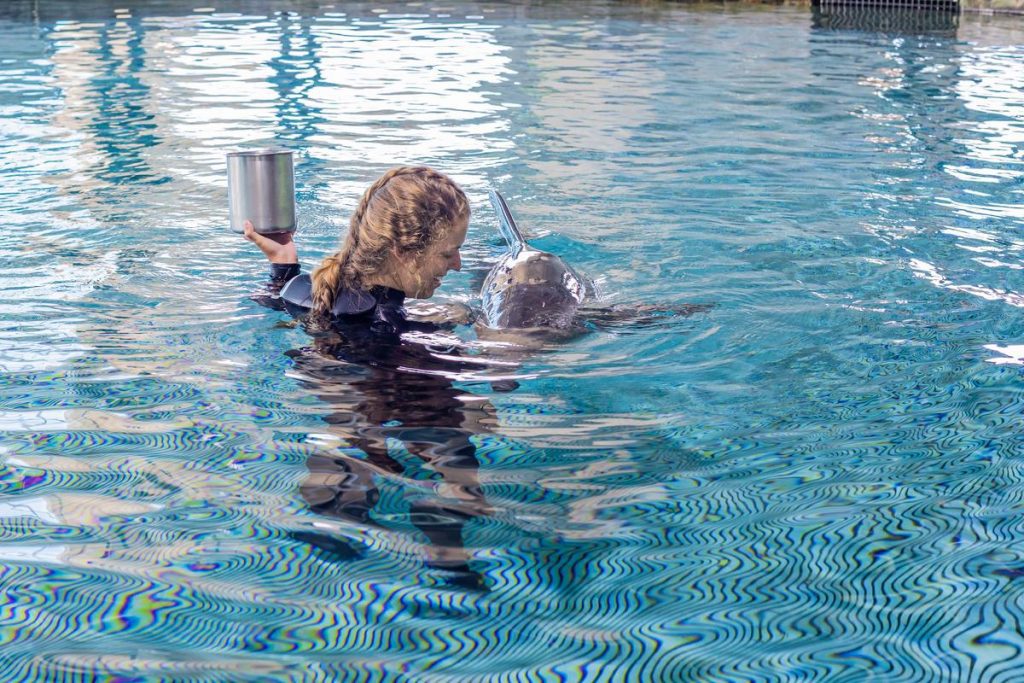 CLEARWATER, Fla (May 16, 2023) – Clearwater Marine Aquarium is excited to announce that the rough-toothed dolphin undergoing rehabilitation at the Fred Howard Park Marine Mammal Stranding Station for three months has now been given her forever home at its Island Way Estates location.
The dolphin also has a new name – Rosie – which was voted upon by CMA staff earlier this month, and was chosen because she was rescued close to Valentine's Day. Rosie, estimated to be 2 years old, was transported earlier this morning to make her home at CMA's Ruth & J.O. Stone Dolphin Complex.
The rough-toothed dolphin was found by MOTE Marine Laboratory & Aquarium in February stranded off Longboat Key and has been rehabilitating at CMA's stranding station at Fred Howard Park.
Last month, Rosie was deemed non-releasable after experts from the National Marine Mammal Foundation (NMMF) conducted a hearing test and found she is effectively hearing impaired and cannot echolocate, which allows dolphins to locate their food and steer away from possible predators.
The United States federal agency, National Marine Fisheries Service (NMFS), responsible for the stewardship of national marine resources determines if a rescued animal is a candidate for release. CMA was chosen due to its expertise as one of only two facilities with expertise on the species, and because she will have companionship of her same species dolphin.
Rosie will undergo routine medical checks while she acclimates to her new surroundings and gets to know her animal team. As Rosie acclimates to her new environment, she will be slowly introduced to CMA's other rough-toothed dolphin, Rudy.
Guests at CMA will be able to view Rosie from the third floor of the Ruth & J.O. Stone Dolphin Complex where they can also view bottlenose dolphins Hope, Izzy, Apollo and Nicholas.
CMA reminds the public that if they see a marine mammal in distress, it's important not to intervene, but call trained responders at (877) WHALE-HELP. The public should remain at a safe distance, and if conditions allow, take photos to share with biologists once they arrive on scene.
MEDIA CONTACT Marsha Strickhouser, (727) 242-0770, Clearwater Marine Aquarium, mstrickhouser@cmaquarium.org.
###
About Clearwater Marine Aquarium

Clearwater Marine Aquarium (CMA) is a 501(c)(3) nonprofit working marine rescue center dedicated to inspiring the human spirit through leadership in education, research, rescue, rehabilitation and release. With a mission to preserve the environment and its marine life, CMA is home to rescued dolphins, sea turtles, river otters, stingrays, a nurse shark and more. Through Clearwater Marine Aquarium Research Institute, CMA conducts important global research focused on protecting manatees, North Atlantic right whales and sea turtles. Major motion picture Dolphin Tale (2011) and its sequel Dolphin Tale 2 (2014) features the true stories of rescued resident dolphins Winter and Hope, inspiring millions around the world. The mission and potential to change people's lives differentiates Clearwater Marine Aquarium from any other aquarium in the world.
© 2023 Clearwater Marine Aquarium | 249 Windward Passage, Clearwater, FL 33767 | 727-445-1139 | 727-441-1790 | mission.cmaquarium.org | cmaquarium.org

We believe in preserving our environment while inspiring the human spirit through leadership in the rescue, rehabilitation, and release of marine life; environmental education; research; and conservation.
A Florida non-profit 501(c)(3) organization