Loggerhead sea turtle released at Clearwater Beach on May 17, 2023. The 250-pound rehabilitated turtle is one of the largest in past several years.
250-Pound Rescued Loggerhead Sea Turtle Goes Home
On Wednesday, May 17, Clearwater Marine Aquarium released a loggerhead, Shenandoah, back into the wild on Clearwater Beach after almost three months of rehabilitation.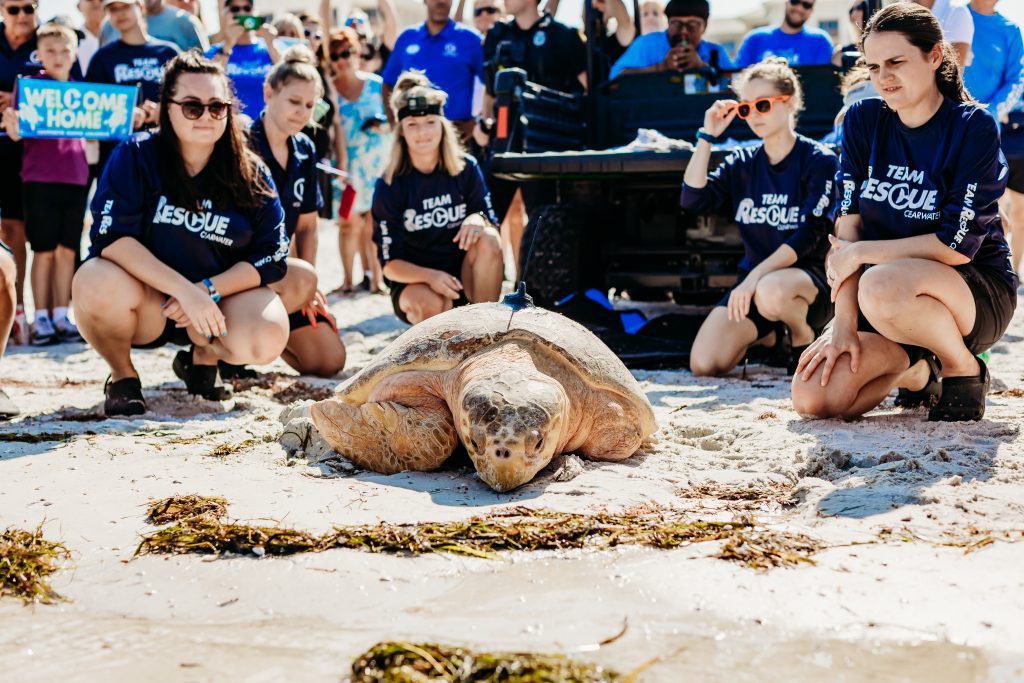 Almost three months after he was found disoriented off Indian Shores, adult loggerhead turtle Shenandoah will be released back to the ocean and make his way back into the wild.
At 250 pounds, Shenandoah was found floating in distress off Indian Shores Feb. 28, experiencing red tide symptoms such as lethargy, struggling to surface for breaths, and uncoordinated swimming. He is also missing his front left front flipper, which is completely healed and unrelated to stranding.
After a few months of care at Clearwater Marine Aquarium, Shenandoah is no longer exhibiting symptoms related to red tide and he is now healthy, eating well, and ready to go back home.
Shenandoah has been cleared for release by CMA staff veterinarian and Florida Fish and Wildlife Conservation Commission.
Shenandoah will also be satellite tagged! This will help with research efforts related to male loggerhead migratory patterns. 
---
Track Shenandoah
---
All marine turtle footage taken in Florida was obtained with the approval of the U.S. Fish and Wildlife Service and the Florida Fish and Wildlife Conservation Commission (FWC) under conditions not harmful to marine turtles. Footage was acquired while conducting authorized conservation activities pursuant to FWC MTP-23/24-172A and MTP-23/24-155.