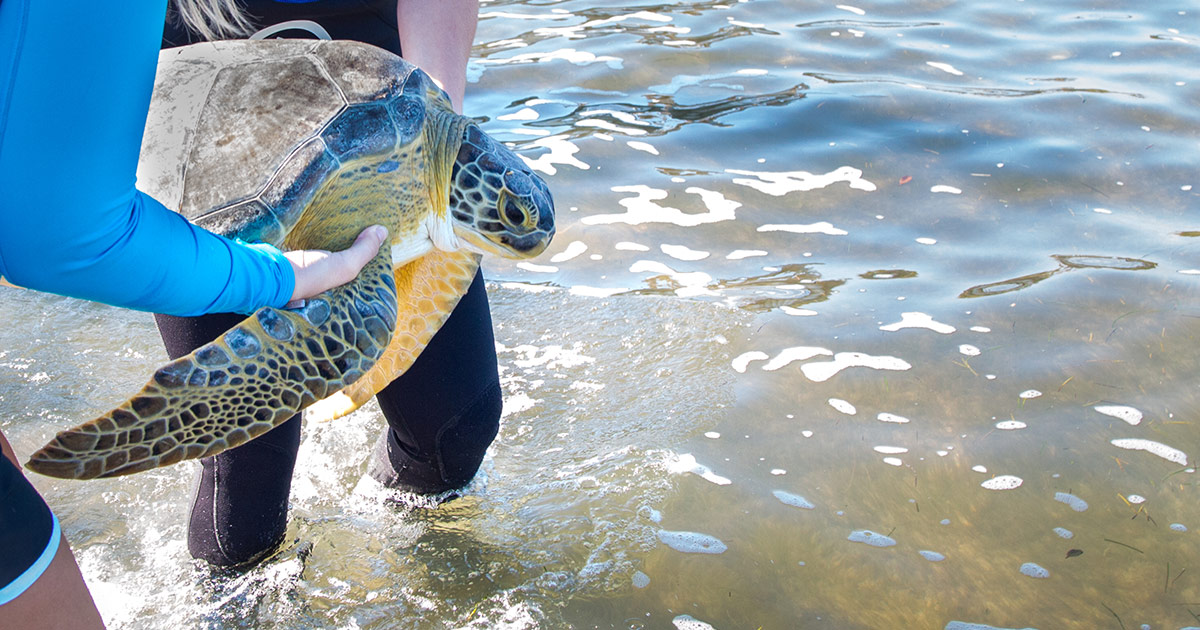 The Stars Help Send Three Sea Turtles Home
Clearwater Marine Aquarium released three endangered sea turtles back to the ocean after successful rehabilitation by our Animal Care Team. Cozi Zuehlsdorff, along with fellow Dolphin Tale actors Nathan Gamble and Austin Highsmith, helped welcome home Yeti, a critically endangered Kemp's ridley sea turtle, as well as green sea turtles Gardenia and Honeysuckle.
The release of three turtles on the same day is heartwarming for us. Having the Dolphin Tale stars with us for the release makes it extra special.

David Yates, CEO
---
Yeti
Juvenile, Kemp's ridley
( Lepidochelys kempii)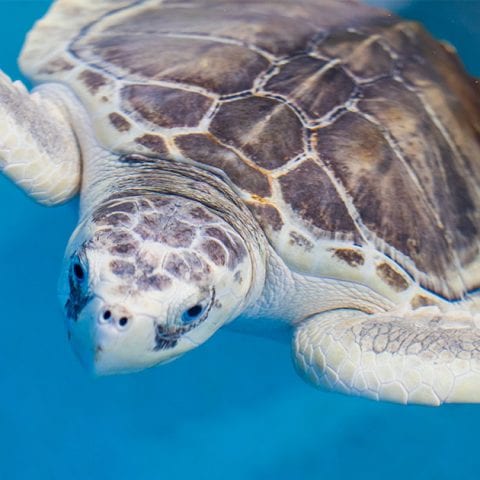 Yeti, a juvenile Kemp's ridley sea turtle, was discovered January 28, 2017 at Sand Key Beach. Shortly after his rescue, Yeti was transferred to Clearwater Marine Aquarium for assessment. He was in relatively good body condition but had an old jaw injury and a cooler body temperature which can be a problem for ectothermic animals like reptiles that are affected by external temperatures.
Following triage, Yeti was sent for CT scans to rule out any internal abnormalities. These scans showed signs of pneumonia, which helped us fine tune his treatment plan. Treatments began with tube feedings, a variety of antibiotic injections, and regular fluid administration. Within a couple of weeks he was consistently eating on his own, favoring shrimp, and was slowly weaned off of tube feedings. A series of wound care procedures were performed by veterinarian Dr. Shelly Marquardt until the jaw was completely healed. Yeti was ready to head home and released off Honeymoon Island State Park on December 28, 2017!
---
Honeysuckle
Juvenile, Green
(Chelonia mydas)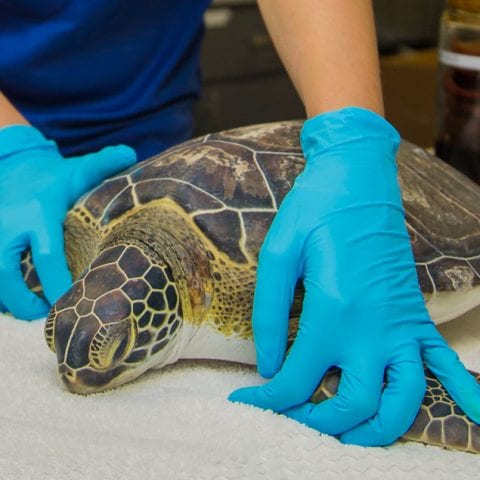 Honeysuckle is a juvenile green sea turtle who was rescued by CMA's Rescue Team on September 9, 2017, from Hernando County. Honeysuckle was found tangled in fishing line with fellow rehab patient, Ivory. Honeysuckle arrived with multiple fibropapilloma virus tumors on the right eye, neck, both front flippers, around the tail, and on the plastron (underside of the shell), but otherwise in good body condition. The sea turtle began eating food September 28, and has continued to have a great appetite. Honeysuckle had a successful pap removal surgery November 15, 2017. Honeysuckle healed after surgery and was ready to head back home on the Dec. 28 release at Honeymoon Island State Park.
---
Gardenia
Juvenile, Green
(Chelonia mydas)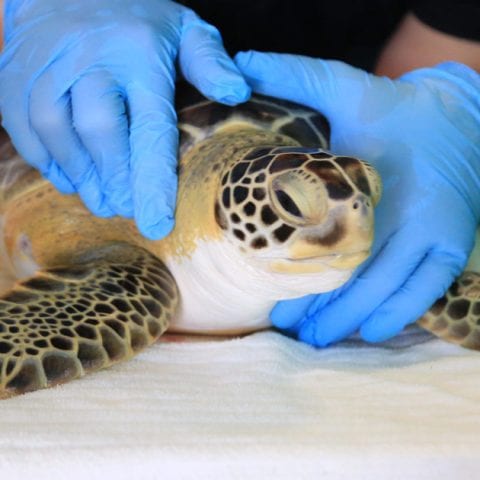 Gardenia is a juvenile green sea turtle that came to CMA on September 13, 2017, just shortly after hurricane Irma struck! She was found entangled in monofilament line by some fisherman and they netted her out of the water near Skyway Bridge Marina. She was brought to CMA late at night for triage. She was in good body condition with mild epibiota, she had no significant damage from the fishing line, but she did however, have pap tumors present and a missing right rear flipper that was fully healed from a previous injury.
Gardenia very quickly began getting increasing swim time and eating solid food. She only underwent one pap removal surgery and completed a series of eye drops before finally getting cleared for release by our vet staff.
---
All marine turtle footage taken in Florida was obtained with the approval of the U.S. Fish and Wildlife Service and the Florida Fish and Wildlife Conservation Commission (FWC) under conditions not harmful to marine turtles. Footage was acquired while conducting authorized conservation activities pursuant to FWC MTP-17-172.