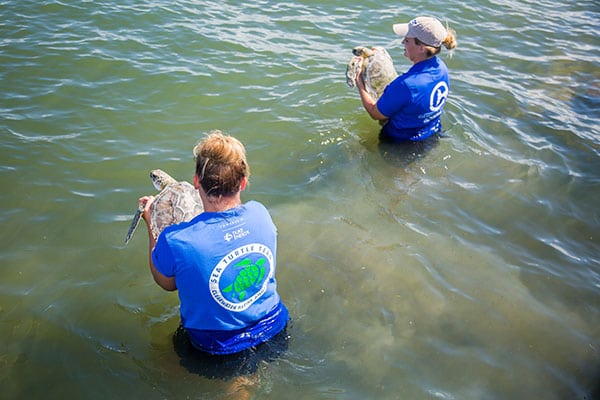 Incendio and EE
Juvenile, Green sea turtles
(Chelonia mydas)
Release Date

August 17, 2016
---
INCENDIO
Incendio is a green sea turtle, who was found on April 25, 2016, in Crystal River. Incendio was discovered in a residential area with fibropapilloma tumors present and mild barnacle growth on the carapace but otherwise in good body condition. During triage, he received a variety of care including fluids and antibiotics. Within a couple of weeks of tube feedings, he began eating solid food all on his own.
Incendio underwent surgery to remove the pap tumors on June 15, 2016. His recovery from surgery went well and didn't have any regrowth! Following recovery observations for a couple of months, Incendio was cleared for release by our veterinarian on August 15, 2016. He will be released early morning on Wednesday, August 17.Good luck out in the big blue Incendio!
---
EE
EE is a juvenile green sea turtle that came to CMA on February 2, 2016. He was part of our cold stun event hence the weird name. We were getting so many turtles we just started going by the alphabet. EE stranded on Caladesi Island State Park and had the presence of the fibropapilloma virus. One pap, in particular, was very large and located on the underside of his chin (you can see a picture on the wall at Mavis's rescue hideaway).
He had some problems diving when he first got here so he spent a lot of time dry docked with some time swimming in a kiddy pool. As behavior increased he was able to stay in deep water at all times. We tube fed him for a while because he showed no interest in food. Eventually EE came around though and has a hearty appetite for his capelin and squid. On April 13, 2016, he underwent his first pap removal surgery. On June 2, 2016, he underwent a second and final pap removal surgery to remove the rest of his tumors.
EE has healed nicely and has been cleared for release by Dr. Marquardt early this Wednesday August 17, 2016. Good luck out there buddy!
---
Incendio and EE were both successfully released on August 17, 2016 near Honeymoon Island, Florida.
Watch the double sea turtle release: