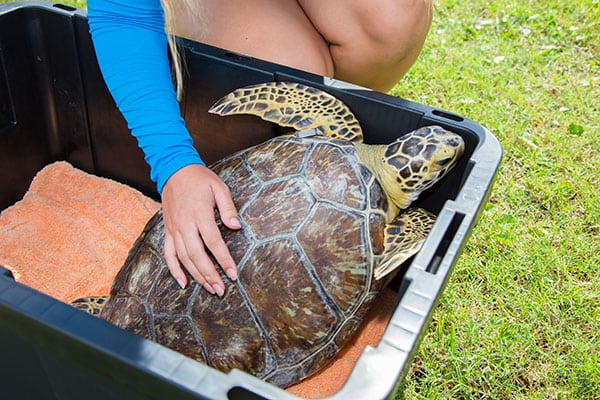 Owl
Juvenile, Green sea turtle
(Chelonia mydas)
Release Date

September 14, 2016
Owl, a juvenile green sea turtle, was brought to Clearwater Marine Aquarium on June 15, 2016 after being caught in a net by a local research group. The presence of fibropapilloma tumors were noted upon initial intake, including one very large tumor right above his eye. Owl was in overall good body condition and only had a small amount of epibiota coverage on his carapace. He was given a series of vitamin injections and subcutaneous fluids to keep his glucose levels in normal range.
Owl started eating solid food right away and his diet was slowly increased every few days. By July 20, 2016 he was ready for his first and only pap removal surgery. After a course of eye drops and a topical antibiotic where his large eye pap once was Owl has been cleared for release!
Owl was released September 14, 2016 near Honeymoon Island, FL.
---
Watch the sea turtle release: