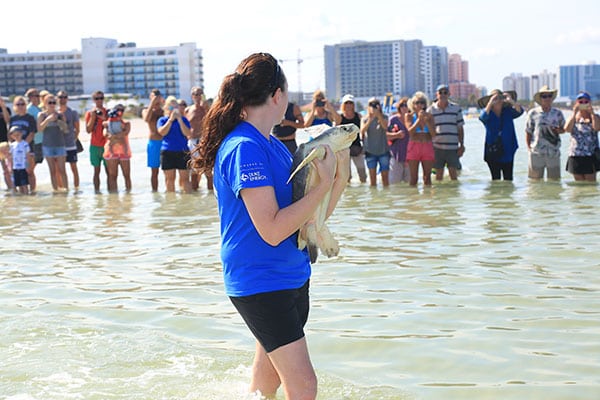 Weasley
Kemp's Ridley Sea Turtle
(Lepidochelys kempii)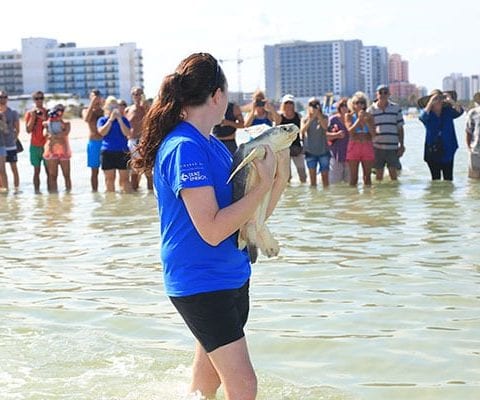 Released

September 26, 2016
---
Hooked by a Fisherman
Weasley was named during a Harry Potter naming theme, and he certainly managed to get into some mischief! He was accidentally hooked by a local fisherman in the Clearwater Marina on September 6, 2016. The fisherman immediately contacted Clearwater Marine Aquarium's stranding hotline and the stranding team was able to come out to pick up the turtle.
Hook Removal and Treatment
Weasley was a healthy turtle, aside from the hook he swallowed. The same day of his rescue, he was taken for x-ray to determine the size, location, and orientation of the hook. Since Weasley was in great shape and the hook wasn't caught far into the esophagus, our veterinarian, Dr. Marquardt, conducted a scope procedure the same day to remove the hook. The hook was successfully removed and the esophagus appeared to only have minor damage where the hook caught. To avoid irritating the damaged area, Weasley was put on a regime of TPN, a nutritional supplement given intravenously. After a follow up scope, the damaged area was healing nicely and Weasley was weaned onto a full diet of squid and shrimp.
After just a short 3 weeks, Dr. Marquardt gave Weasley a clean bill a health and he has been cleared by FWC to return to the wild. He will be released on Monday, September 26th at 10:30am off of the Sand Pearl Hotel on Clearwater Beach.
---
Watch Weasley's release video: