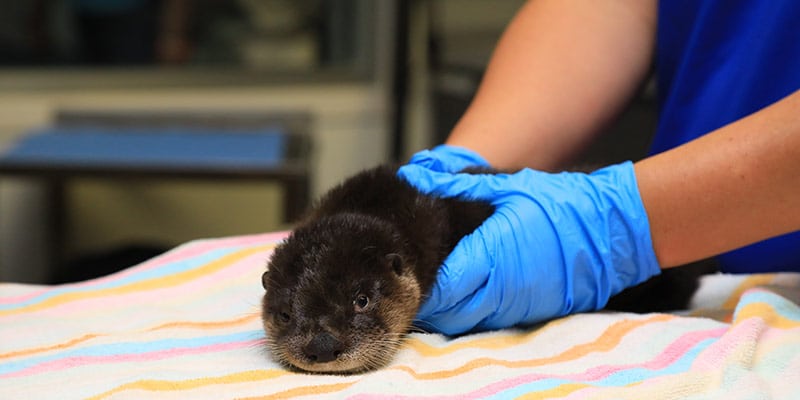 Orphaned Otter Kit Found in New Port Richey
On Wednesday, March 8, 2017, the Clearwater Marine Aquarium Rescue Team received a call about an orphaned otter kit in the New Port Richey area. A family was walking their dog in the neighborhood when they noticed an otter kit not moving and located in the dirt. They investigated, and were unsure of the condition of the otter, so they called their neighbor who is a vet tech for a local vet clinic. After some monitoring and attempts to relocate near water, it was decided to call CMA as this otter's health was of concern.
Rescue Team Brings Baby Otter Kit to CMA
When rescue personnel arrived on scene, the otter appeared unresponsive to handling. Rescuers observed that its eyes were rolled back and the pads on his feet were thin. Glucose was administered on scene by CMA staff to prepare the otter for transport back to our facility for triage. The otter arrived at CMA at approximately 9:00 pm. The team continued triage and treatments throughout the night beginning the 24-hour monitoring process.
Finnegan's Health Improves
Thus far, the rescued otter kit has been confirmed to be a 6-week-old male, he has undergone a full workup including x-rays, blood and a physical examination. His glucose continued to improve towards stabilization. We lovingly refer to him as "Finnegan." The team continued to monitor the kit throughout the 24-hour time period until confirmed medically stable by our Vet of Record, Dr. Shelly Marquardt.
Fortunately, both Finnegan and Murray, another recently rescued otter kit, recovered quickly and are great candidates for release! Because they are otter kits, they will do best if released with other otter kits. Learn more about otter kit season.
---
Watch video of Finnegan's arrival at Clearwater Marine Aquarium
Watch an extended Facebook Live video of Finnegan being bottle-fed in our Otter Rehab area.