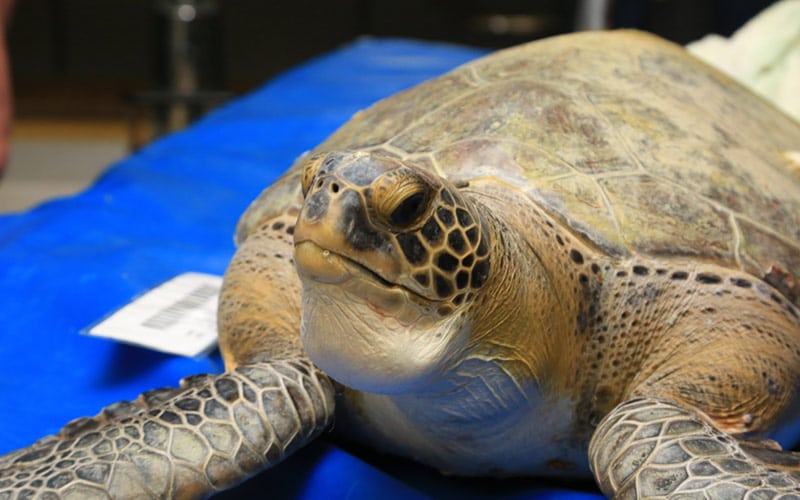 Apple Jacks
Green, Sub-Adult
(Chelonia mydas)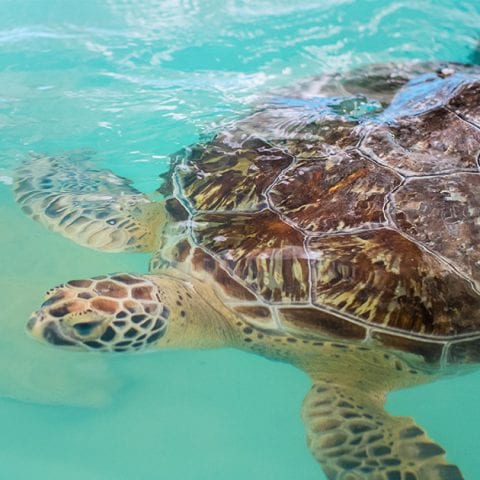 Patient Status

Date Found

February 28, 2017

Location Found

Captiva, Lee County, FL

Reason for Rescue

Boat strike, Fibropapilloma tumor
---
TRIAGE
Weight

37.2 kg (82.01 lbs)

SCL (Straight Carapace Length)

62.3 cm (24.5 in)

Exam Findings

Alert and active; good body condition. X-ray shows fracture of caudal vertebrae (spine). Many external smaller-sized fibropapilloma tumors.

Initial Treatment

Received vitamins, antibiotics, iron, and fluids. Provided care for wound on carapace.
---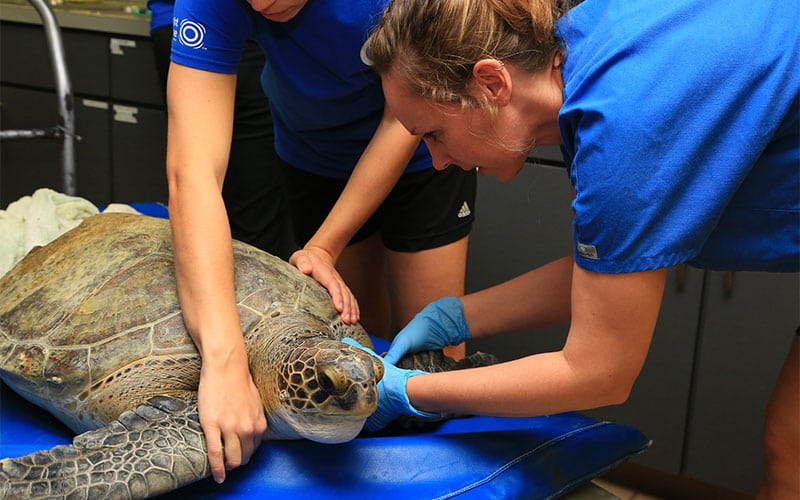 ---
APPLE JACK'S STORY
On February 28, 2017, a sub-adult green sea turtle was found along the shoreline in Captiva, Lee County, FL. The turtle had a large wound on its carapace (shell) and had many small fibropapilloma tumors on its body. The turtle was picked up and brought to the Center for Rehabilitation of Wildlife (CROW). On March 1, 2017, Apple Jacks was transferred over to Clearwater Marine Aquarium for triage and subsequent rehabilitation.
While the cause of Fibropapillomatosis is still unknown, you can help prevent boat strikes to turtles by following all speed regulations while boating, and by having a designated person looking for wildlife in the path of the boat.
Naming Theme

Cereal

Fun Fact

The shape of my carapace (shell) makes me look very similar to one of our sea turtle residents at CMA, Ula!
---
TREATMENT UPDATES
3.4.17

Ate all food offered; increasing amount of swimming time in deeper water.

3.6.17

Along with regular wound care, now receiving cold laser therapy to enhance healing of wound on carapace.

3.10.17

Now spending all day and night in deep water.

5.2.17

Cold laser treatment discontinued as carapace is healing well.

6.1.17

Successful laser surgical removal of fibropapilloma tumors from flippers and neck.

9.22.17

Moved to Sawyer's Passage pool to test swimming ability in deeper water. With access to deeper water, Apple Jacks spent significantly more time under the water and resting at the bottom of the exhibit.

10.4.17

Moved back to her regular rehab pool after a successful swim test in Sawyer's Passage.

10.20.17

Another successful laser surgical removal of fibropapilloma tumors from her flippers and neck.

11.1.17

After 247 days in rehab, Apple Jacks was released at Honeymoon Island State Park. Swim strong out there!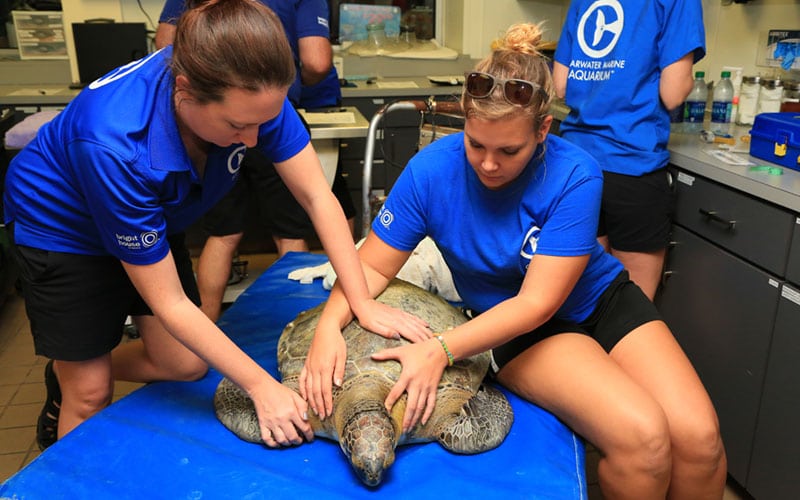 ---
You can learn more about Apple Jacks and all of our current sea turtle rehab patients in our ICU Hallway when you visit. You might even see the Animal Care Team treating one of our rescued animals in the Surgical Suite!
---
All marine turtle footage taken in Florida was obtained with the approval of the U.S. Fish and Wildlife Service and the Florida Fish and Wildlife Conservation Commission (FWC) under conditions not harmful to marine turtles. Footage was acquired while conducting authorized conservation activities pursuant to FWC MTP-17-172.