Boo-Berry
Green, Juvenile
(Chelonia mydas)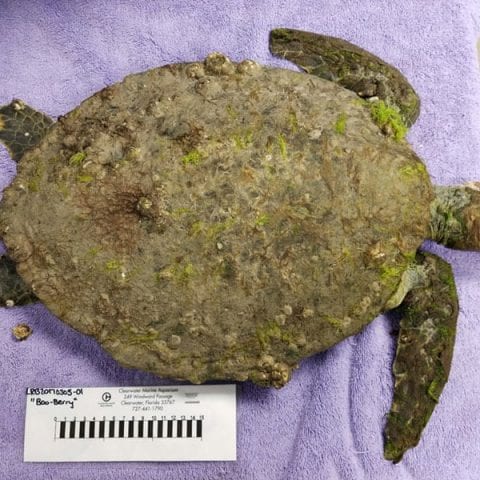 Patient Status

Former

Date Found

March 5, 2017

Location Found

Fort De Soto, Pinellas County, FL

Reason for Rescue

Fibropapilloma tumors, Emaciation
---
TRIAGE
Weight

7.13 kg

SCL (Straight Carapace Length)

42.8 cm

Exam Findings

Quiet but alert; thin body condition. Moderate amount of algal and barnacle epibiota covering carapace. Numerous small to moderate-sized fibropapillomas externally. Swam slowly at the surface during a swim test.

Initial Treatment

Received vitamins, antibiotics, and fluids
---
BOO-BERRY'S STORY
Boo-Berry, a juvenile green sea turtle, was found floating about 225 meters offshore of Fort De Soto Park in Pinellas County, Florida on March 5, 2017. The turtle was found to be emaciated with a moderate amount of epibiota on its carapace and external fibropapilloma tumors. The turtle was brought in for triage at Clearwater Marine Aquarium by one of our Rescue Team volunteers.
Fibropapillomatosis is a disease that causes cauliflower-like tumors to grow on soft tissues of a sea turtle's body that can compromise the turtle's immune system, among other concerns. While the cause of the disease is unknown, it may be linked to pollution and runoff going into our oceans. You can help by keeping our beaches clean, using reusable products & recycling, and using environmentally-safe products.
Naming Theme

Cereal

Fun Fact

Although I'm named after a seasonal cereal, green sea turtles like myself are found in this area year-round!
---