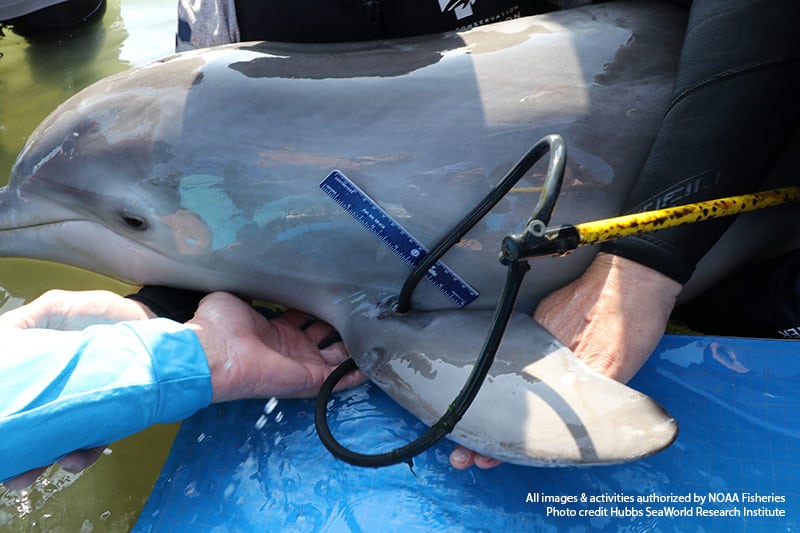 Mosquito Lagoon (February 14) — Clearwater Marine Aquarium Rescue Team personnel participated in a multi-agency dolphin calf disentanglement in Mosquito Lagoon, FL on February 14, 2017. Alongside CMA, organizations involved included the National Oceanic and Atmospheric Administration (NOAA), SeaWorld Orlando, Hubbs-SeaWorld Research Institute (HSWRI), Harbor Branch Oceanographic Institute (HBOI), Volusia County, Georgia Aquarium's Dolphin Conservation Field Station (DCFS), the University of Florida (UF), and FWC Law Enforcement.
The purpose of the intervention, directed by NOAA, was to disentangle a bottlenose dolphin (Tursiops truncatus) calf with a life-threatening entanglement involving recreational fishing gear. Personnel from multiple organizations were dispatched on the water on the morning of February 14 in hopes of locating the animal, disentangling it, and releasing it.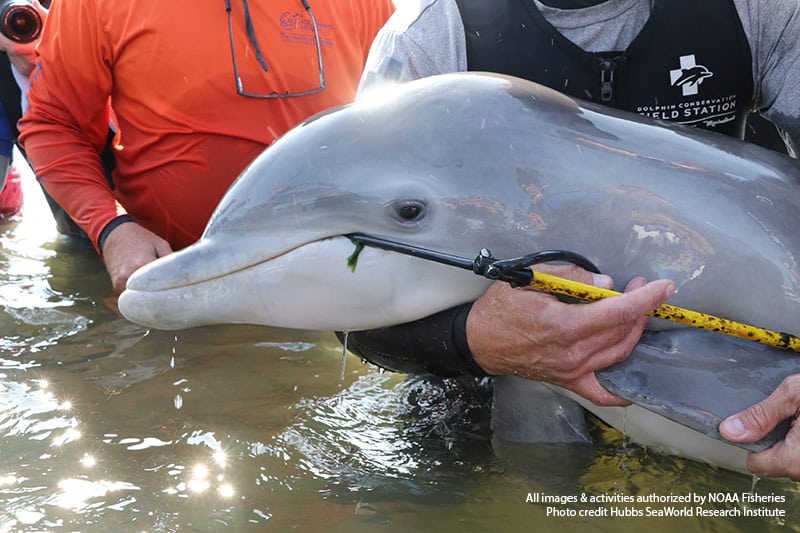 Hawaiian Sling Fishing Gear Injures Dolphin Mouth and Flipper
Once teams were successfully in contact with the calf, three veterinarians from UF, HBOI, and SeaWorld initially examined the animal for a full assessment, identifying the fishing gear as a Hawaiian sling (involving a rubber lanyard and fiberglass shaft). The black elastic lanyard of the gear had torn through the right gape of the mouth and was embedded in the mandible or jaw. The other end of the lanyard was wrapped around and embedded in the axilla of the left pectoral flipper. The approximately four-foot shaft of the spear was also dragging alongside the animal. Due to this drag, the calf was observed listing heavily to the left side prior to disentanglement.
Calf Disentangled and Released with Mother
The calf was successfully disentangled and reunited with the mother. All fishing gear was removed, the wound was properly cleaned, and antibiotics were administered. Photo ID personnel will continue monitoring efforts of both mom and calf.
---
History of Dolphin Calf Rescues in Indian River Lagoon
This was the third dolphin calf disentanglement within a month in the same area. A dolphin calf near Fort Pierce was wrapped in fishing line around its fins and released on Jan. 25. Another dolphin calf near Cocoa Beach was severely entangled in fishing line around its tail flukes and disentangled on Jan. 17. Winter and Hope were both rescued in this same area as well. This story is an important reminder to always properly dispose of fishing gear and help keep our oceans clean.
Support Rescue Efforts
You can help support our rescue work by donating or providing wish list supplies. Learn how to report a stranded dolphin or become a volunteer.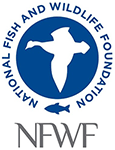 We greatly appreciate the support from NFWF, National Fish and Wildlife Foundation, for our rescue efforts.