Chessie
Florida Manatee
(Trichechus manatus latirostris)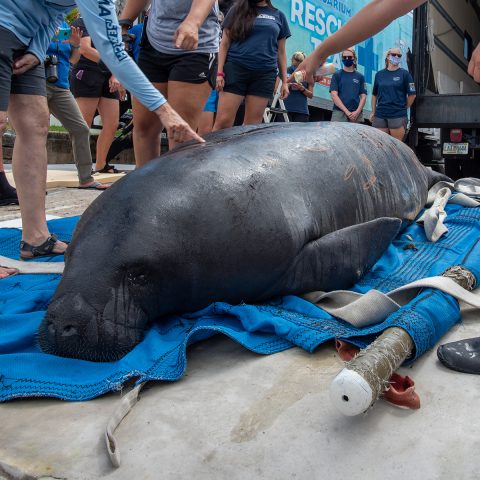 Tag Status

Active

Tag ID

177776

Date Tagged

May 11, 2021

Gender

Male

Tagging Location

North Palm Beach, Florida
Chessie's Story
Chessie's journey dates back to 1994 when he was spotted in Chesapeake Bay, an unusual location for the warm water species. After rescue and release, the next year he traveled back as far north as Rhode Island before returning south to warmer waters on his own. Read more about Chessie's historic travels!
This year, Chessie was among many manatees rescued by the Florida Fish and Wildlife Conservation Commission during what is now a declared Unusual Mortality Event. Researchers again recognized Chessie's unique scar pattern during his rehabilitation at SeaWorld in Orlando.
After three months of rehabilitation, Chessie was cleared for release in North Palm Beach, Florida. Because of his extraordinary travel tendencies along the East Coast, Clearwater Marine Aquarium Research Institute has fitted Chessie with a GPS satellite tag and will be monitoring his movements as part of its Northern Atlantic Coast study. The data gathered will help deepen our understanding of manatee movements, behavior, and use of their habitat.

Update: On Sunday, June 27, 2021, Chessie's tag stopped transmitting its location. This may be due to several reasons including an impact from a boat or the tag getting bitten by an alligator. Scientists with CMARI will continue to work with local partners to help with Chessie's relocation to ensure his safety and re-tag him for his well-being.
---
All manatee work was conducted under USFWS Research Permit # MA770191.