Chessie's Story
In the summer of 1994, a male West Indian manatee was spotted in the Chesapeake Bay which earned him the name "Chessie." Typically manatees are found in the warm waters of Florida and the Caribbean so when the temperatures began to drop, the U.S. Fish and Wildlife Service, SeaWorld of Orlando and Maryland Department of Natural Resources rescued Chessie and moved him temporarily to the National Aquarium until he could be returned to Florida. Due to his unusual migration so far up the U.S. coastline, researchers from U.S.G.S Sirenia Project outfitted Chessie with telemetry gear to monitor his movements when he was released.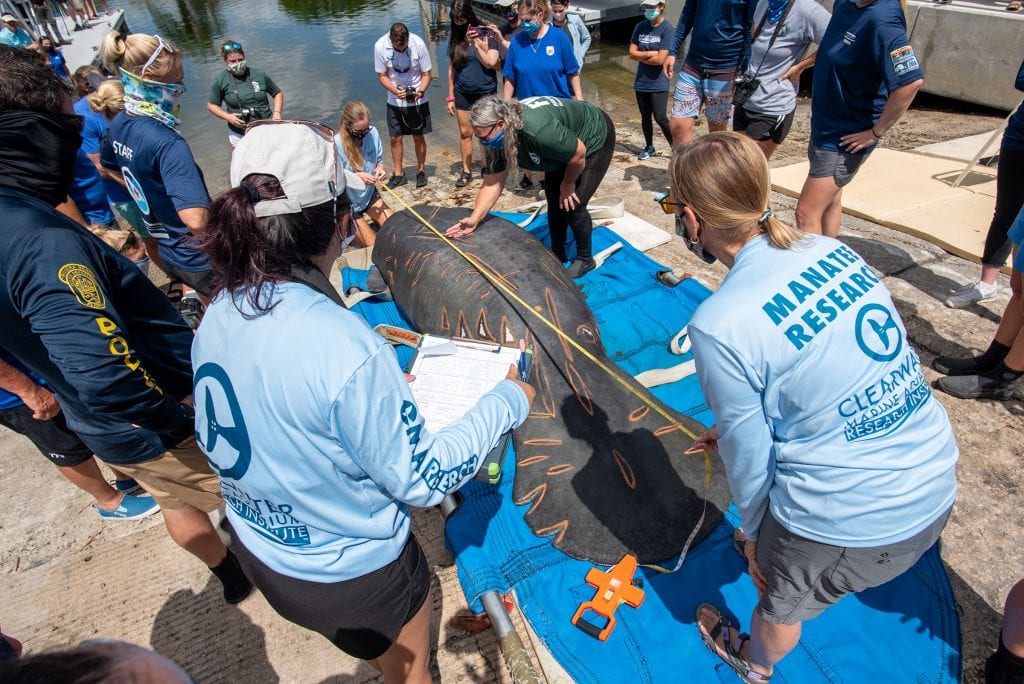 In 1995, researchers were shocked to find that Chessie was once again traveling north. This time he bypassed the Chesapeake Bay and was found as far north as Judith Point, Rhode Island before turning around and heading back south. This was the first time a manatee was confirmed north of the Chesapeake Bay. News of his travels become so well-known, there is a children's book documenting his movements!
In August 2001, a manatee was spotted in Virginia and based on his scar patterns, U.S.G.S. was able to confirm that it was indeed Chessie. He was spotted ten years later in Maryland.
Chessie's Recent Rescue and Release
This year, Chessie was among many manatees rescued by the Florida Fish and Wildlife Conservation Commission during what is now a declared Unusual Mortality Event. Researchers again recognized Chessie's unique scar pattern during his rehabilitation at SeaWorld in Orlando.
After three months of rehabilitation, Chessie was cleared to return home with a release at Anchorage Park in North Palm Beach, Florida. Because of his extraordinary travel tendencies along the East Coast, Clearwater Marine Aquarium Research Institute has fitted Chessie with a GPS satellite tag and will be monitoring his movements as part of its Northern Atlantic Coast study. The data gathered will help deepen our understanding of manatee movements, behavior, and use of their habitat.
Chessie was a large adult when he was rescued in 1994 and is estimated to be at least 35 years old.
Follow our map tracking updates to see where Chessie goes!
---
All manatee work was conducted under USFWS Research Permit # MA37808A-2.