New Port Richey, FL (May 10, 2017) — The Marine Mammal Pathobiology Laboratory (MMPL) of Florida Fish and Wildlife Conservation Commission (FWC), along with Lowry Park Zoo (LPZ), the University of Florida (UF), New Port Richey (NPR) Public Works, NRR Law Enforcement (LE), and Clearwater Marine Aquarium (CMA) personnel participated in the rescue of a cow-calf manatee pair.
Manatee Pair Trapped in Canal System
Initial efforts were focused on the capture for relocation of the cow-calf pair from a canal system in New Port Richey. In the week prior, city workers repaired a berm and conduit, which blocked water access between the canal and the Pithlachascotee River. The manatee pair were trapped within the canal system, requiring relocation. With no way out of the canal system, a plan was put in place by FWC to capture and assess the health of the mom and calf with the intention of relocation.

Blockade nets were used to contain the manatees within specified portions of the canals. Kayaks were then launched to encourage mom and calf toward the capture location, where a capture net was quickly pulled across the canal, encircling the manatees. Rescuers then slowly pulled the net until they could pull both mom and calf up to the beach. Upon containment, extensive damage was observed on the large, female manatee's caudal (or tail) aspect.
Both animals were transferred to the stretcher and then carried up the bank and into the medical tent for medical assessment.
Severe Injuries Found on Mother Manatee Requiring Rehabilitation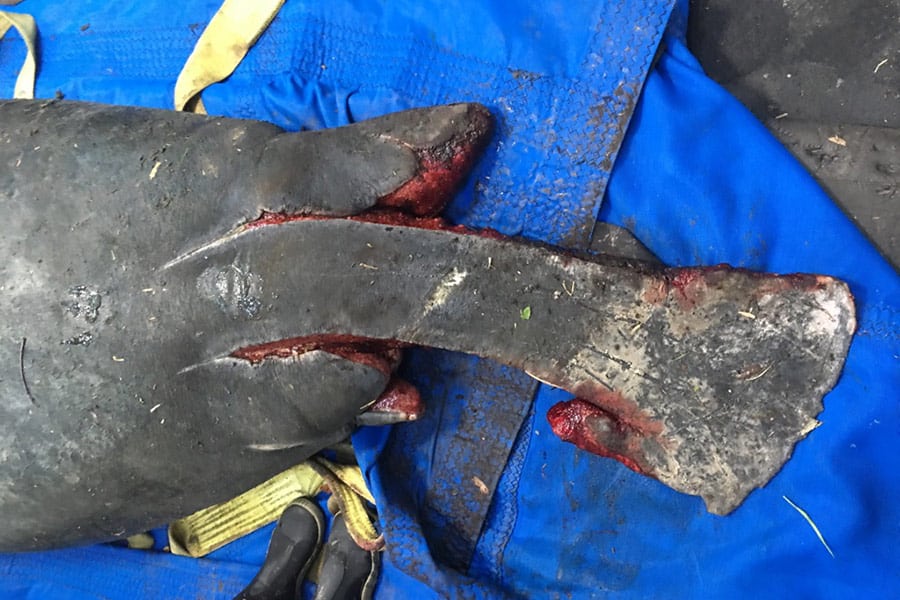 Upon completion of medical assessment, veterinary staff determined that the injuries to the mother were severe and required transportation to a rehabilitation facility. Mom and calf were then transported to the rehab facility at LPZ. The calf was deemed to be in good health, and will be kept with her mother to continue to nurse and bond.
---
Clearwater Marine Aquarium frequently assists FWC with manatee rescue and relocation efforts. Another manatee mother and calf pair were successfully relocated earlier this year in Oldsmar, FL.
A newborn manatee calf was also recently discovered near the aquarium with its mother.
Learn more about Florida manatees and how you can help protect them.