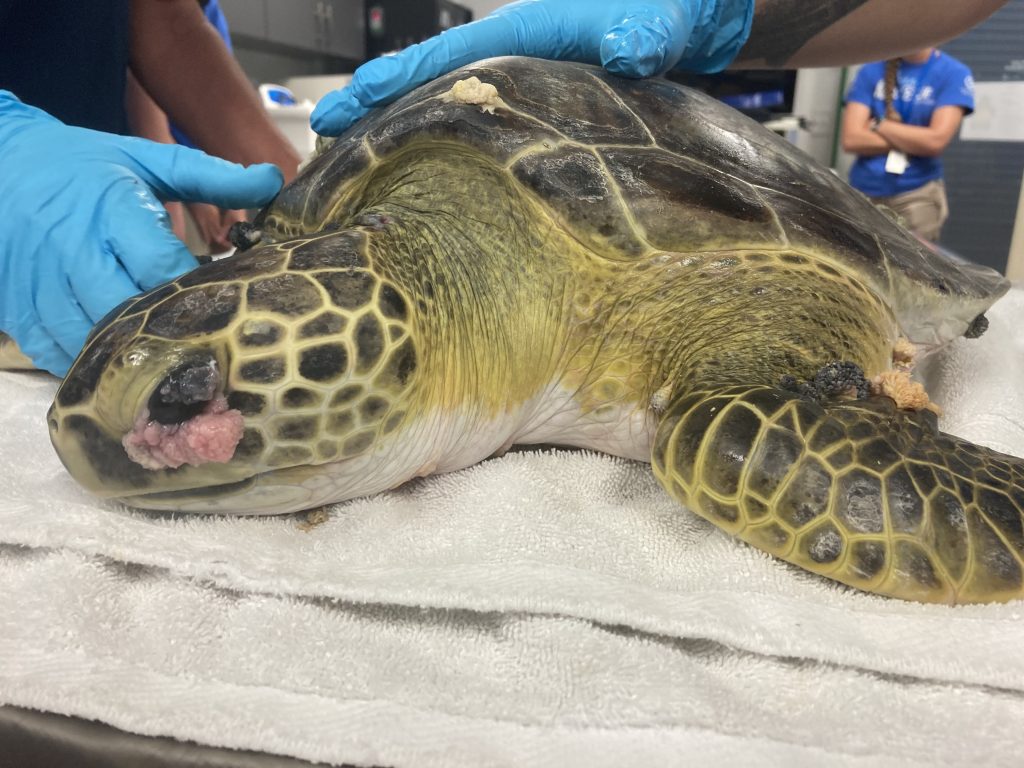 Acadia
Juvenile, Green
(Chelonia Mydas)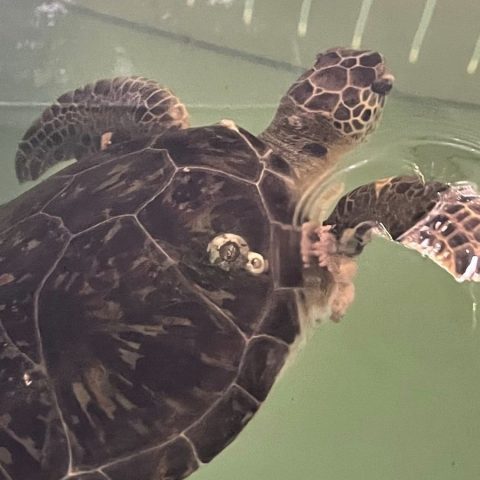 Patient Status

Current

Date Found

July 22, 2022
Location

New Port Richey, FL; Pasco County
Reason for Rescue

Entanglement
Initial Assessment
Weight

11.68 kg (25.7 lbs)

SCL (Straight Carapace Length)

44.5 cm

Exam Findings

Good body condition. Fibropapilloma tumors on both eyes. Fishing line wrapped around tumors.

Initial Treatment

Vitamin injections and fluids
Acadia's Story
Acadia is a juvenile green sea turtle who was found floating and entangled near New Port Richey in Pasco County on July 22. The fishing line was entangled around several fibropapilloma tumors. Acadia is overall in a good body condition and has fibropapilloma tumors on both eyes. Acadia's initial treatment plan consists of vitamin injections and fluids.
INTERESTING FACT: Acadia is named after Acadia National Park in Maine, USA.
Treatment Updates
7.23.22

Acadia was swim tested for the first time. He is able to dive down and showing no issues!

7.26.22

Acadia is able to be in deep water all day and overnight! He is also eating well!

7.29.22

Acadia went for a routine CT scan. No obvious internal tumors were seen! We are hopeful Acadia will be ready for surgery soon!

9.8.22

Acadia defecated fishing line! He was originally an entanglement case. There was a "furrow" to the beak which suggested possible fishing line ingestion. It is very important to remember to dispose of your fishing gear! Ingested fishing line can cause severe gastrointestinal issues.

9.16.22

Acadia defecated more fishing line! Fishing line length measured at 52 cm!

9.23.22

Acadia was placed under general anesthesia for a fibropapilloma tumor removal surgery. Unfortunately due to the severity of the right eye, it needed to be completely removed. Acadia is still releasable with missing one eye! Several other skin tumors were successfully removed. Acadia still has tumors remaining and will have those removed at a later time. Acadia is recovering well from the first tumor removal surgery! Acadia was also placed on medicated eye drops for the left eye to encourage proper healing after tumor removal surgery.

10.5.22

Acadia has been recovering well post-surgery!

10.18.22

Routine wound care was performed on Acadia's eye surgical sites, everything is healing well!

11.22.22

Acadia went for a recheck CT to check for signs of disease progression prior to next surgery. We are saddend to say that Acadia had developed internal tumors and was humanely euthanized. A necropsy was completed to help learn about this case.
---
All marine turtle footage taken in Florida was obtained with the approval of the U.S. Fish and Wildlife Service and the Florida Fish and Wildlife Conservation Commission (FWC) under conditions not harmful to marine turtles. Footage was acquired while conducting authorized conservation activities pursuant to FWC MTP-21/22-172A.