Clearwater Marine Aquarium and partners across Florida released five sea turtles, Tri, Garlic, Brussels Sprout, Tzatziki and Moira Rose, during the past week.
Tzatziki
Tzatziki is a juvenile, Kemp's ridley sea turtle from the Cedar Key area who was accidentally caught by a fisherman and ingested a fish hook on July 2, 2022. The fishing line was secured (taped) to the carapace to prevent further ingestion of the hook during transport to CMA. The hook was successfully removed orally without the need for surgery by our staff veterinarian. Tzatziki was able to make a quick recovery and was ready to go back home!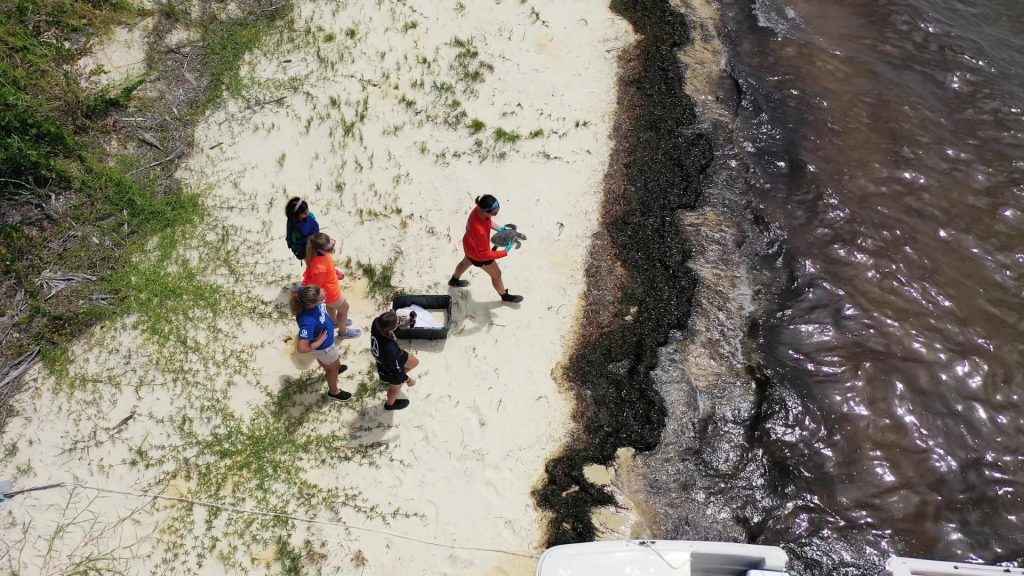 Our partners from University of Florida Marine Animal Rescue assisted with Tzatziki release near Cedar Key on August 10.
Garlic, Brussels Sprout and Tri
Three sea turtles, Garlic, Brussels Sprout and Tri, were transported to the east coast of Florida near their rescue locations for release on August 10, 2022.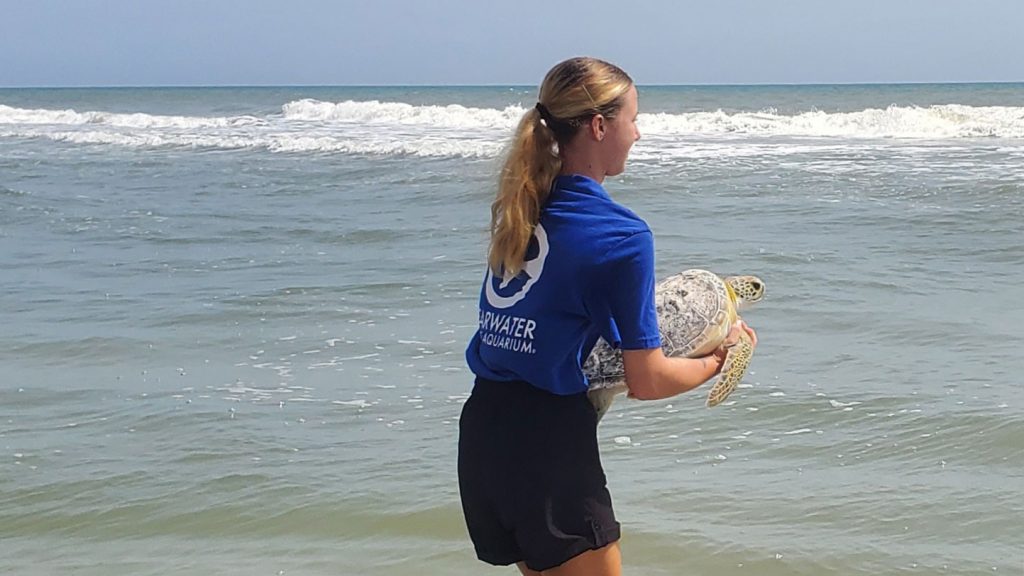 Garlic is a juvenile green sea turtle that was found washed ashore on Daytona Beach on March 1, 2022, in Volusia County. Garlic was transferred to CMA from Volusia County Marine Science Center on March 2 to receive treatment at our facility, which is approved to care for patients with fibropapilloma tumors. Garlic appeared lethargic on examination and had a severe fibropapilloma on the left eye. Garlic had all fibropapilloma tumors successfully removed and healed from his surgeries so he was ready to go back home! CMA released Garlic in Flagler County on August 10, 2022.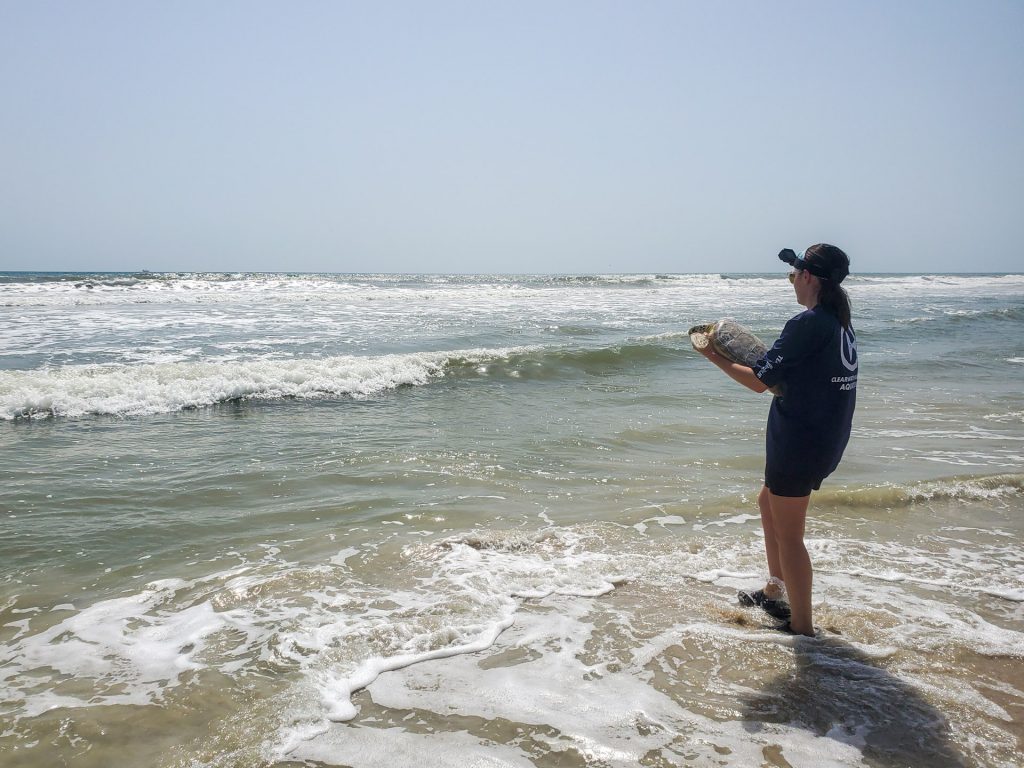 Brussels Sprout is a juvenile green sea turtle who was stranded at Anastasia State Park in St. John's County on August 12, 2021. Brussels Sprout was transferred to CMA from the Sea Turtle Hospital at Whitney Lab on January 19, 2022, to continue her rehab care. While at Whitney Lab, Brussels underwent fibropapilloma tumor removal surgeries and was diagnosed with a joint infection (osteomyelitis) in her left front flipper. This type of infection typically requires lengthy periods in rehab as they can be difficult to treat. After a period of antibiotic treatments and wound care, Brussels' range of motion of her front flippers greatly improved! She was ready to go back home after being in rehab for almost one year! CMA released Brussels Sprout in Flagler County on August 10, 2022.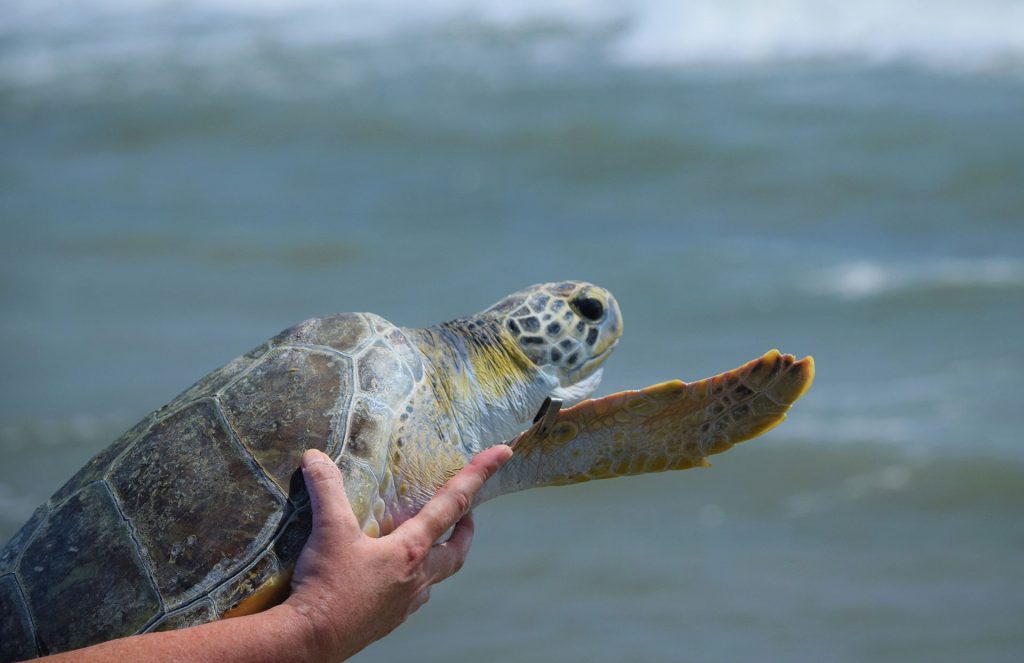 Tri was found entangled in Brevard County on Feb. 3, 2022, and was transferred to CMA on March 2 from Brevard Zoo to complete his rehabilitation process. Due to the severity of the entanglement, Tri's left front flipper was amputated, and he successfully had all his fibropapilloma tumors surgically removed while at Brevard Zoo. Sea turtles are still releasable if they are missing one front flipper. Tri's surgical sites healed from both amputation and tumor removal and he was ready to return to the wild! CMA transferred Tri to our partners at Brevard Zoo and the Sea Turtle Preservation Society for his release back in Brevard County on August 10.
Moira Rose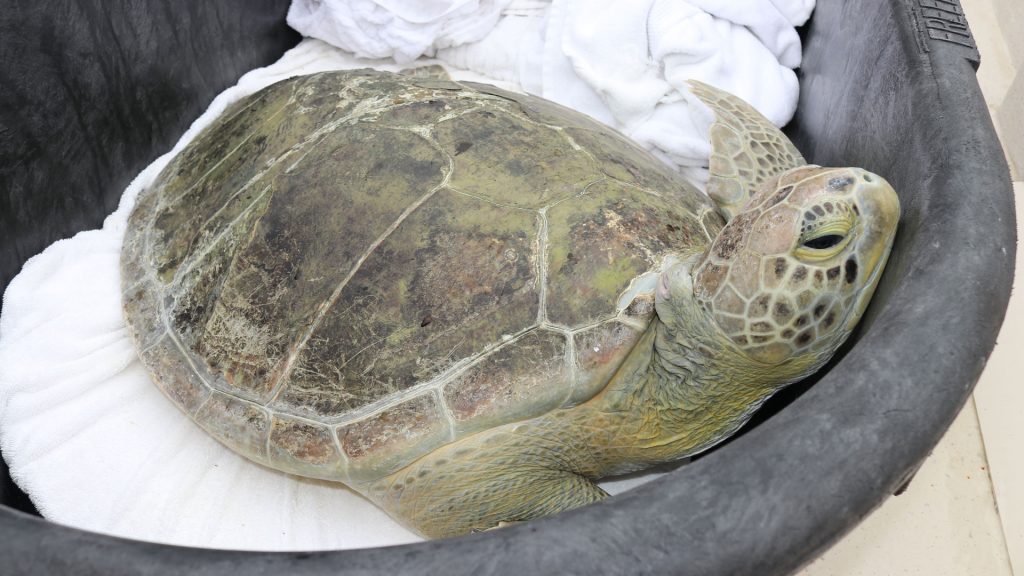 Moira Rose is a sub-adult green sea turtle who was found floating offshore near Crystal River on October 16, 2021. She was reported having issues staying submerged. Upon intake, it was observed that Moira Rose had a partially healed carapace (shell) injury, possibly from a boat strike, and has a very minor case of fibropapilloma tumors. About a month into rehab, Moira Rose started to rest on the bottom and was no longer floating at the surface! Once Moira Rose was healthy and off medications, she was cleared and initially released in December 2021.
Moira Rose was reported floating again near Homosassa, Florida in January and brought back to CMA for further assessments. During her stay here, we were able to work with Florida Aquarium to do a swim trial to determine if she has the ability to dive in deep water and stay submerged. She was placed in an 11-foot deep pool and proved that she was able to dive and rest on the bottom. After passing her test, she was cleared to go home! Our partners from UF Marine Animal Rescue assisted with her release in Citrus County on August 11, 2022.
All sea turtles were cleared for release by our veterinarian Dr. Shelly Marquardt and the Florida Fish and Wildlife Conservation Commission. We wish them all the best back in the wild!
---
All marine turtle footage taken in Florida was obtained with the approval of the U.S. Fish and Wildlife Service and the Florida Fish and Wildlife Conservation Commission (FWC) under conditions not harmful to marine turtles. Footage was acquired while conducting authorized conservation activities pursuant to FWC MTP-21/22-172A.