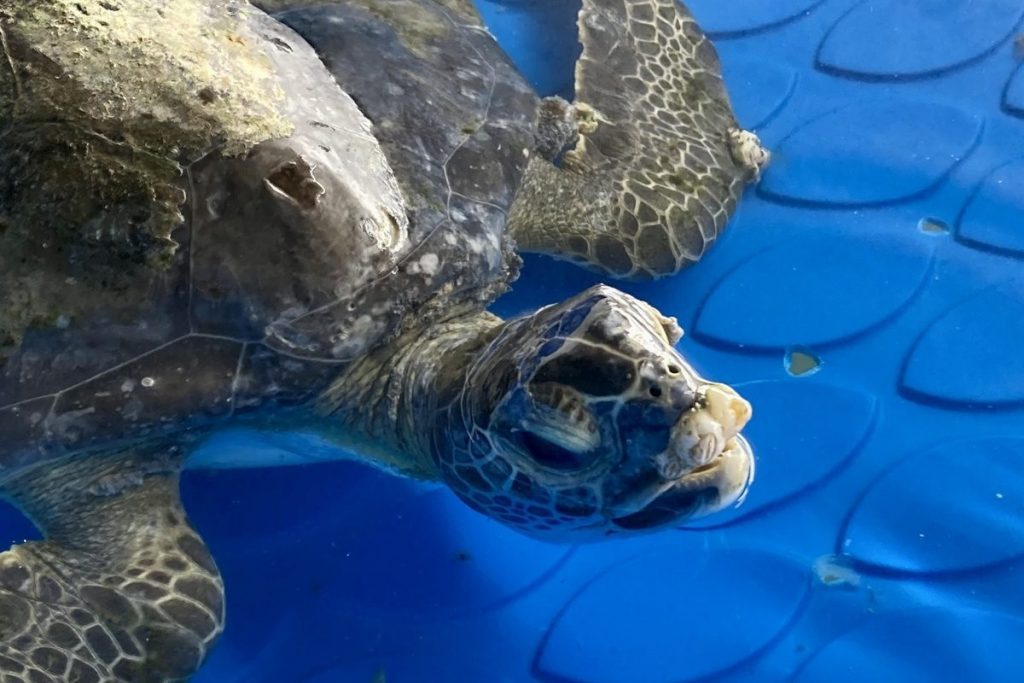 Artisan
Green, Juvenile
(Chelonia mydas)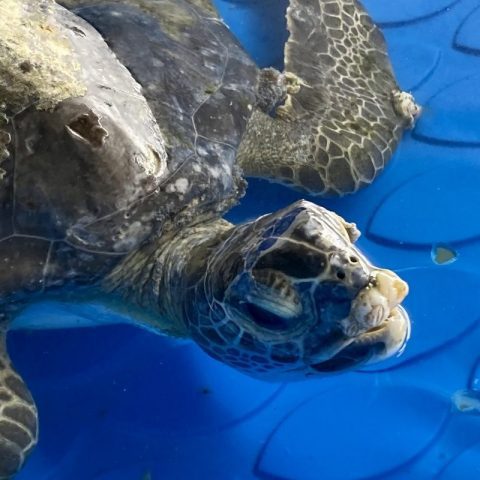 Patient Status

Current

Date Found

April 8, 2023
Location

Caladesi Island; Pinellas County
Reason for Rescue

Lethargic, washed ashore
Initial Assessment
Weight

3.95 kg (8.67 lbs)

SCL (Straight Carapace Length)

35.0 cm

Exam Findings

Underweight, heavy amount of epibiota on carapace, and thin. Small fibropapilloma tumors. Left eye possibly obstructed.

Initial Treatment

Vitamins, fluids, and antibiotics.
Artisan's Story
Artisan (a.k.a. "Art" to rehab team) is a juvenile green sea turtle who was found washed ashore on Caladesi Island on April 8. Artisan was lethargic, thin, and had a heavy load of epibiota (barnacles, algae, etc) on carapace at intake. Artisan does have several small fibropapilloma tumors present with one likely obstructing the left eye. Artisan's initial treatment plan consists of vitamins, fluids, and antibiotics.
INTERESTING FACT: Naming theme: Bread.
Treatment Updates
4.9.23

Artisan's first swim test did show lethargy. They were placed in a shallow pool to help achieve good breaths. We will gradually increase their swim time as Artisan improves.

4.13.23

Artisan went for a routine CT scan, no obvious internal tumors seen! Artisan is able to be in a shallow pool all day, and they are starting to show interest in food! We are continuing to do glucose checks twice a day and giving fluids as needed.

4.19.23

Artisan was started on an official diet and is doing great! Our team's goal now is to get them healthy to undergo tumor removal surgery!

4.21.23

Started incorporating daily deep water swimming!

4.26.23

Artisan is able to be in deep water all day and overnight! Currently on antibiotics.

5.17.23

Artisan is continuing to gain weight and eat well! There is improvement also seen on their last recheck blood work.
---
All marine turtle footage taken in Florida was obtained with the approval of the U.S. Fish and Wildlife Service and the Florida Fish and Wildlife Conservation Commission (FWC) under conditions not harmful to marine turtles. Footage was acquired while conducting authorized conservation activities pursuant to FWC MTP-23/24-172.