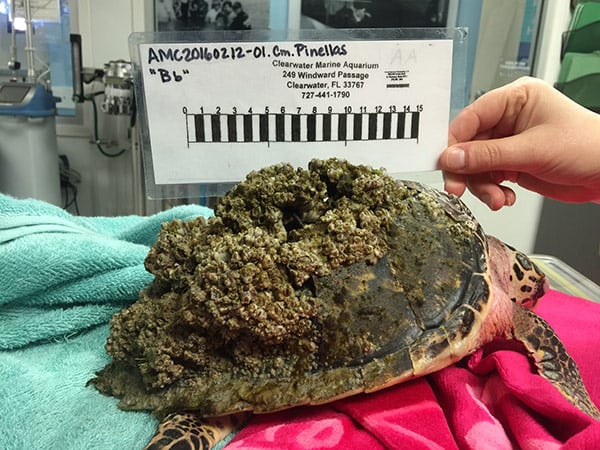 BB
Juvenile, Hawksbill
(Eretmochelys imbricata)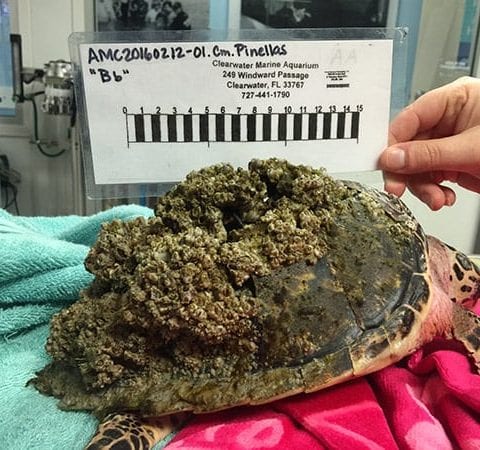 Patient Status

Date Found

February 12, 2016

Location Found

Treasure Island, Pinellas County, FL

Reason for Rescue

Lethargic and covered in barnacles
---
TRIAGE
Weight

1.64 kg

SCL (Straight Carapace Length)

23.6 cm

Exam Findings

Lethargic but responsive, large amount of barnacles on dorsal surfaces creating a lump in the carapace with barnacles extending under scutes

Initial Treatment

Received vitamins, supplements, fluids, and antibiotics
---
BB'S STORY
BB is a juvenile hawksbill sea turtle that was found on February 12, 2016, in Treasure Island, FL. BB was found in a lethargic, slightly emaciated state with a good deal of epibiota on top of her carapace. This condition was amplified by the presence of many barnacles which were lodged in between her scutes. The barnacle growth was so severe, there was some exposure to underlying tissue where mild irritation occurred.
Hawksbills are currently listed as endangered in Florida and throughout the Caribbean. Historically they have been captured for their beautiful carapace (also known as "tortoise shell"), which is then used to create trinkets such as combs, buckles and jewelry. You can help protect hawksbills by refusing to purchase "tortoise shell" wherever it is sold.
Fun Fact

BB loved scratching her back on the rocks in the pool.
---
TREATMENT UPDATES
2.13.16

Placed in water to test swimming ability – active but floating

2.28.16

Placed in deeper water to test swimming ability – went well slowly increase deep water time

12.12.16

Scutes and underlying tissue healed well! Placed into Turtle Cove for a final deep water swim test for10-15 days.

12.15.16

Passed test in Turtle Cove; able to swim comfortably in deeper water.

12.19.16

BB has been cleared for release!

12.21.16

Released after 314 days at Clearwater Marine Aquarium rehabilitation facility