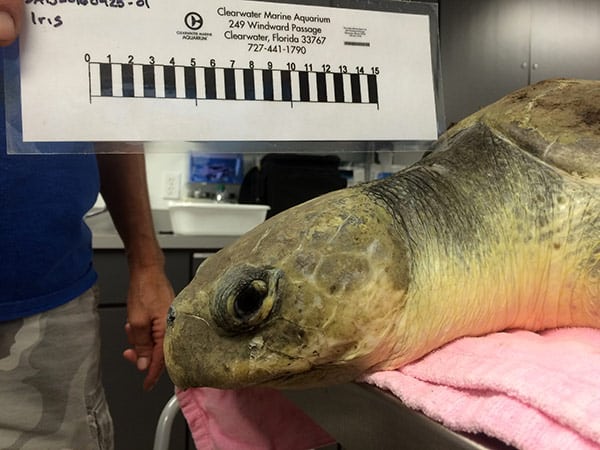 Iris
Juvenile, Kemp's ridley
(Lepidochelys kempii)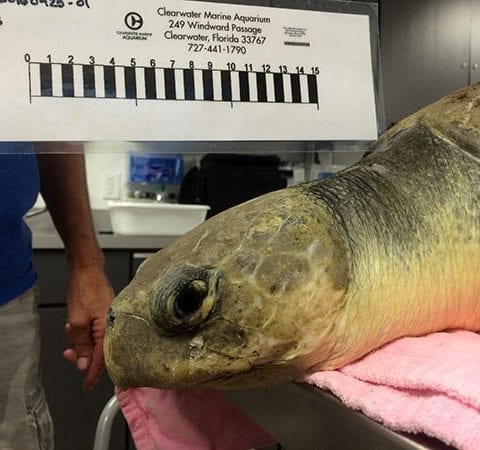 Patient Status

Released on January 4, 2017

Date Found

September 25, 2016

Location Found

Chassahowitzka River, Citrus County, FL

Reason for Rescue

Entangled in crab trap causing deep lacerations
---
INITIAL INTAKE
Weight

12.82 kg

SCL (Straight Carapace Length)

44.6 cm

Exam Findings

Healing lacerations found on left front flipper and across dorsal side of neck. Top right section of jaw missing but healed.

Initial Treatment

Received vitamins, antibiotics, and fluids
---
IRIS' STORY
A local fisherman found Iris, a juvenile Kemp's ridley sea turtle, on September 25, 2016, entangled in a crab trap in Chassahowitzka River, Citrus County, FL. Damage from the crab trap entanglement involved Iris' left front flipper, creating a deep laceration and causing the flipper to swell. Additionally, the entanglement caused a laceration on the dorsal side of her neck.
Iris received daily cold laser therapy on her wounds to promote increased healing time while at Clearwater Marine Aquarium. Iris was cleared for release on Jan. 2, 2017, and released two days later on Jan. 4 at Fred Howard Park in Tarpon Springs, FL.
Unfortunately, crab traps can attract unintended species, such as sea turtles. Entanglements in these devices can cause the turtle distress, and in some cases even cause the loss of limbs or death.
Fun Fact

Iris is named after the Greek Goddess of the rainbow
---
TREATMENT UPDATES
9.26.16

Initial assessment is good, aside from entanglement challenges

9.28.16

Cold laser treatment to affected wound areas to assist in promoting healing begins

10.3.16

Tested to check swimming ability – went well!

1.3.17

Received metal flipper tags and PIT tag in right front flipper for identification

1.4.17

Iris was released after 101 days in Clearwater Marine Aquarium rehabilitation facility!