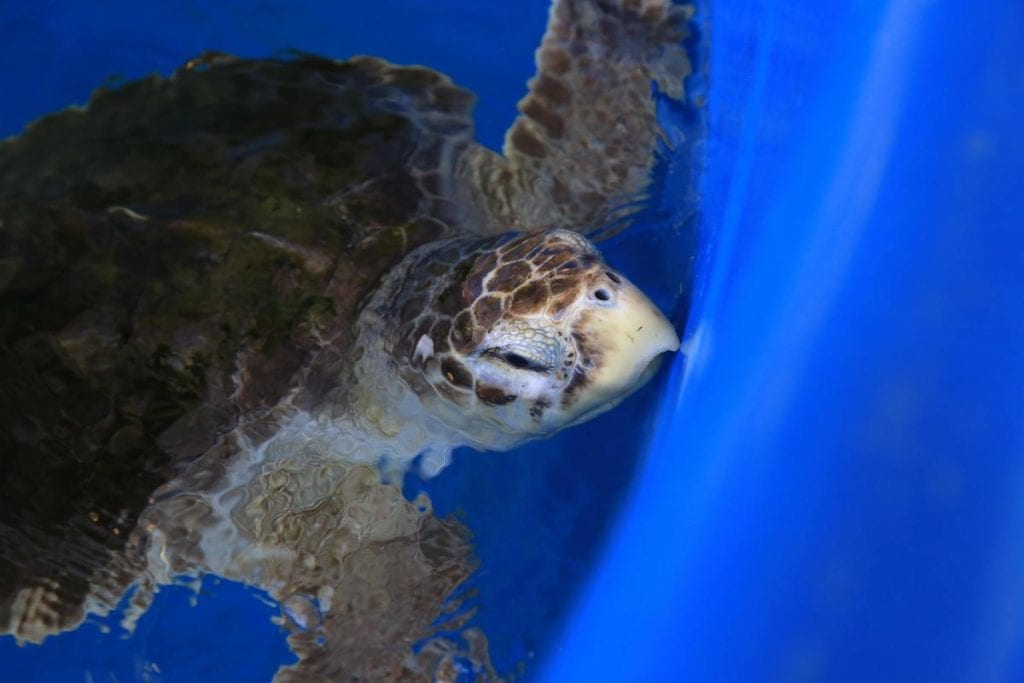 FLIP
Juvenile, Kemp's Ridley
(Lepidochelys kempii)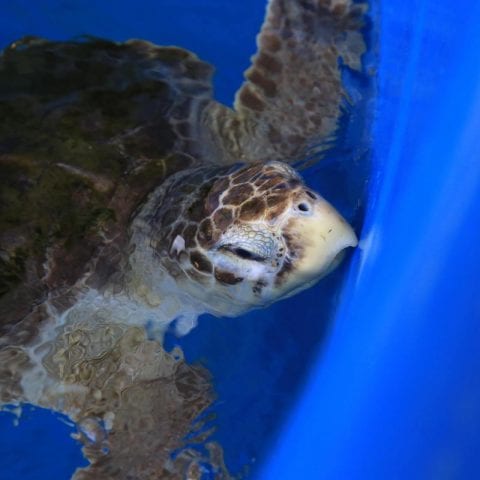 Patient Status

Date Found

September 10, 2019

Location

Hudson, Pasco County, Florida.

Reason for Rescue

Hook ingestion.
---
TRIAGE
WEIGHT:

2.98 kg (6.56 lbs).

SCL (STRAIGHT CARAPACE LENGTH):

28.2 cm.

EXAM FINDINGS:

Alert and active. The fishing hook was attached to a line coming from her mouth. She is missing her right rear flipper but it is completely healed.

INITIAL TREATMENT:

Received fluids, vitamins, and anti-inflammatory medications.
---
FLIP'S STORY
Flip is a juvenile Kemp's ridley who was caught by a fisherman in Hudson, FL, in Pasco County. She arrived at CMA on September 10, 2019. X-rays revealed the circle hook was not too far down the esophagus and was successfully removed without surgery! However, the fishing line was cut at her mouth prior to her arrival. We recommend that the fishing line be left long and taped to the turtle's carapace (shell) to prevent any further ingestion. We are optimistic for a quick recovery for Flip!
Read more about safe fishing gear tips to help protect sea turtles!
Naming Theme

Volunteer Choice
---
TREATMENT UPDATES
9.11.19

Placed in a pool in our rehab area and is swimming very well!

9.14.19

Ate all of sample diet offered! Will start on diet tomorrow!

9.17.19

Went for CT scan and did well.

10.11.19

Flip has received a clean bill of health from our vet team! Cleared for release by FWC.

10.16.19

Released at Fred Howard Park!
---
All marine turtle footage taken in Florida was obtained with the approval of the U.S. Fish and Wildlife Service and the Florida Fish and Wildlife Conservation Commission (FWC) under conditions not harmful to marine turtles. Footage was acquired while conducting authorized conservation activities pursuant to FWC MTP-18-172.