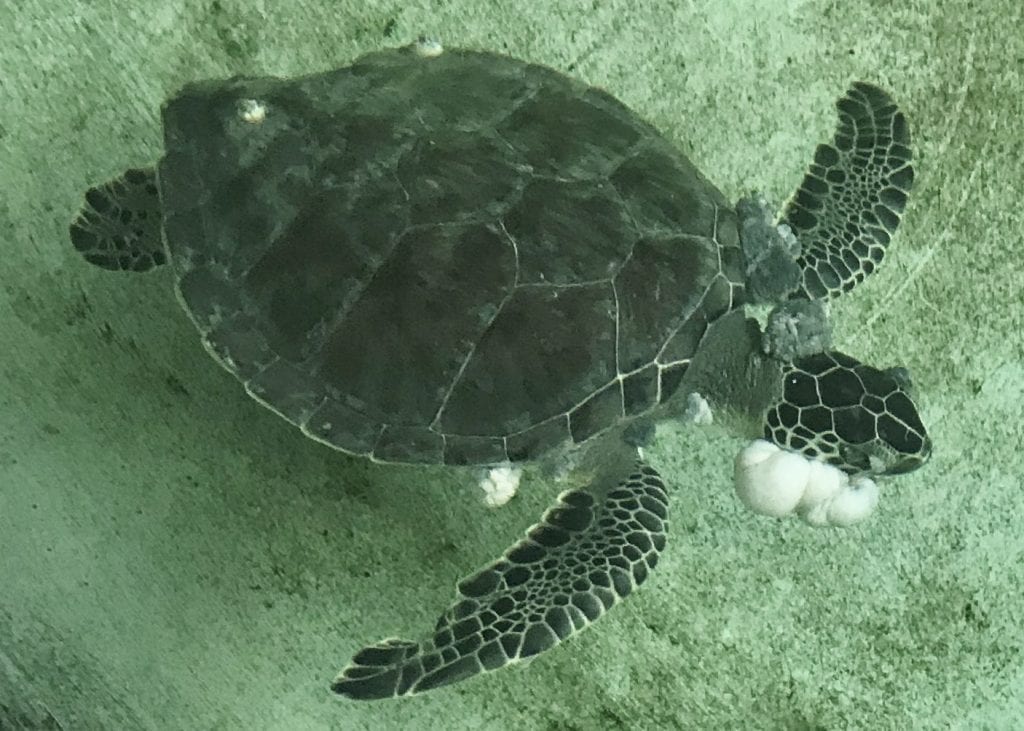 Ike
Juvenile, Green
(Chelonia mydas)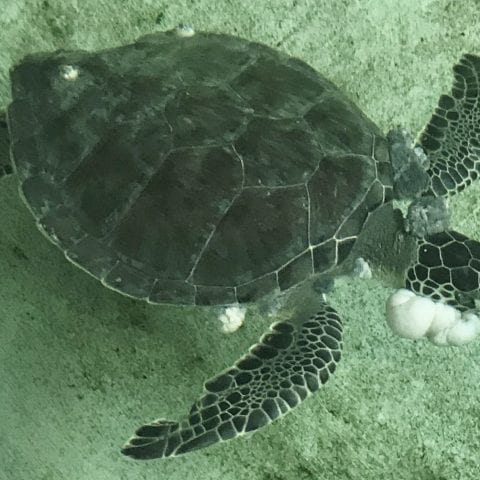 Patient Status

Current

Date Found

August 30, 2020
Location

Homosassa; Citrus County
Reason for Rescue

Incidental capture
Initial Assessment
Weight

2.64 kg (5.8 lbs)

SCL (Straight Carapace Length)

27.9 cm

Exam Findings

Lethargic & thin body condition; Heavy fibropapilloma tumor load near mouth and on both eyes.

Initial Treatment

Received vitamins & fluids.
Ike's Story
Ike is a juvenile, green sea turtle who was captured during a research activity by Inwater Research Group in Homosassa. Through communication with Florida Fish and Wildlife (FWC), it was determined that Ike needed medical attention. He has a heavy pap tumor load, most notably on the beak (externally near mouth) and both eyes. Ike also is missing a portion of his carapace (shell) but the area is completely healed. His initial treatment consists of fluids and vitamins.
Treatment Updates
9.3.20

X-rays were completed and no obvious abnormalities were noted. We are continuing to do glucose checks and giving him fluids.

9.5.20

Ike is eating and was started on a diet! We are continuing to monitor his swim time but he is showing improvement.

9.13.20

Ike's diet was increased! He is able to be in deep water all day. He's continuing to rest on the bottom as well!

9.17.20

A CT scan was performed on Ike. No obvious internal tumors were observed! Ike is a candidate for tumor removal surgery once he is deemed stable by our veterinarian.

9.30.20

Ike had surgery to remove the severe pap tumors on both eyes, head, and external part of his mouth. The procedure went well! There are still several pap tumors elsewhere on his skin that will be removed at a later time. The eye, head, and mouth surgical sites will take some time to heal due to their extensive nature. Medicated eye drops will be given daily to encourage the eyes to heal properly. Ike will also be given anti-inflammatory injections.
---
All marine turtle footage taken in Florida was obtained with the approval of the U.S. Fish and Wildlife Service and the Florida Fish and Wildlife Conservation Commission (FWC) under conditions not harmful to marine turtles. Footage was acquired while conducting authorized conservation activities pursuant to FWC MTP-19-172.