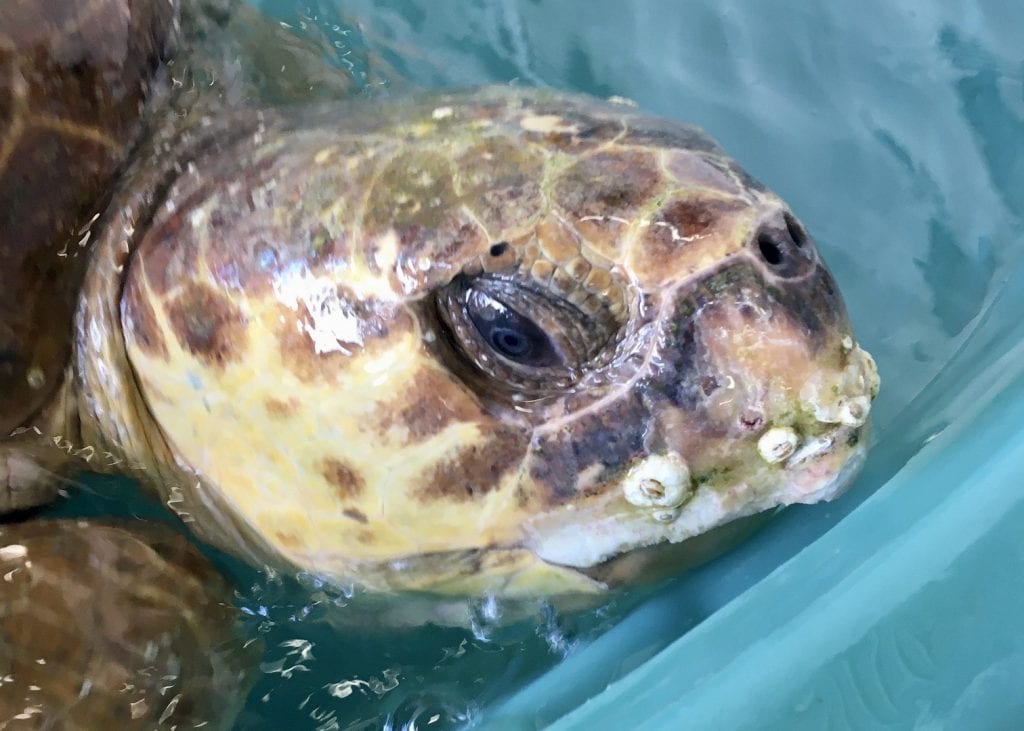 Jack
Adult, Loggerhead
(Caretta caretta)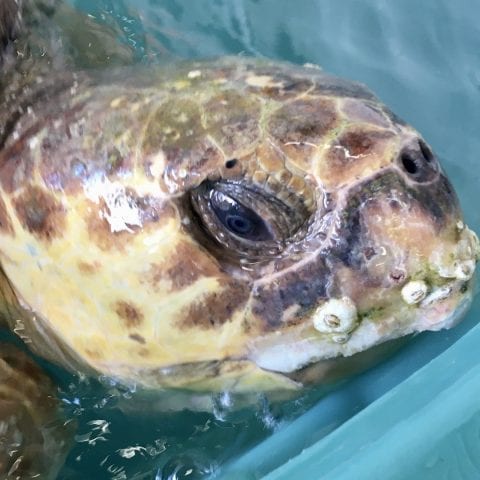 Patient Status

Former

Date Found

October 9, 2020
Location

Offshore Clearwater Beach; Pinellas County
Reason for Rescue

Found floating
Initial Assessment
Weight

126.5 kg (278 lbs)

SCL (Straight Carapace Length)

99.1 cm

Exam Findings

Active & good body condition; Epibiota coverage on carapace.

Initial Treatment

Received vitamins, antibiotics & fluids.
Jack's Story
Jack is an adult, male loggerhead who was found floating offshore of Clearwater Beach. He arrived, by boat, via the Coast Guard on October 9. There are two healed wounds on his carapace (shell) from a previous injury, however, they are healed and likely unrelated to his stranding. Jack's initial treatment consists of fluids, vitamin injections, and antibiotics.
Interesting Fact: Jack is larger than our previously released adult, female loggerhead, Luna! This now makes Jack our largest sea turtle patient in 10 years!
Treatment Updates
10.10.20

Jack had a swim test in one of our shallow ICU pools. He is favoring one side when swimming which could likely be caused by gastrointestinal gas. We will continue to monitor.

We typically swim our new patients in these pools first until they are more stable for our deeper rehab pools. ICU pools are also more private and closed off from viewing due to these patients being in critical condition. We want to minimize as much stress as possible.

10.15.20

Jack is doing well in our shallow ICU pool and is able to be in the pool all day and overnight. We are continuing to do glucose checks and are giving him fluids if needed.

10.18.20

He is continuing to eat shrimp and squid consistently, and he has officially started on a diet! He is still favoring one side when swimming; and we are continuing to monitor.

10.22.20

Jack was cleared to be moved to one of our larger pools! To make the transition easier for Jack, the water level was lowered halfway to be similar to his ICU pool. Over the next few days and weeks, we will be slowly increasing the water level as Jack improves!

10.29.20

Over the last two days, we have noticed a decrease in Jack's appetite. X-rays were performed to see if there were any obvious gastrointestinal issues. After reviewing the X-rays, we noticed there was a large amount of digesta (food contents) still present in the stomach.

Seeing this raises the concern of a possible impaction, or blockage, that prevents the food from moving through the intestines. This is likely causing his buoyancy and lack of appetite. Jack was moved back to ICU until he improves. Fluids and a GI stimulant were administered.

10.30.20

An endoscopy was performed to visualize the impaction to determine the appropriate treatment. It was confirmed to be in the stomach. Using the endoscope, we administered mineral oil around the impaction to help soften the material and then gave more fluids and a GI stimulant.

For the next few days, we are monitoring Jack for defecation. We will not be offering a diet until further notice to prevent worsening the impaction.

11.20.20

Jack had a colonoscopy performed this week, and he successfully defecated after! We are continuing to monitor Jack for defecation as the impaction is showing signs of movement but is still present in the GI based on radiographs.

Jack is still exhibiting buoyancy and favoring one side when swimming. We are giving him daily fluids and antibiotics.

12.10.20

Jack is continuing to have biweekly colonoscopies and enemas. Mineral oil is also being given, orally with the help of an endoscope, to help stimulate movement and to help soften the impaction material. We are continuing to monitor for defecation and are giving him fluids as needed. X-rays are being completed bimonthly to track movement.

1.12.21

During a procedure to evaluate Jack's ongoing GI tract issues, it was discovered that the intestines had severe damage due to the impaction and unfortunately could not be fixed. Because of this, the vet team elected to not wake him from anesthesia.
---
All marine turtle footage taken in Florida was obtained with the approval of the U.S. Fish and Wildlife Service and the Florida Fish and Wildlife Conservation Commission (FWC) under conditions not harmful to marine turtles. Footage was acquired while conducting authorized conservation activities pursuant to FWC MTP-19-172.