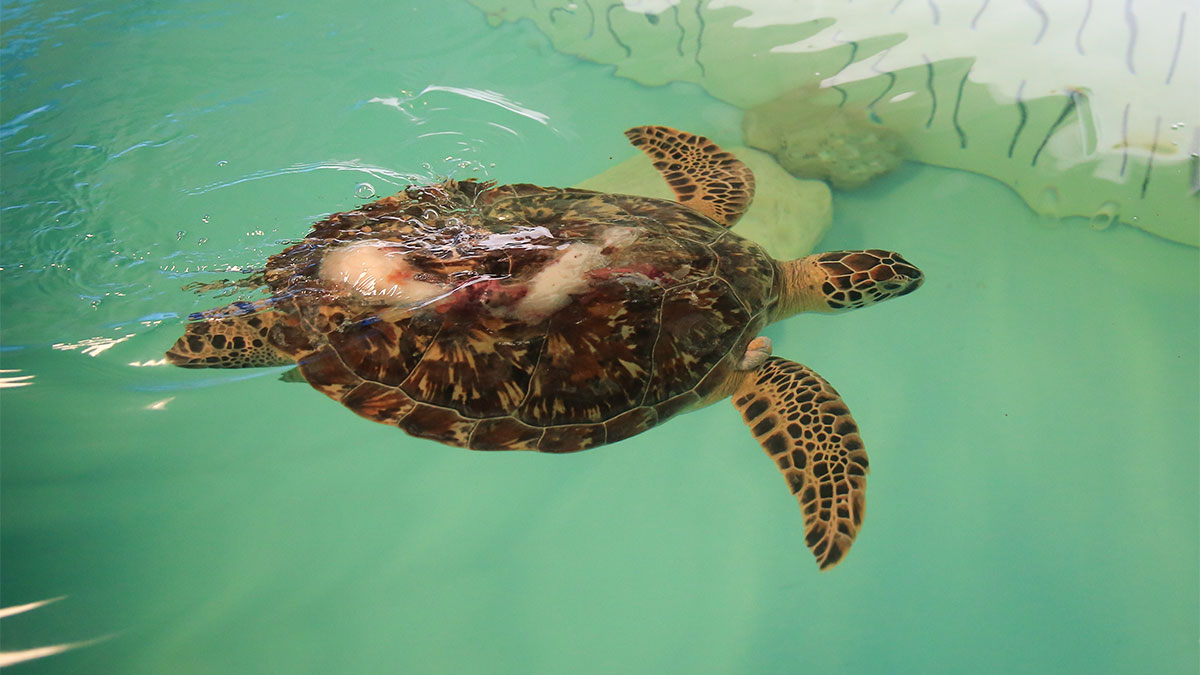 Kraft
Juvenile, Green
(Chelonia mydas)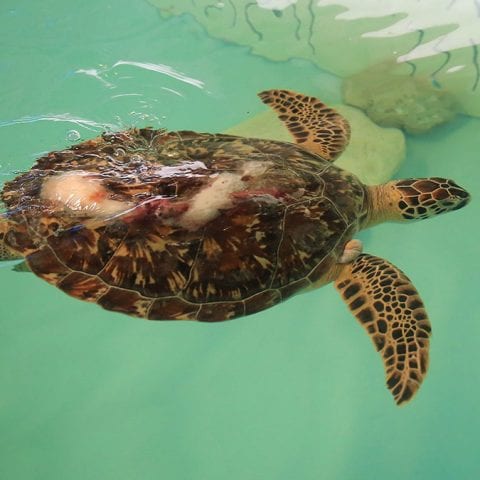 Patient Status

Current

Date Found

March 17, 2018

Location Found

Hudson Beach, FL

Reason for Rescue

Found floating; fibropapilloma tumors; mild epibiota (barnacles), large laceration across carapace (shell).
---
TRIAGE
Weight

12.29 kg (27.09 lbs)

SCL (Straight Carapace Length)

47.0 cm (18.50 in)

Exam Findings

Alert and responsive; good body condition; small fibropapilloma tumors present; large carapace laceration (shell).

Initial Treatment

Received fluids, vitamins, and antibiotics. Performed x-rays and wound care to carapace.
---
KRAFT'S STORY
On January 7, 2018, a juvenile green sea turtle was found floating at Hudson Beach in Pasco County, FL with suspected fibropapilloma tumors present. The public reported the turtle to Clearwater Marine Aquarium's Rescue Team, who picked up the turtle and brought it to CMA for triage and care.
Fibropapillomatosis is a virus that is most common in juvenile green sea turtles and is rarely seen in other sea turtle species. The virus causes cauliflower-like tumors to grow on the turtle's soft tissues. This virus is very contagious so once a turtle with this virus comes into our facility, it is quarantined in our Intensive Care Unit (ICU). Although the cause of this virus is still unknown, you can help by keeping our oceans clean of trash and chemical pollutants.
NAMING THEME: Cheese.
---
TREATMENT UPDATES:
3.18.18

Started on a daily regimen of antibiotics, glucose checks, fluids, pain medication, and wound care.
---
All marine turtle footage taken in Florida was obtained with the approval of the U.S. Fish and Wildlife Service and the Florida Fish and Wildlife Conservation Commission (FWC) under conditions not harmful to marine turtles. Footage was acquired while conducting authorized conservation activities pursuant to FWC MTP-18-172.