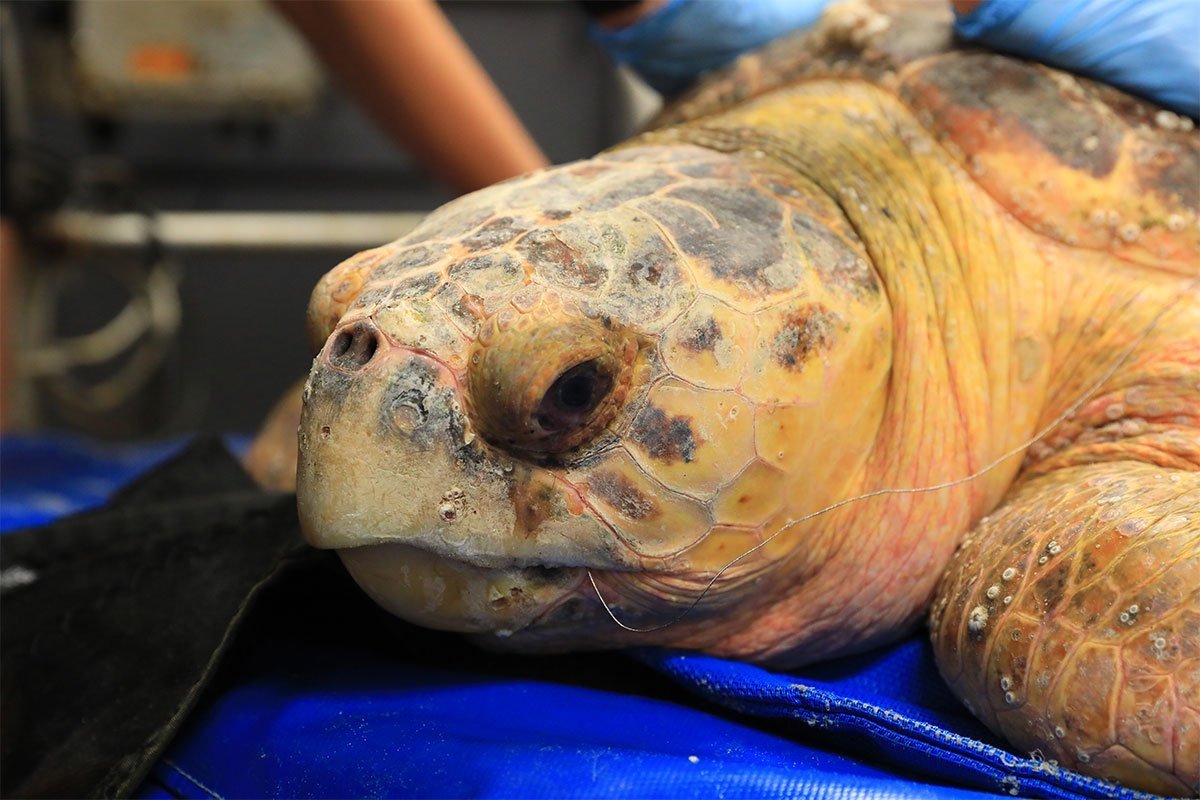 Scooter
Sub-Adult, Loggerhead
(Caretta caretta)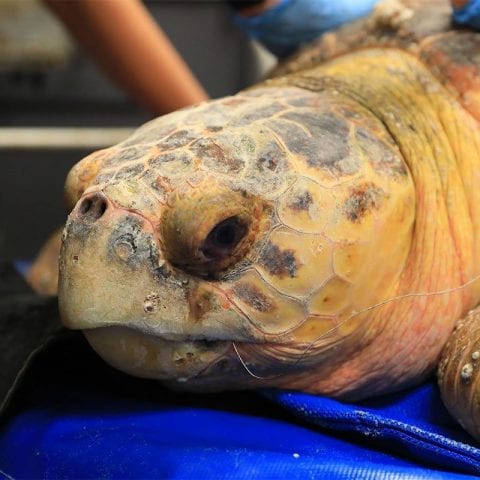 Patient Status

Released on January 30, 2020

Date Found

August 25, 2019

Location

Honeymoon Island; Pinellas County

Reason for Rescue

Hook ingestion
Triage
WEIGHT

68.1 kg (150 lbs)

SCL (STRAIGHT CARAPACE LENGTH)

77.5 cm

EXAM FINDINGS

Alert, active, and good body condition. There is a fish hook visible on x-rays attached to a metallic fishing line

INITIAL TREATMENT

Vitamins, fluids, antibiotics, anti-inflammatory medications
---
Scooter's Story
Scooter is a sub-adult loggerhead who was accidentally caught by a fisherman near Honeymoon Island in Dunedin, Florida. Upon their arrival, our Rescue Team secured the remaining metallic fishing line. After x-rays, it was discovered that Scooter had ingested a large "J" hook. The hook was deep in the turtle's esophagus and was unable to be removed orally due to its size and depth. Scooter was placed under general anesthesia, and the hook was successfully removed surgically. Scooter's recovery is expected to be lengthy due to the nature of the surgery, but our team is optimistic for a successful outcome!
You can help keep sea turtles like Scooter safe by using circle hooks instead of "J" hooks. Learn more fishing gear tips.
Naming Theme

Volunteer Choice
---
TREATMENT UPDATES
8.27.19

Scooter is recovering well from surgery and will not be placed in water for a several days so the surgical incision can heal properly.

8.31.19

Continuing to do glucose checks and fluids if needed.

9.2.19

Placed in one of our shallow ICU pools for a half-day swim. Swim time will still be limited at this time.

9.5.19

Went for CT and did well.

9.9.19

Scooter was cleared to be put in water and was placed in one of our shallow ICU pools for all day and overnight swimming.

9.13.19

Scooter ate for the first time! Starting on an official diet tomorrow!

9.17.19

Moved to a larger rehab pool. We are continuing to monitor Scooter's appetite.

10.3.19

Went for a recheck CT. Scooter's appetite has improved and will start on oral antibiotics and antifungal medications.

10.24.19

Scooter has been continuing to eat great and has gained weight. We are monitoring the healing process of her surgical site.

11.22.19

A bronchoscopy was performed this week on Scooter to recheck her trachea after developing an infection. Scooter is continuing to improve and is eating great! Surgical site from hook removal is still healing.

12.5.19

Scooter went for another recheck CT. She will continue on antibiotics but is improving. Our veterinary team did routine wound care on her surgical site to promote healing.

1.4.20

Scooter has shown a lot of improvement in the last month! Surgical site is almost healed completely.

1.17.20

Scooter has received a clean bill of health from our veterinary team!

1.30.20

Scooter was released at Fred Howard Park!
---
All marine turtle footage taken in Florida was obtained with the approval of the U.S. Fish and Wildlife Service and the Florida Fish and Wildlife Conservation Commission (FWC) under conditions not harmful to marine turtles. Footage was acquired while conducting authorized conservation activities pursuant to FWC MTP-18-172.