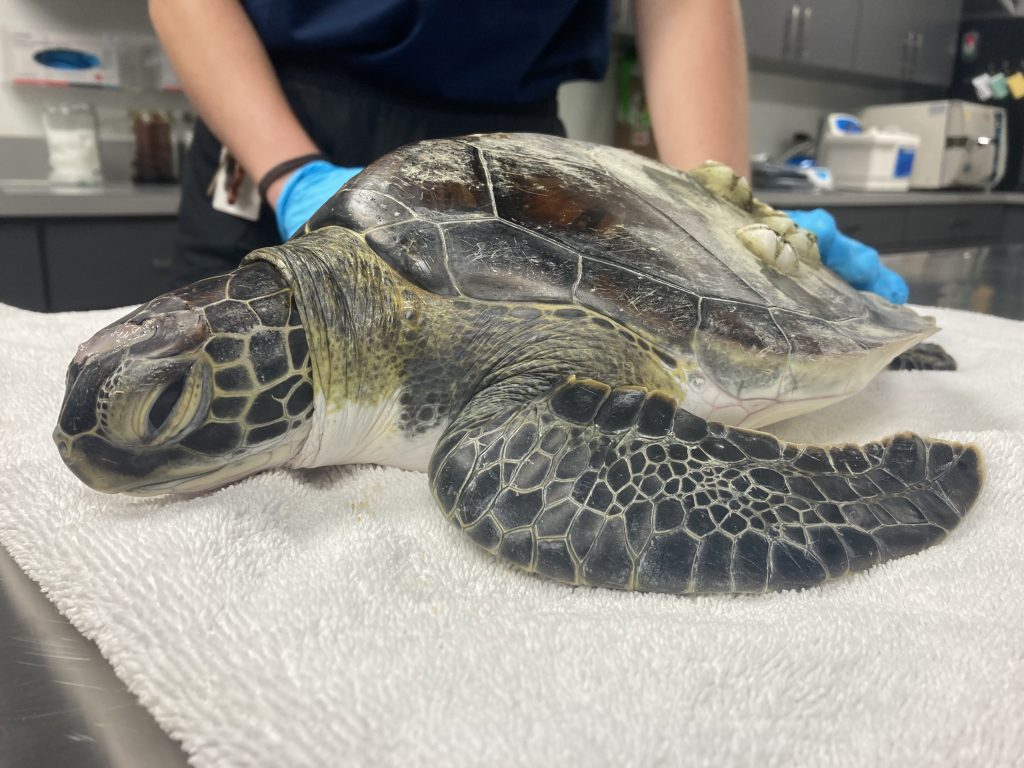 Wasabi
Juvenile, green
(Chelonia mydas)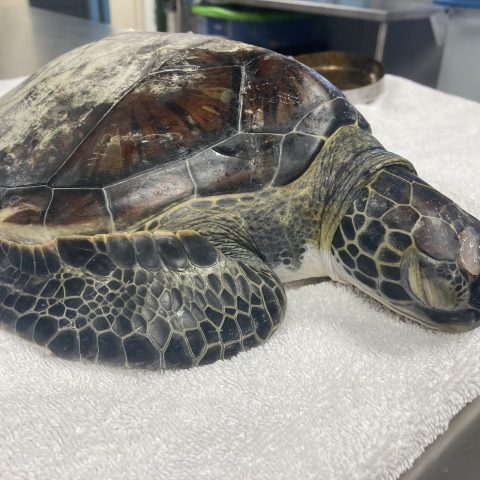 Patient Status

Current

Date Found

July 08, 2022
Location

Sand Key; Pinellas County
Reason for Rescue

Floating and lethargic
Initial Assessment
Weight

2.57 kg (5.66 lbs)

SCL (Straight Carapace Length)

28.4 cm

Exam Findings

Lethargic, good body condition, mild amount of epibiota, injury to head and carapace.

Initial Treatment

Vitamin injections, antibiotics, an anti-inflammatory, and fluids
Wasabi's Story
Wasabi is a juvenile green sea turtle who was found floating near Sand Key on July 8th. Wasabi has injuries to his head and carapace most likely from a boat. It is important as a boater to always obey boating laws and regulations and to watch out for marine life! Wasabi's initial treatment consists of vitamin injections, antibiotics, anti-inflammatory medication, and fluids.
INTERESTING FACT: Wasabi received their name by inspiration of Japanese horseradish, also known as Wasabi – a pungent condiment for sushi and other foods!
Treatment Updates
7.9.22

Wasabi was swim tested for the first time. Neurologic behaviors were observed most likely related to the head injury. Due to the behaviors, Wasabi was pulled from water, and we will retry swimming another day.

7.12.22

Wasabi is improving in water! The neurologic behaviors are not as obvious but still minorly visible. His prognosis is still guarded at this time.

7.15.22

Wasabi went for a CT scan. The injury did not penetrate too deep into head. We will continue to monitor for neurologic behaviors as the impact could have still caused brain damage. Wasabi is starting to show interest in food and able to be in the kiddie pool all day!

7.19.22

Wasabi is continuing to eat well!

7.22.22

We have been incorporating deeper water daily for Wasabi, he is doing great and eating off the bottom of the pool! No signs of neurological issues currently.

7.28.22

Wasabi is in deep water full-time and is doing great!!

8.30.22

Wasabi's head and carapace injuries are healing great! We are hopeful for a release within the next couple of months!

9.30.22

Wasabi has received a clean bill of health from our veterinarian!

10.5.22

Wasabi was successfully released at Honeymoon Island!
---
All marine turtle footage taken in Florida was obtained with the approval of the U.S. Fish and Wildlife Service and the Florida Fish and Wildlife Conservation Commission (FWC) under conditions not harmful to marine turtles. Footage was acquired while conducting authorized conservation activities pursuant to FWC MTP-21/22-172A.