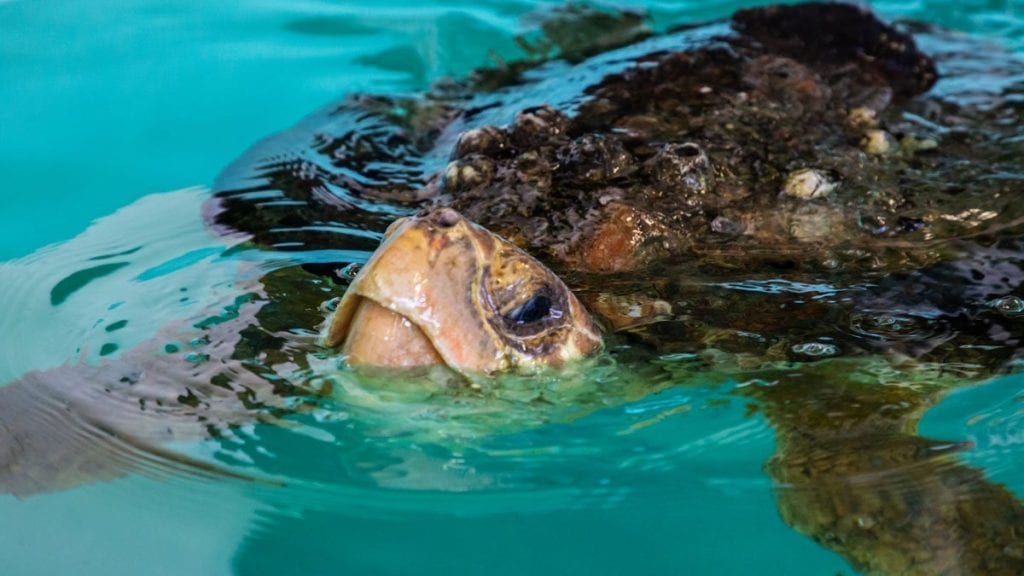 Wiley
Sub-Adult, Loggerhead
(Caretta caretta)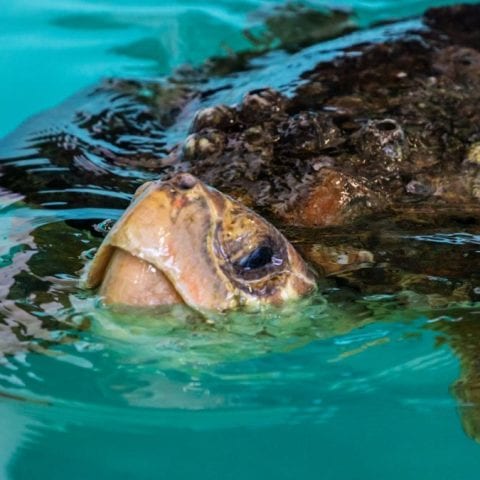 Patient Status

Date Found

June 20, 2019

Location Found

Crystal River Power Plant; Citrus County, FL

Reason for Rescue

Found floating sideways
---
Initial Assessment
Weight

41.2 kg (82.4 lbs)

SCL (Straight Carapace Length)

69.9 cm

Exam Findings

Slightly thin and very lethargic. Some ulceration found on the skin near plastron (bottom shell) and right front flippers

Initial Treatment

Received vitamins, fluids, and antibiotics
---
Wiley's Story
Wiley is a sub-adult loggerhead who was found floating sideways near the Crystal River Power Plant in Citrus County, Florida. She arrived at Clearwater Marine Aquarium on June 20, 2019. Upon intake, Wiley appeared very lethargic and underweight. There were several skin ulcers found as well. After x-rays, it was discovered there is some gastrointestinal gas that could be causing Wiley to float. Her initial treatment consists of vitamins, fluids and antibiotics.
Interesting Fact

Wiley is named after Wile E. Coyote

Naming Theme

Cartoons
---
TREATMENT UPDATES
6.21.19

Bloodwork sent out to the lab. Started on antibiotics. Continuing to do glucose checks and fluids if needed.

6.24.19

X-rays completed. She is eating well! Continuing to monitor buoyancy.

7.2.19

Moved out of our ICU pools to a larger rehab pool. She is still favoring one side when swimming. Continuing to eat well.

7.16.19

Went for CT scan. At exam this week, weight is at 50.5 kg! Wiley has gained 20 pounds in rehab so far!

8.19.19

Wiley's buoyancy has resolved, and she is resting on the bottom continuously for the last few weeks! She is continuing to eat well. Her wound on her plastron has almost healed all the way.

9.23.19

Started on antibiotics again.

11.22.19

Wiley is continuing to do well and is gaining weight. She is one of our best eaters! She will be going for a recheck CT in a few weeks.

12.4.19

CT revealed Wiley has an infection. She will continue on antibiotics, and we will continue to monitor and recheck.

1.4.20

There are signs of improvement with Wiley's physicals over the last month. Wiley will go for a recheck CT in a few weeks. Continuing to eat very well!

1.17.20

Wiley's CT went well. There is much improvement!

2.4.20

Wiley was taken off antibiotics

2.13.20

Wiley has received a clean bill of health from our veterinary staff!

2.19.20

Released at Fred Howard Park!
---
All marine turtle footage taken in Florida was obtained with the approval of the U.S. Fish and Wildlife Service and the Florida Fish and Wildlife Conservation Commission (FWC) under conditions not harmful to marine turtles. Footage was acquired while conducting authorized conservation activities pursuant to FWC MTP-18-172.