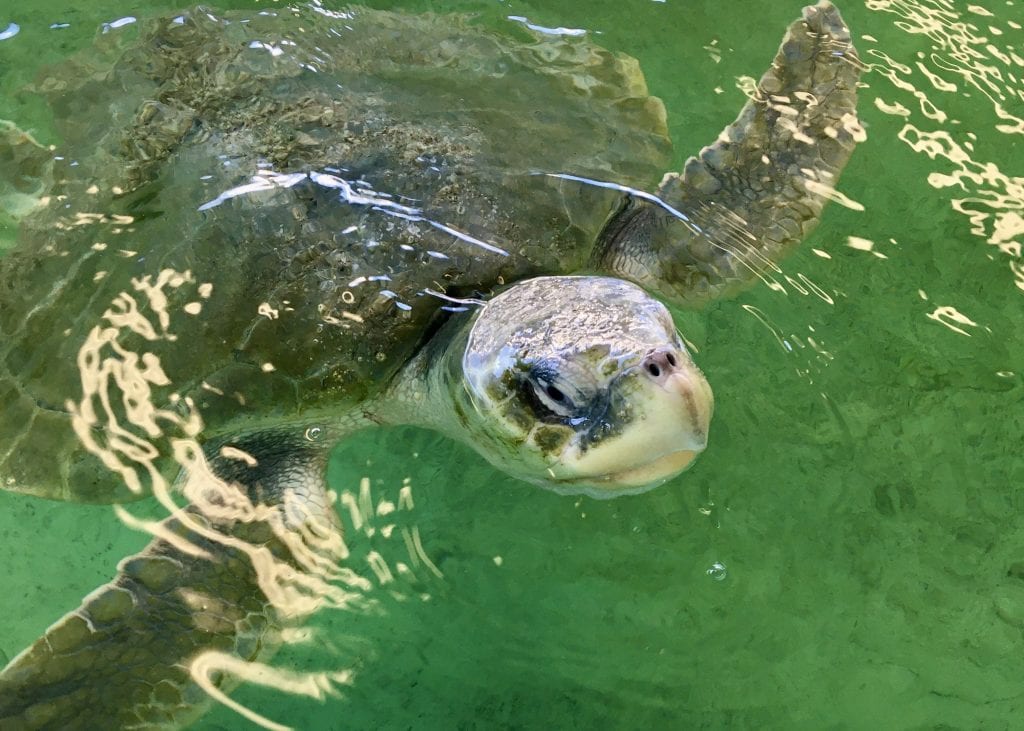 Wonka
Sub-adult, Kemp's ridley
(Lepidochelys kempii)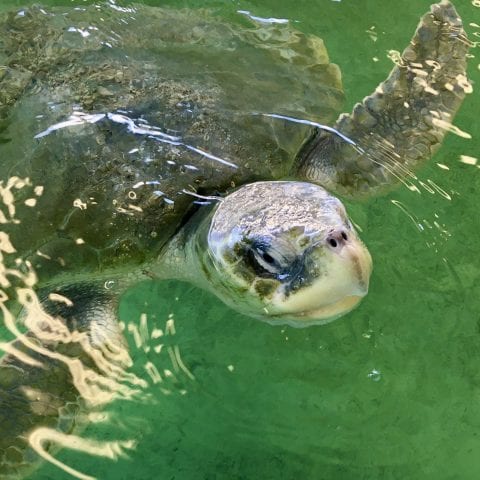 Patient Status

Released June 30, 2021

Date Found

December 9, 2020
Location

Fort De Soto Park; Pinellas County
Reason for Rescue

Stranded on beach
Initial Assessment
Weight

16.9 kg (37.2 lbs)

SCL (Straight Carapace Length)

54.4 cm

Exam Findings

Quiet but responsive; Slightly underweight. Missing a portion of carapace (shell).

Initial Treatment

Received vitamins, antibiotics & fluids.
Wonka's Story
Wonka is a sub-adult, Kemp's ridley sea turtle who stranded on the beach at Fort De Soto Park in Pinellas County on December 9, 2020. Upon intake, Wonka was lethargic, underweight, and had a slightly low body temperature. She is also missing a portion of her carapace (shell) from a previous injury, but that area is completely healed and unrelated to stranding. Her initial treatment consists of vitamin injections, antibiotics, and fluids. We will continue to monitor her body temperature.
Treatment Updates
12.11.20

Wonka was swim tested for the first time and did really well in water! She was able to dive, rest on the bottom, and come up for breaths without any issue! We will slowly increase her swim time as she improves.

We are continuing to do glucose checks and give fluids if needed.

12.15.20

Wonka went for a routine CT scan and no obvious abnormalities seen.

She is continuing to do well in water and is able to be in deep water all day and overnight.

12.30.20

Wonka is continuing to do well in water and is eating. She was started on oral medications.

1.20.21

Wonka has been taken off oral medications.

We are continuing to monitor Wonka's appetite.

3.14.21

We are still monitoring Wonka's appetite, but Wonka is continuing to gain weight!

4.22.21

Wonka is continuing to gain weight, and her diet was increased!

6.30.21

Wonka was released at Honeymoon Island!
Learn more about Wonka's release.
---
All marine turtle footage taken in Florida was obtained with the approval of the U.S. Fish and Wildlife Service and the Florida Fish and Wildlife Conservation Commission (FWC) under conditions not harmful to marine turtles. Footage was acquired while conducting authorized conservation activities pursuant to FWC MTP-19-172.