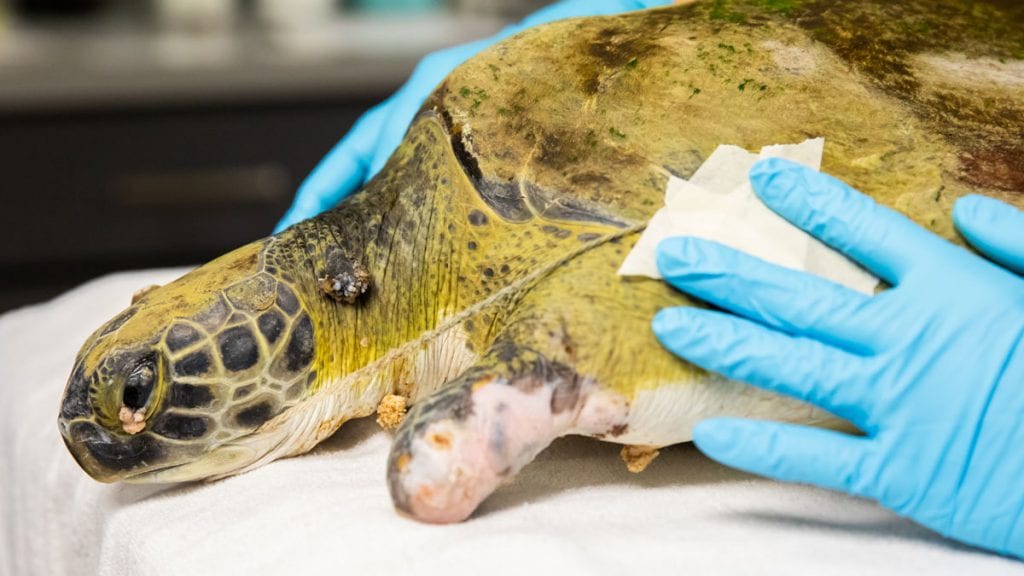 Yahtzee
Jevenile, Green
(Chelonia mydas)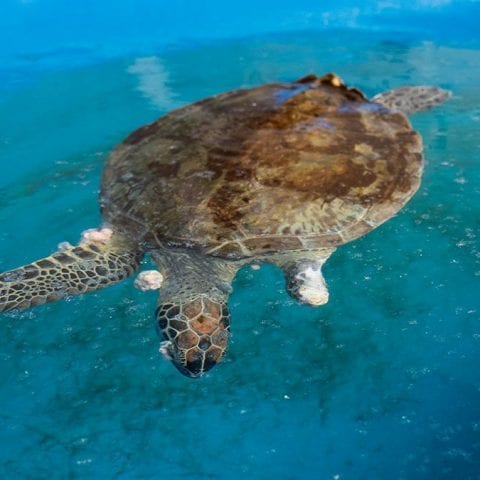 Patient Status

Date Found

October 13, 2018

Location

New Port Richey, Florida; Pasco County

Reason for Rescue

Line entanglement and fibropapilloma tumors
---
Triage
Weight

8.78 kg (19.3 lbs)

SCL (Straight Carapace Length)

42.5 cm

Exam Findings

Quiet but alert and good body condition. Missing left front flipper. Able to remove line from mouth and flipper with no issue, but there is a laceration and swelling on left rear flipper

Initial Treatment

Received fluids and vitamins
---
Yahtzee's Story
Yahtzee is a juvenile green sea turtle that was found floating and rescued near New Port Richey on October 13. Yahtzee had a thick line wrapped tightly around the left rear flipper that also continued into his mouth. He also has the fibropapillmoa virus with several tumors around body including eyes.
Naming Theme

Games
---
TREATMENT UPDATES
10.13.18

X-rays done, no hook present.

10.22.18

Started on diet, continuing to check blood glucose levels and giving fluids.

10.25.18

Appetite is good, improving and swimming well.

11.3.18

Improving, resting on the bottom of the pool!

11.28.18

Went for a recheck CT and now cleared to have surgery.

12.11.18

Underwent surgery to remove pap tumors.

1.3.19

Recovering well and surgical sites are healing. Currently on therapeutic eye drops to help the eyes heal.

2.3.19

Surgical sites are healing well. Appetite is great.

2.14.19

Released at Fred Howard Park!
---
All marine turtle footage taken in Florida was obtained with the approval of the U.S. Fish and Wildlife Service and the Florida Fish and Wildlife Conservation Commission (FWC) under conditions not harmful to marine turtles. Footage was acquired while conducting authorized conservation activities pursuant to FWC MTP-18-172.