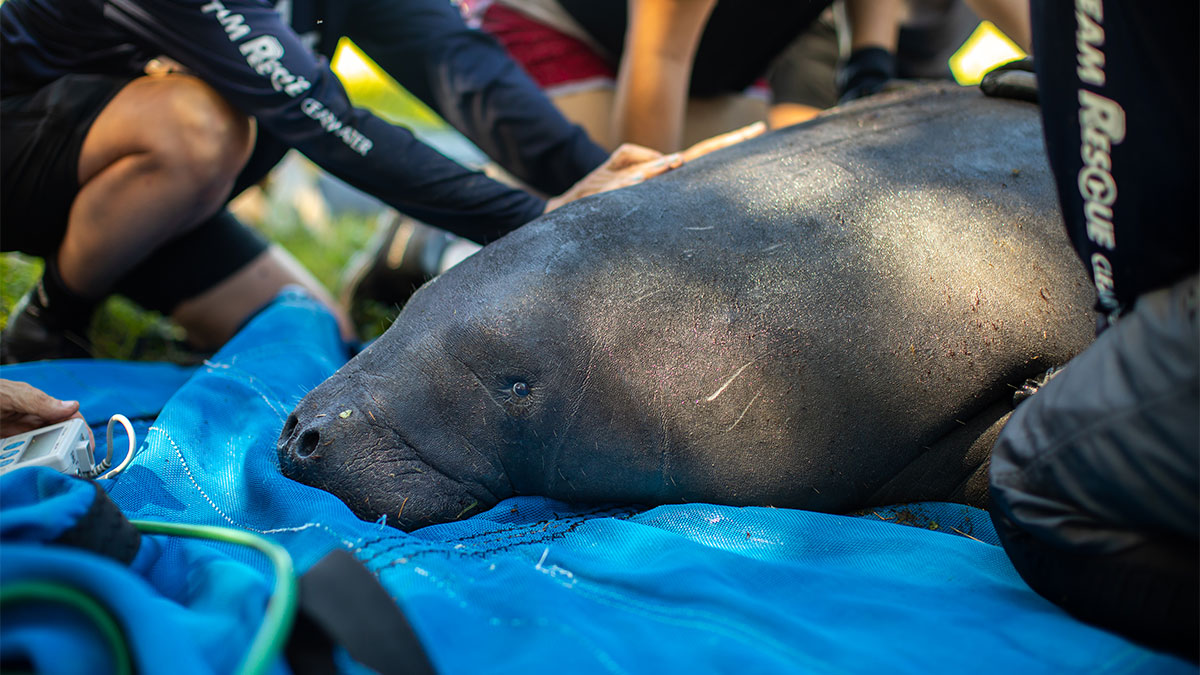 Manatees Found After King Tides Flood Into Ponds
On October 16, 2018, Clearwater Marine Aquarium's Rescue Team assisted Florida Fish & Wildlife (FWC) with the rescue and relocation of three manatees entrapped in a retention pond in Oldsmar, Florida. The manatees crossed a weir system at the southern end of the park which separates a series of retention ponds from the northern portion of Old Tampa Bay. During Hurricane Michael, Pinellas County was experiencing exceptionally high tides, known as king tides. These significantly higher tides flooded the low dams and drained into the retention ponds. Several manatees swam into the ponds and became entrapped when the tides receded.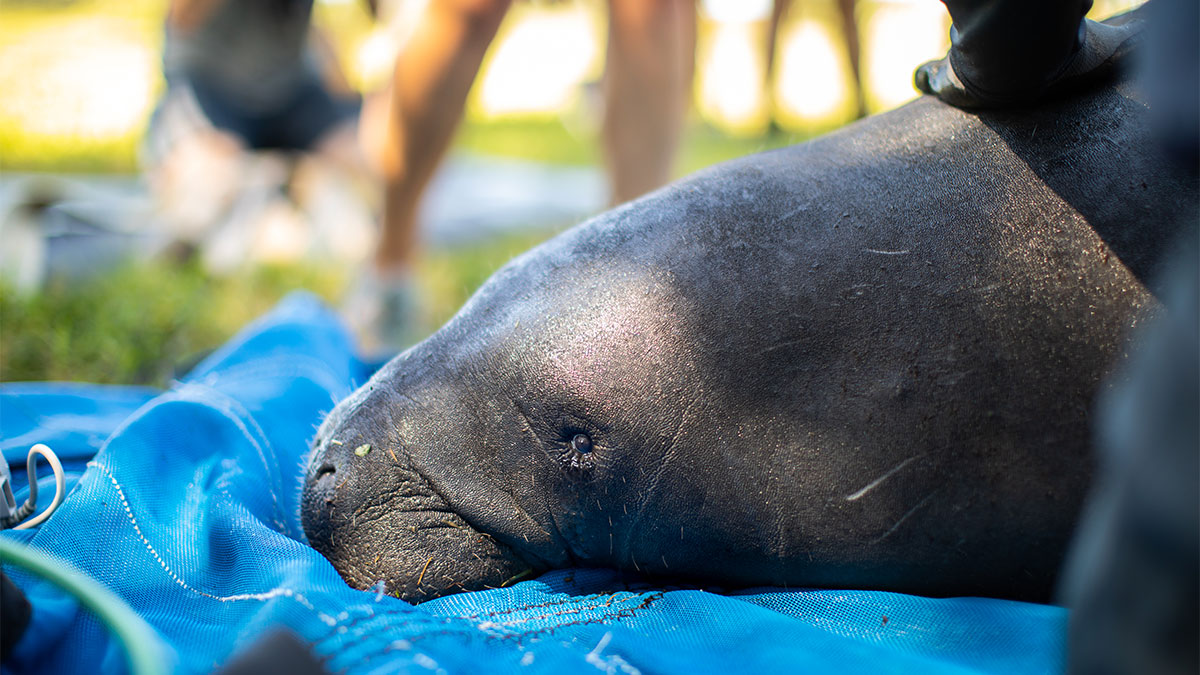 Three Manatees Assessed and Relocated
Three manatees were retrieved, given health assessments, and relocated to Tampa Bay for immediate release. The pond where the manatees were rescued from consisted of deep water pockets, poor water clarity, and a very thick and sticky mud benthos (bottom). Additionally, a lot of fishing gear was present in and around the ponds. These factors increased the difficulty of the operation. Nets were used to constrain the manatees within one pond as the extensive system interconnects throughout the park. Secondary nets were utilized to secure the first two manatees, a juvenile male and female. A third animal was observed swimming in the constrained retention pond; however, multiple attempts to bring it in were unsuccessful. After five hours, the third animal was finally secured, assessed, and returned to Tampa Bay.
Health assessment included morphometrics (length of the body and girths), blubber thickness measurements using an ultrasound, diagnostic sample collection, and vitals were monitored throughout (heart rate, temperature, and respiration)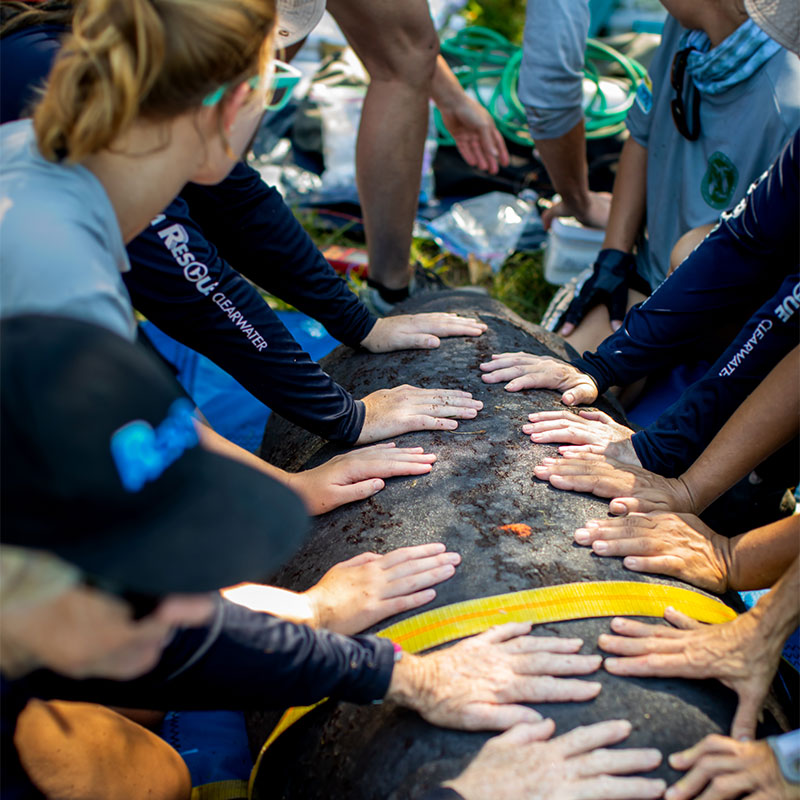 Ensuring Manatees Can Access Warmer Water in Winter
While the manatees had plenty to forage on in the retention ponds (heavy hydrilla, a favorite manatee meal, was observed in the pond) the water in the ponds is shallow and receives minimal tidal flux. In the winter months, the temperature in the ponds will drop below 68°F, the threshold before manatees begin exhibiting and presenting with cold stress symptoms which include lethargy, lesions, and sometimes GI complications. While it is still early in the season, it was deemed necessary to invest time and resources into the relocation ensuring the manatees are in the deeper and larger body of Tampa Bay before the colder months.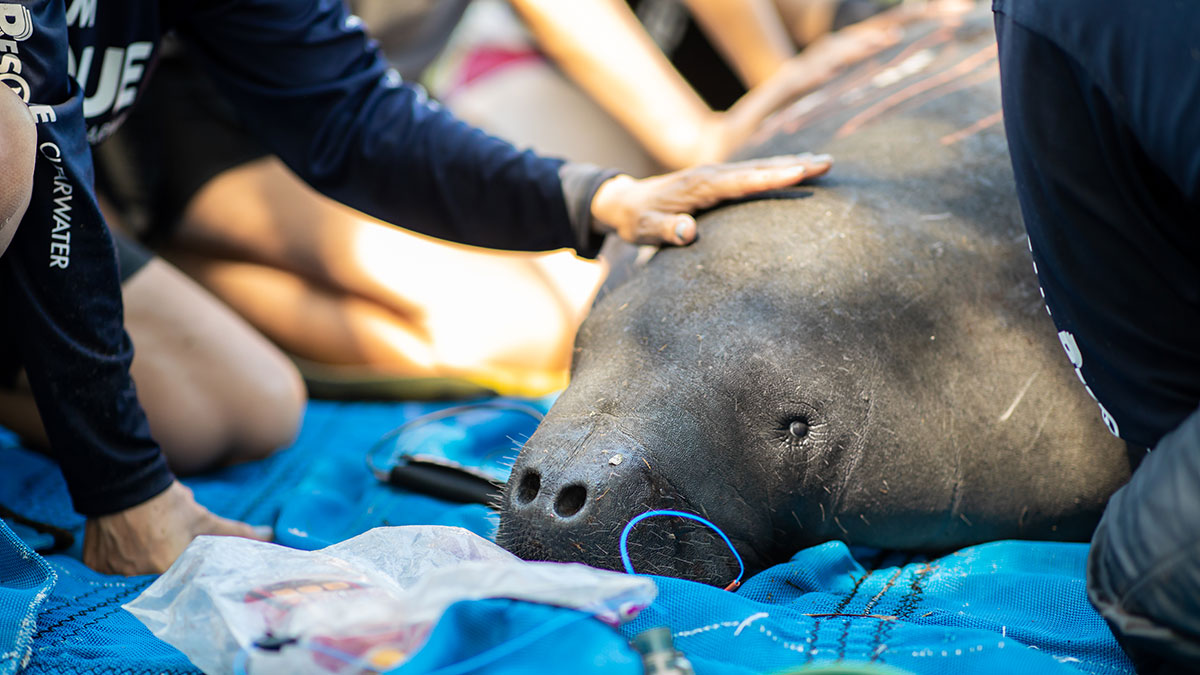 Cold stress is one of the leading causes of mortality and rescues for the Florida manatee, according to FWC. Early intervention will free up valuable resources later in the season. Manatees exhibit strong site fidelity to wintering zones, freeing them early will allow for a natural migration to the preferred winter zone as the water temperature drops slowly.
Support rescue efforts by becoming a volunteer today or donating items on the wish list!
---
All activities were conducted under USFWS permit # MA770191.