Manatee Trapped in Creek After Hurricane Irma
On September 14, 2017, biologists from the Florida Fish and Wildlife Conservation Commission's Marine Mammal Pathobiology Laboratory contacted Clearwater Marine Aquarium for assistance with the rescue and relocation of a single manatee. The manatee was entrapped within an enclosed creek in Weeki Wachee, Florida. The animal likely was able to swim into the creek with the increased tides during Hurricane Irma and, when the tides receded, the animal became entrapped with no exit to the Gulf of Mexico.
Manatee Previously Rescued with Calf
The animal was successfully contained utilizing a land-based net set. During the on-site health assessment, the animal was positively identified when a PIT tag scan was conducted. The female, adult animal (Shamrock) was previously found on March 15, 2016, in Tarpon Springs with her calf (Emerald). Shamrock was observed in March 2016 listing at the surface with a pneumothorax (collapsed lung) due to a boat strike. The mom-calf pair spent three months in rehabilitation at Lowry Park Zoo prior to release.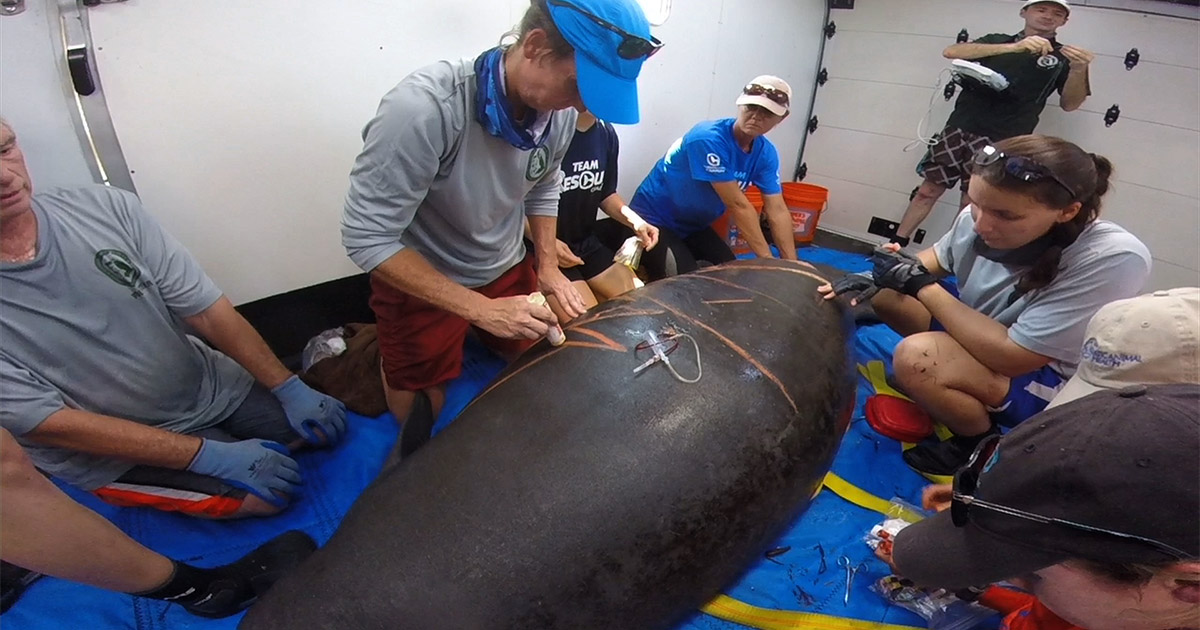 Released in Weeki Wachee
After completion of health assessment and diagnostic sample collection at Weeki Wachee, the animal was deemed releasable and was transported to a local boat ramp for release.
We expect to continue receiving reports of marine mammals outside of their normal habitat as a result of Hurricane Irma. If you see a stranded, sick, or injured marine animal please call the CMA stranding hotline at 727-441-1790 ext 1. All activities were conducted under USFWS permit # MA770191.